This keto cheese sauce comes together in minutes with ingredients you probably already have on hand! It's low carb, keto friendly, and perfect for topping your steamed veggies!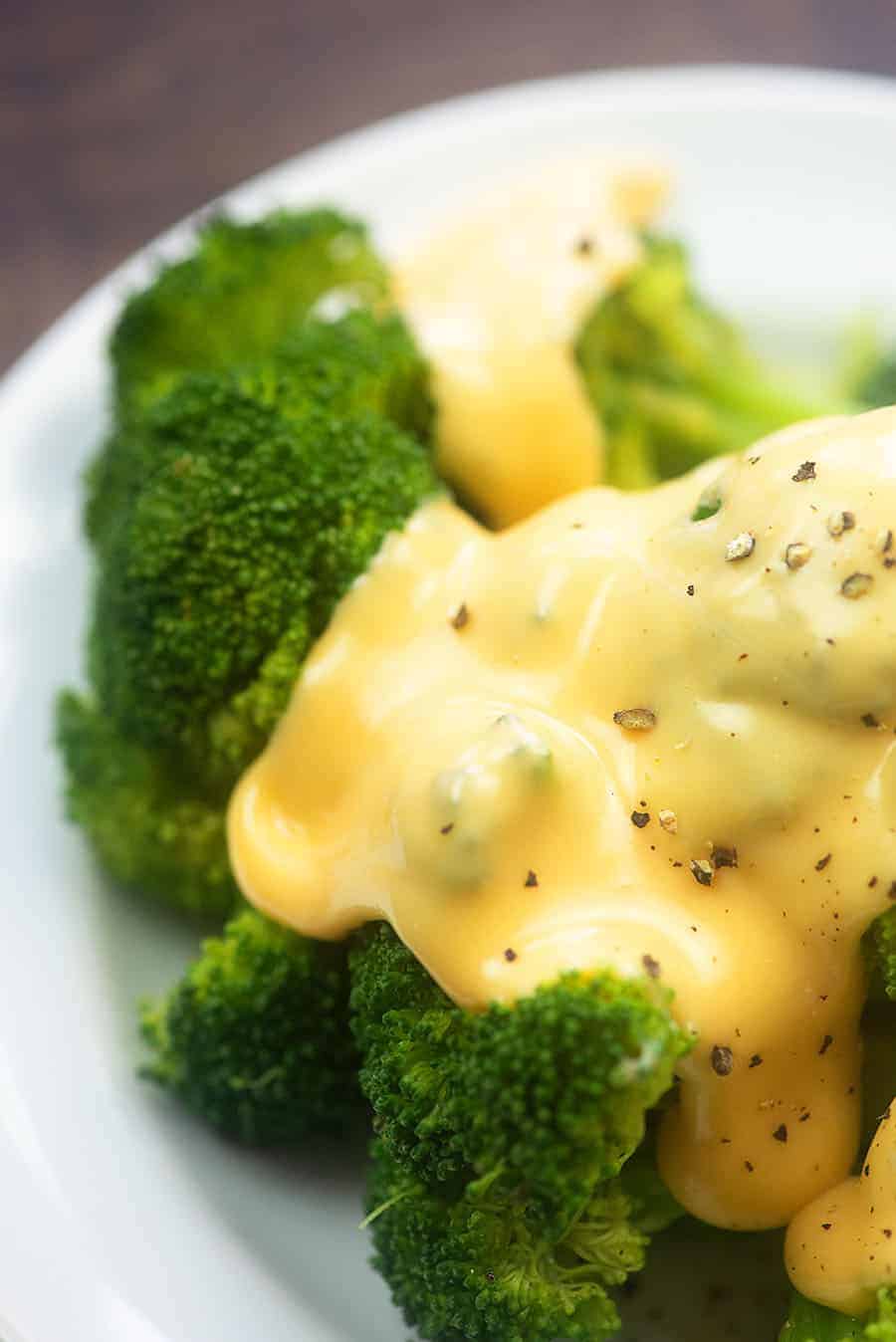 I am a broccoli fanatic.
Weird to admit, but it's true. It's just my favorite veggies and I will happily eat it steamed with just a little sprinkle of salt or raw, dunked in my homemade ranch dressing.
We usually just eat this keto cheese sauce drizzled (heavily) over steamed broccoli, but it's also good on our air fryer frozen broccoli or as a dip for our cauliflower breadsticks.
I mean, let's be real…cheese really does make everything better and this smooth and creamy cheese sauce is the way to go. 🙂
It's good on cauliflower too!
Ingredient Notes:
Cream – You'll need heavy whipping cream. I'm not sure if this would work with half and half or light cream.
Cheese – We use a mix of cream cheese, cheddar, and Gruyere. I like the flavor that Gruyere adds, but it's admittedly a little pricy so you can sub in any cheese you like or just use extra cheddar.
Seasoning – You're also going to add just a little bit of ground mustard and black pepper to this keto cheese sauce. This will add a little flavor and help balance it all out.
Why We Love This Recipe:
It's super easy!
You can customize it to use pretty much whatever variety of cheese you want.
It'll improve just about anything you pour it over!
How To:
Cream – First, you'll want to heat your cream over medium heat. We don't want to boil the cream, but just get it good and hot and then stir in the cream cheese. Sprinkle in some mustard powder and stir until everything is combined. This easy cheese sauce recipe is so simple!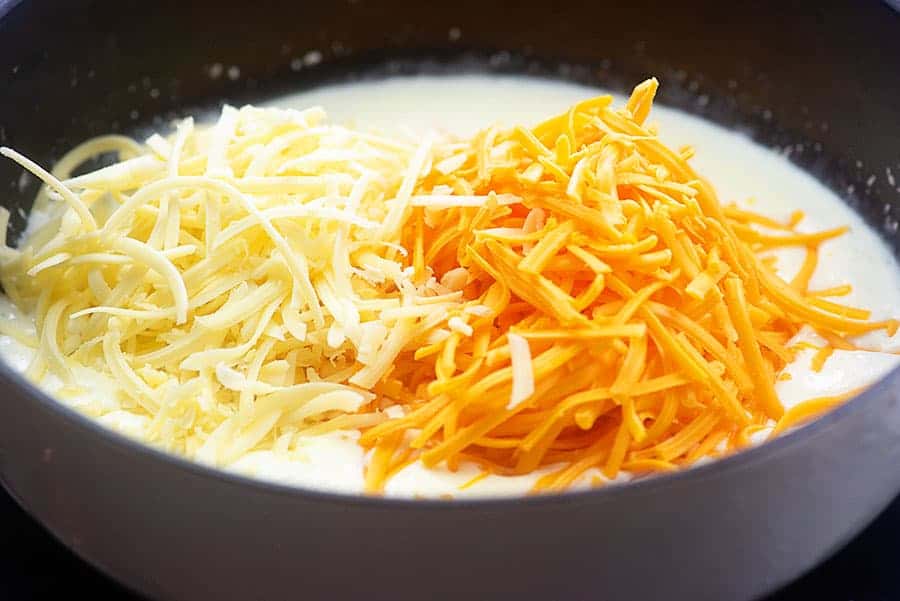 Cheese – Turn the heat off and add your freshly grated cheddar and Gruyere. The residual heat should do the work of melting it, but you can help it along by stirring until is has fully melted and is smooth and creamy!
That's it! The keto cheese sauce will start to thicken as it cools, so serve warm. I can't wait to hear what you plan to put this easy homemade cheese sauce on! I've been meaning to pour it over a bunless burger – doesn't that sound so good and so decadent?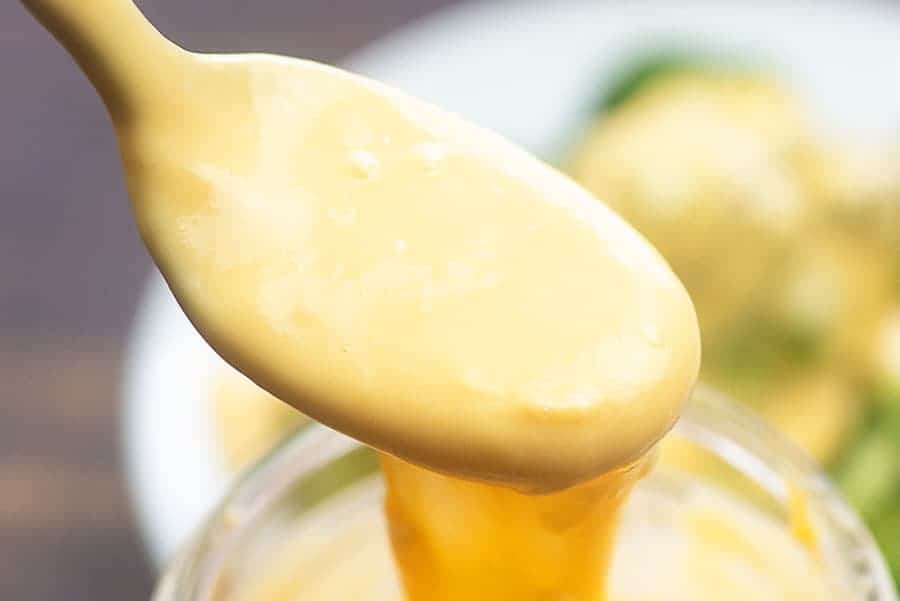 Helpful Tip!
If the keto cheese sauce is too thick or too thin you can either add additional cheese to thicken it or additional cream to make it thinner.
FAQs:
How to store cheese sauce?
This cheese sauce is best stored in a sealed mason jar or an airtight container in the refrigerator. It should last up to 4 to 5 days. To reheat, just add a splash more of cream and microwave in short bursts, stirring as needed.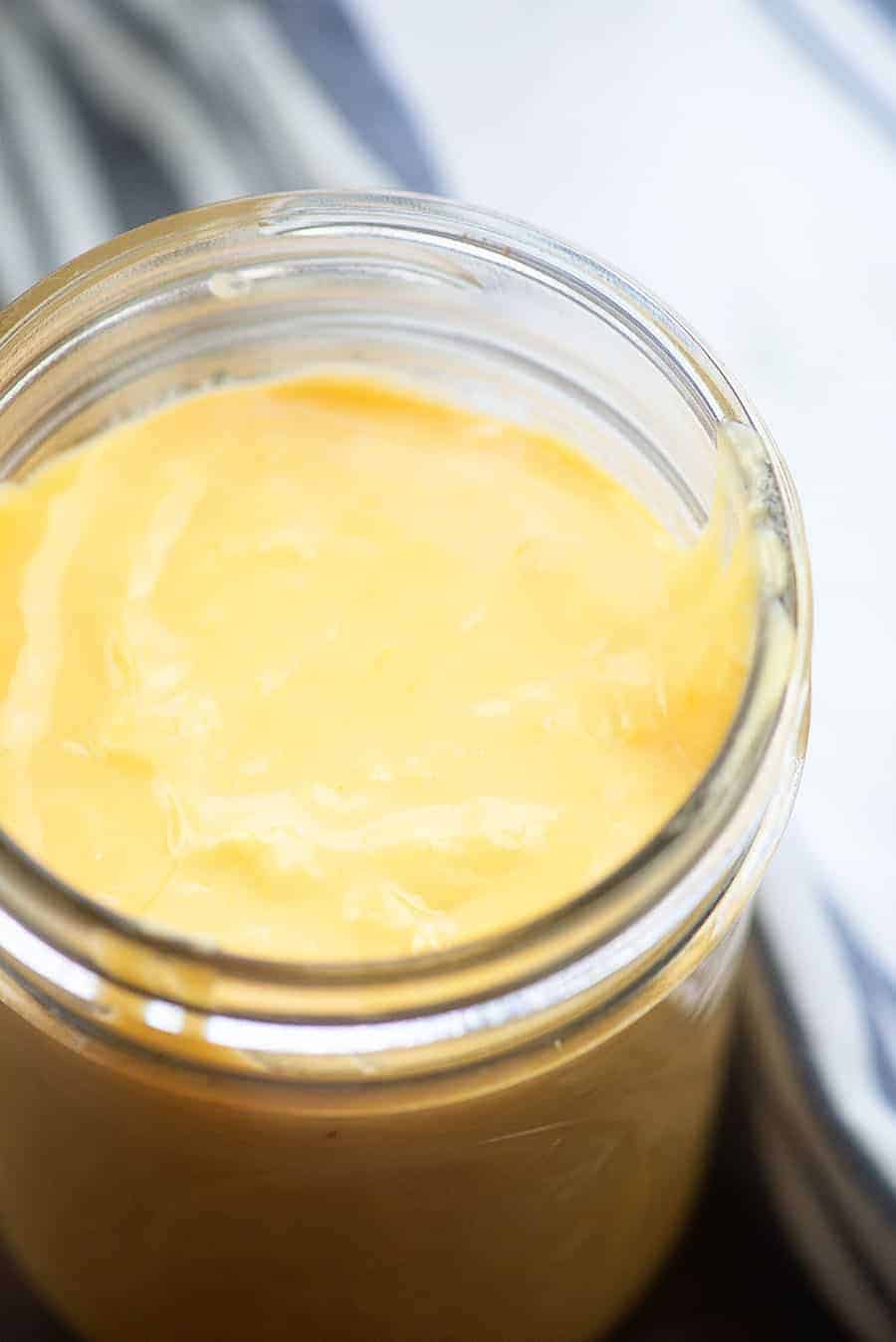 More Cheesy Low Carb Recipes: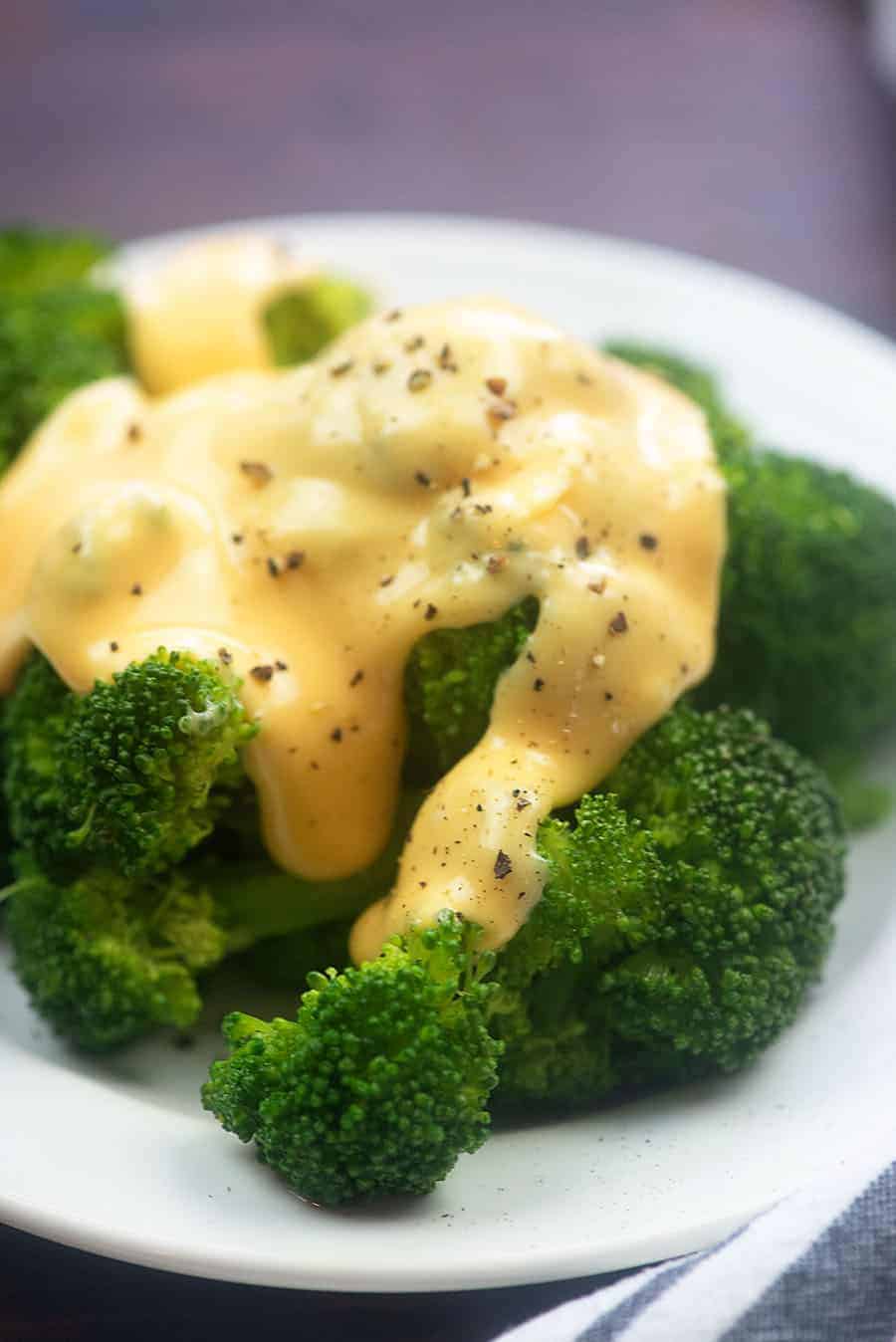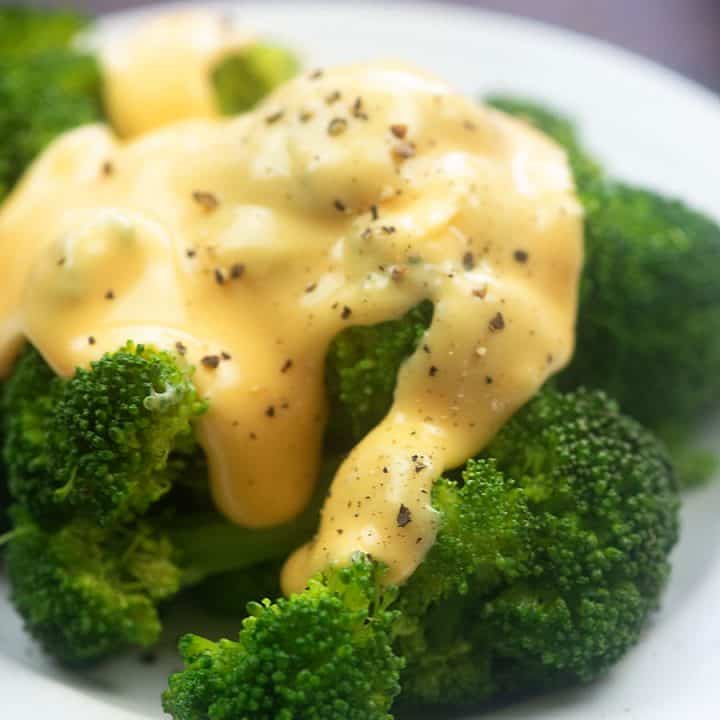 Easy Cheese Sauce
This low carb cheese sauce is so easy and is perfect for topping your veggies!
Prep3 minutes
Cook5 minutes
Total8 minutes
Serves 2.5 cups cheese sauce
Ingredients
1 1/4 cups heavy whipping cream
2 ounces cream cheese
2 tablespoons butter
1/2 teaspoon ground mustard
1/2 teaspoon pepper
6 ounces cheddar shredded
3 ounces Gruyere shredded
Instructions
Add the heavy cream, cream cheese, and butter to a medium sauce pan and cook over medium heat until the butter and cream cheese have melted.

Whisk in the ground mustard and pepper.

Remove from the heat and whisk in the cheddar and Gruyere until the mixture is smooth and creamy.

Serve immediately as the sauce will thicken as it cools.
Tips & Notes:
Feel free to swap the Gruyere for extra cheddar or another cheese such as pepperjack, Parmesan, or gouda. To reheat, add a splash of cream and microwave in 30 second bursts, stirring in between, until the mixture is smooth, creamy, and hot. If your cheese sauce is too thick or too thin for your preferences, add additional cheese to thicken or additional cream to thin.
Nutrition Information:
Serving: 2tablespoons| Calories: 124kcal (6%)| Carbohydrates: 1g| Protein: 4g (8%)| Fat: 12g (18%)| Cholesterol: 40mg (13%)| Sodium: 110mg (5%)| Net Carbs: 1g (2%)