Steak bites are a favorite among my family! I love that the marinade really soaks in to the little bite-sized chunks of steak and we all love how quick these are to get from stove to table!

The other night I had the biggest craving for a big hunk of meat.
Do you ever feel that way?
I just needed some red meat in my life, like immediately.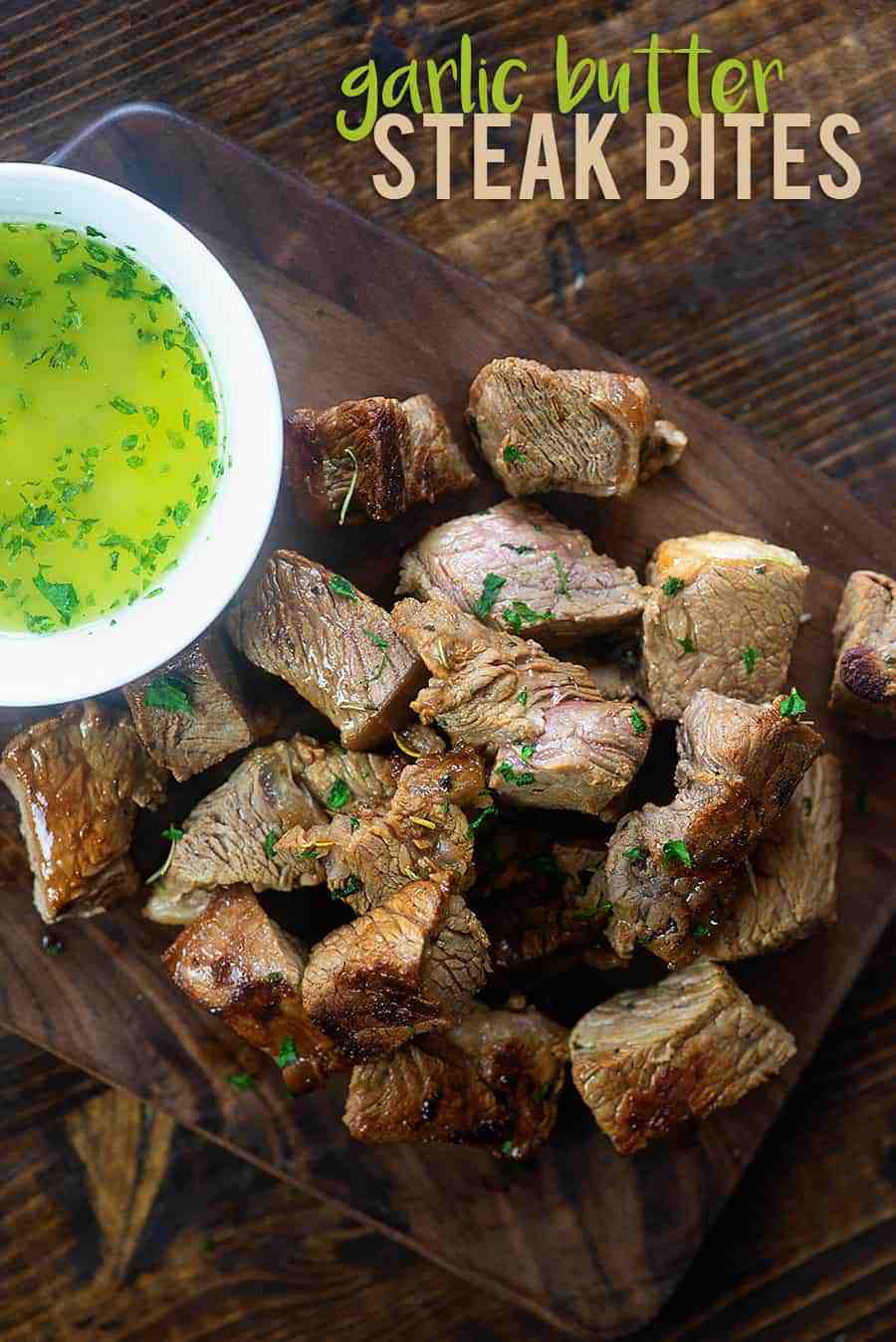 I'm guessing that my protein or iron levels were a little low that day, but whatever the reason – I wanted steak and I made sure that I got some steak. 😉
There isn't much in this world tastier than a perfectly cooked steak! I love to grill them outside on our big grill, but sometimes I prefer to keep things simple and just cook them right inside on the stove.
My trusty cast iron skillet makes a fabulous steak!
Often, when I'm short on time for marinading my steak, I turn to steak bites.
Everyone just LOVES this little steak bites recipe. It's beyond simple, but it's just a major crowd pleaser.
I start with my easy steak marinade.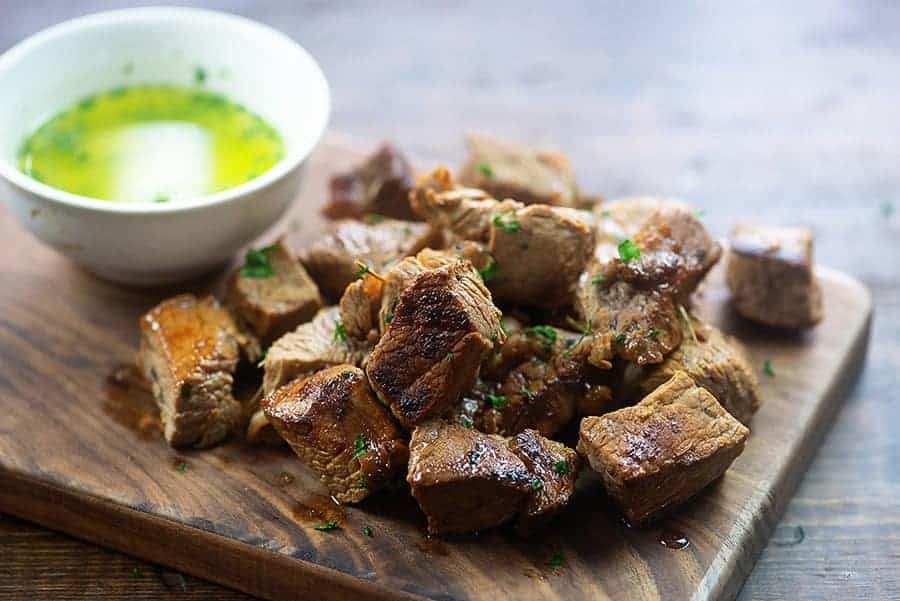 Easy steak marinade:
Add some hot water to a mixing bowl and dissolve in a tablespoon of salt. I know that it feels like an awful lot of salt, but I like my steak to have some flavor and it starts with a bit of salt. Keep in mind that we're discarding the majority of the marinade, so you're not actually consuming as much of the salt as you'd think!
Once the salt is pretty well dissolved in the hot water, stir in some vegetable oil, vinegar, Worcestershire sauce, mustard, hot sauce, oregano, rosemary, and pepper.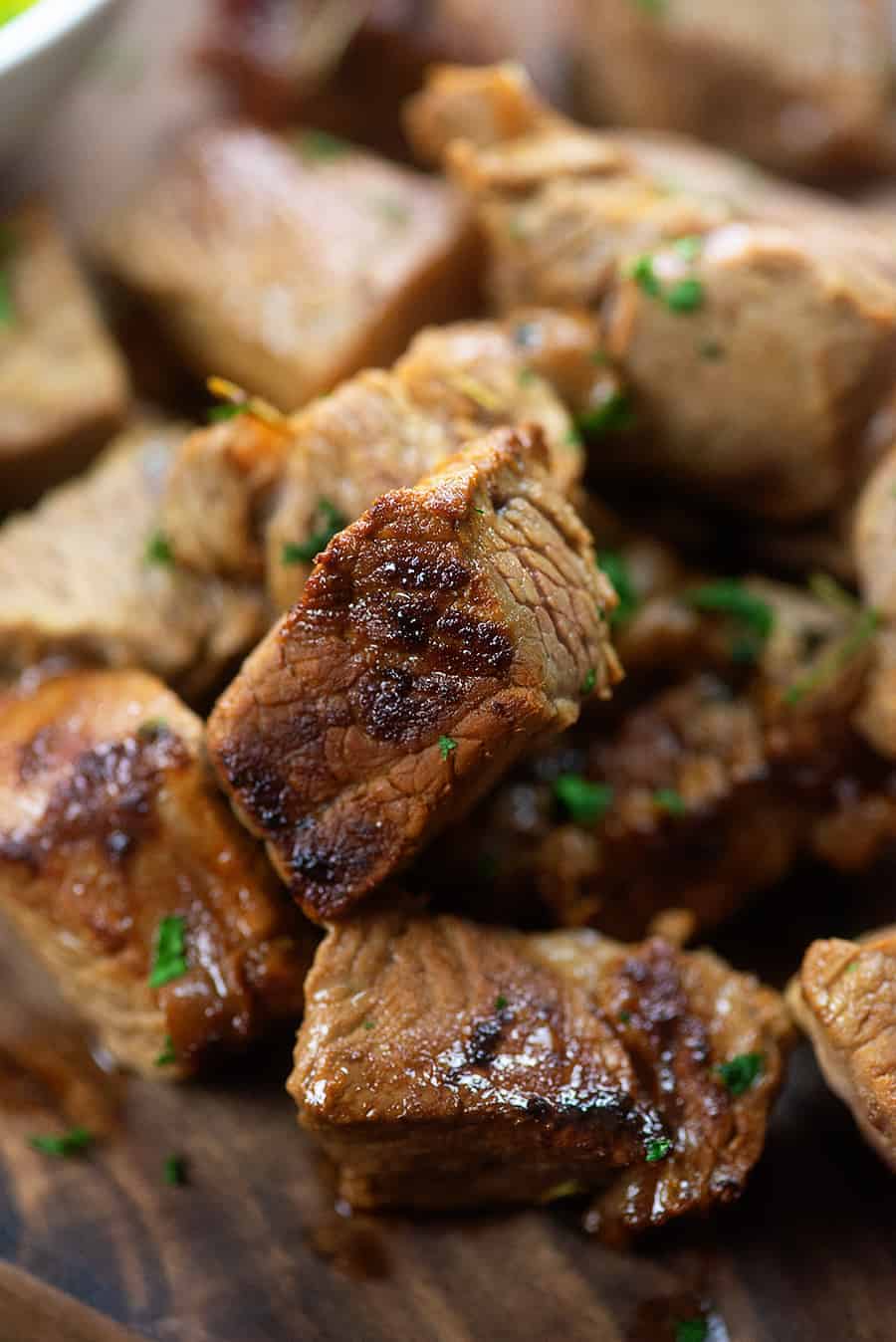 It sounds like a laundry list of ingredients, but I'd bet you have most of those in your kitchen right now.
This marinade is seriously just my favorite!!
Whisk it all together and it's ready for your steak!
How to make steak bites: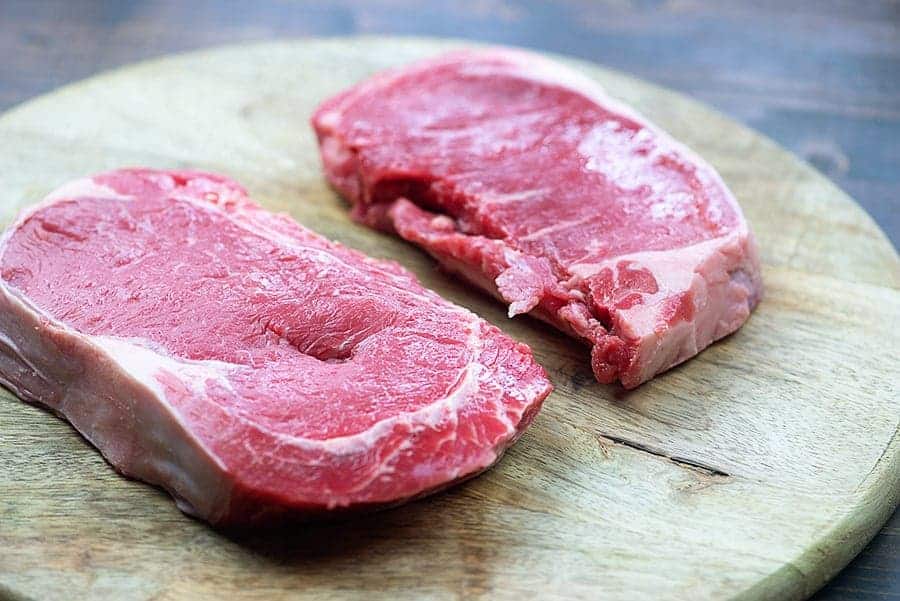 I'm starting with a couple of New York Strips, but you can use any cut that you enjoy for this recipe.
Slice the steaks into bite-sized chunks and then add them to the marinade.
Because we're using small pieces of meat, the steak doesn't need to marinate nearly as long.
Thirty minutes in the marinade is fine, but 3-4 hours is AMAZING.
Don't leave your steak in much longer than 8 hours or it does start to get a bit salty.
Drain off the marinade and pat the steak bites dry.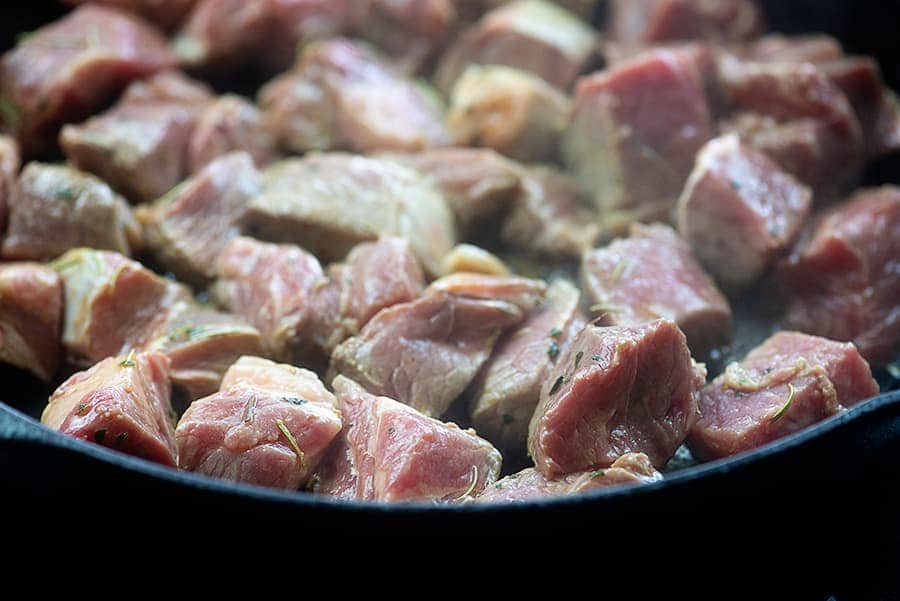 Heat a cast iron skillet as hot as you can get it and toss the steak bites right in.
Let the steak bites cook, stirring occasionally, until all the pieces are browned on the outside and cooked to your liking in the center.
These go so quick, especially if you're more of a 'rare' type of person. Keep an eye out so you don't over cook your steak!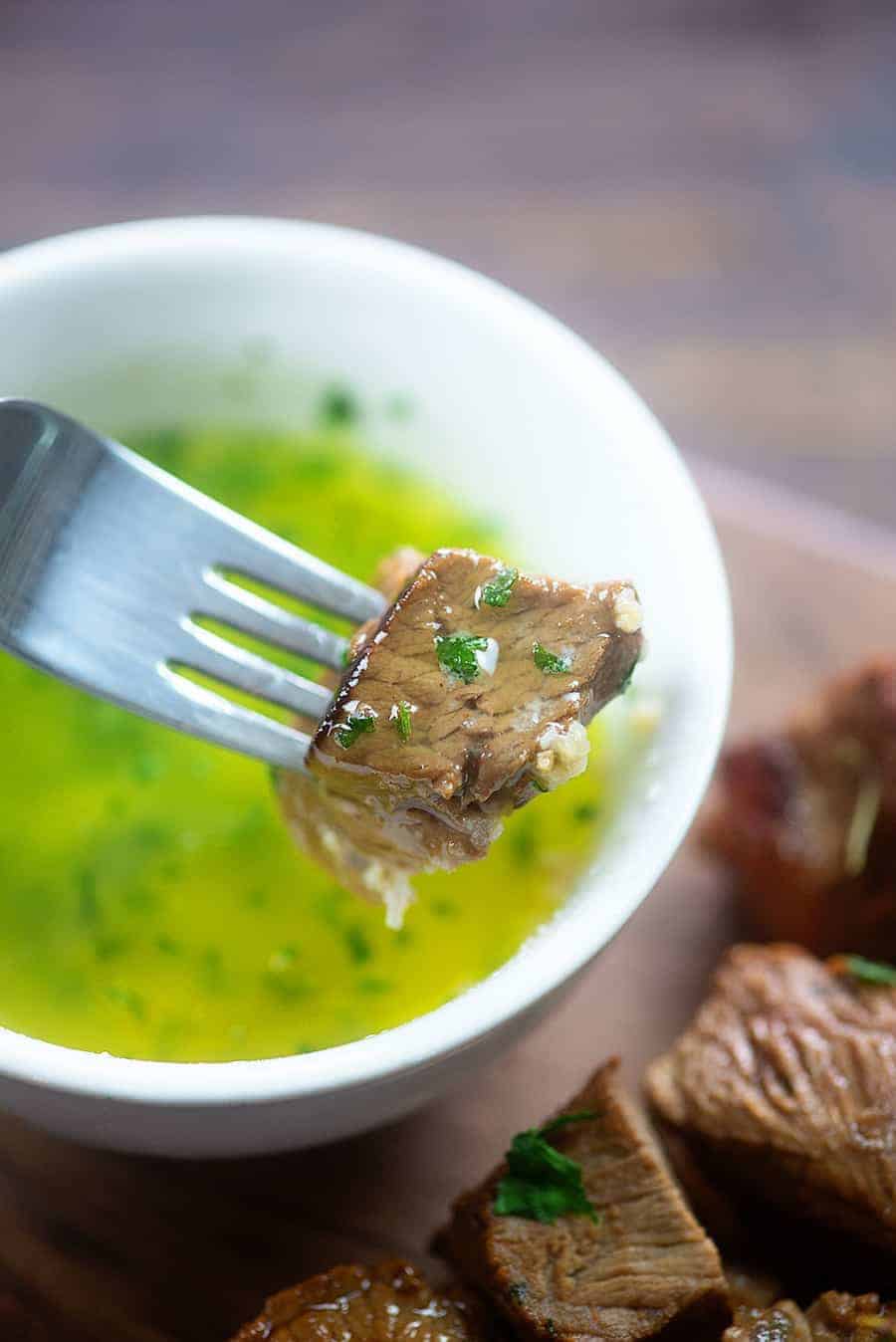 I like to melt together some butter, garlic, garlic powder, and parsley to make a simple garlic butter for dipping.
The steak already has a ton of flavor, so this really isn't necessary if it's not your thing, but it makes it so much more fun to dip, right? 😉
What to serve with steak bites:
Broccoli Salad is always a hit and it's full of bacon, cheddar, and ranch. You know it's good. 😉
Broccoli Cheese Casserole is another delicious side that my kids gobble up.
Loaded Cauliflower Casserole is my go-to when I'm missing potatoes and want something that feels a little more indulgent.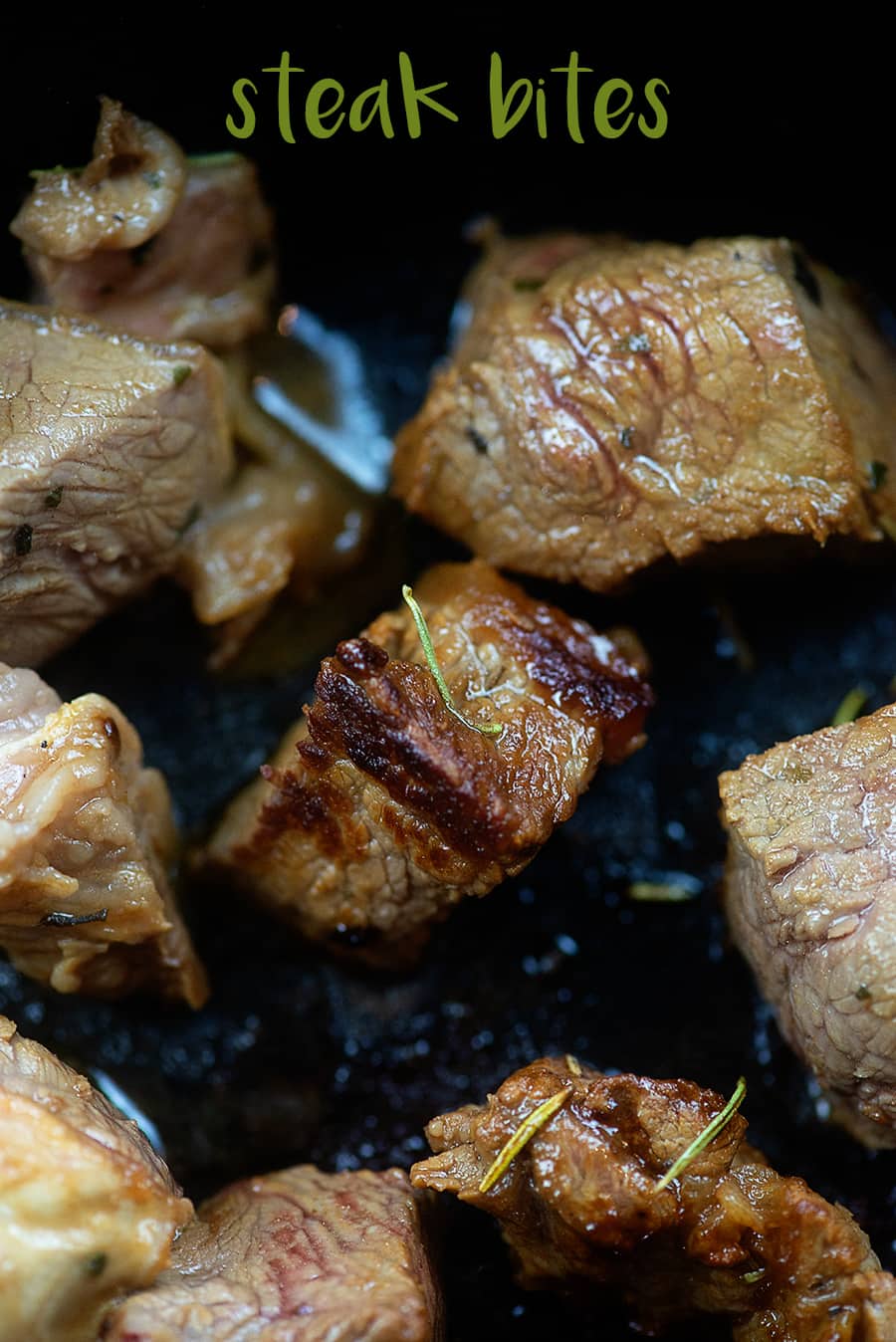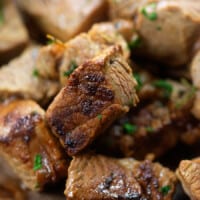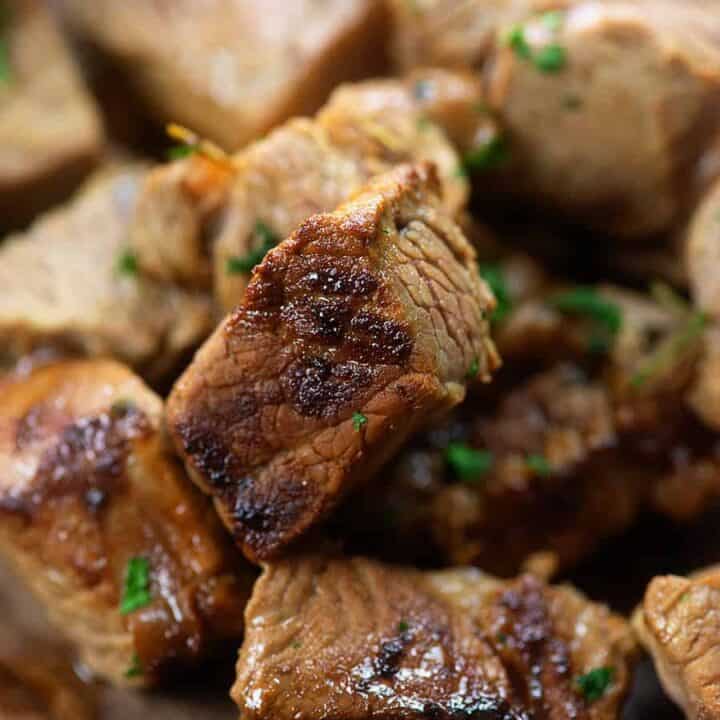 Steak Bites
So flavorful and juicy, these steak bites are always a hit in my house!
Total Time 3 hours 20 minutes
Ingredients
Steak Bites:
1 pound New York Strip
¼ cup hot water
¼ cup vegetable oil
2 tablespoons white vinegar
1 tablespoon kosher salt
1 tablespoon Worcestershire sauce
1 tablespoon mustard
2 teaspoons ground pepper
1 teaspoon hot sauce
½ teaspoon oregano
½ teaspoon rosemary
Garlic Butter:
1/4 cup butter
2 teaspoons minced garlic
1/2 teaspoon garlic powder
1 teaspoon minced parsley
Instructions
Dice the steak into bite-sized pieces and place into a zip top bag.
Whisk together the hot water and salt until the salt is nearly dissolved. Add the remaining ingredients and whisk well.
Pour the marinade over the steak. Seal the bag and marinate for 30 minutes to 8 hours.
When ready to cook, heat a cast iron skillet over high heat with a tablespoon of oil.
Drain the marinade from the steak and pat the steak bites dry.
Add to the hot skillet and cook, stirring occasionally, until browned on all sides and cooked to your liking.
To make the garlic butter, melt the butter in a small bowl and whisk in the minced garlic, garlic powder, and parsley.
Serve garlic butter with the steak for dipping or drizzle the butter over the steak bites before serving.
Notes
If you'll be marinating for longer than 2 hours, consider reducing the salt to 1-2 teaspoons. The longer the steak sits in the marinade, the saltier it will taste.
Nutrition Information:
Yield: 4
Amount Per Serving:
Calories: 489
Total Fat: 44g
Cholesterol: 120mg
Sodium: 856mg
Carbohydrates: 1g
Net Carbohydrates: 1g
Fiber: 0g
Sugar: 0g
Protein: 23g
All information and tools presented and written within this site are intended for informational purposes only. This information is provided as a courtesy and there is no guarantee that the information is accurate.