Steak bites are a favorite among my family! I love that the marinade really soaks into the little bite-sized chunks of steak and we all love how quick these are to get from stove to table!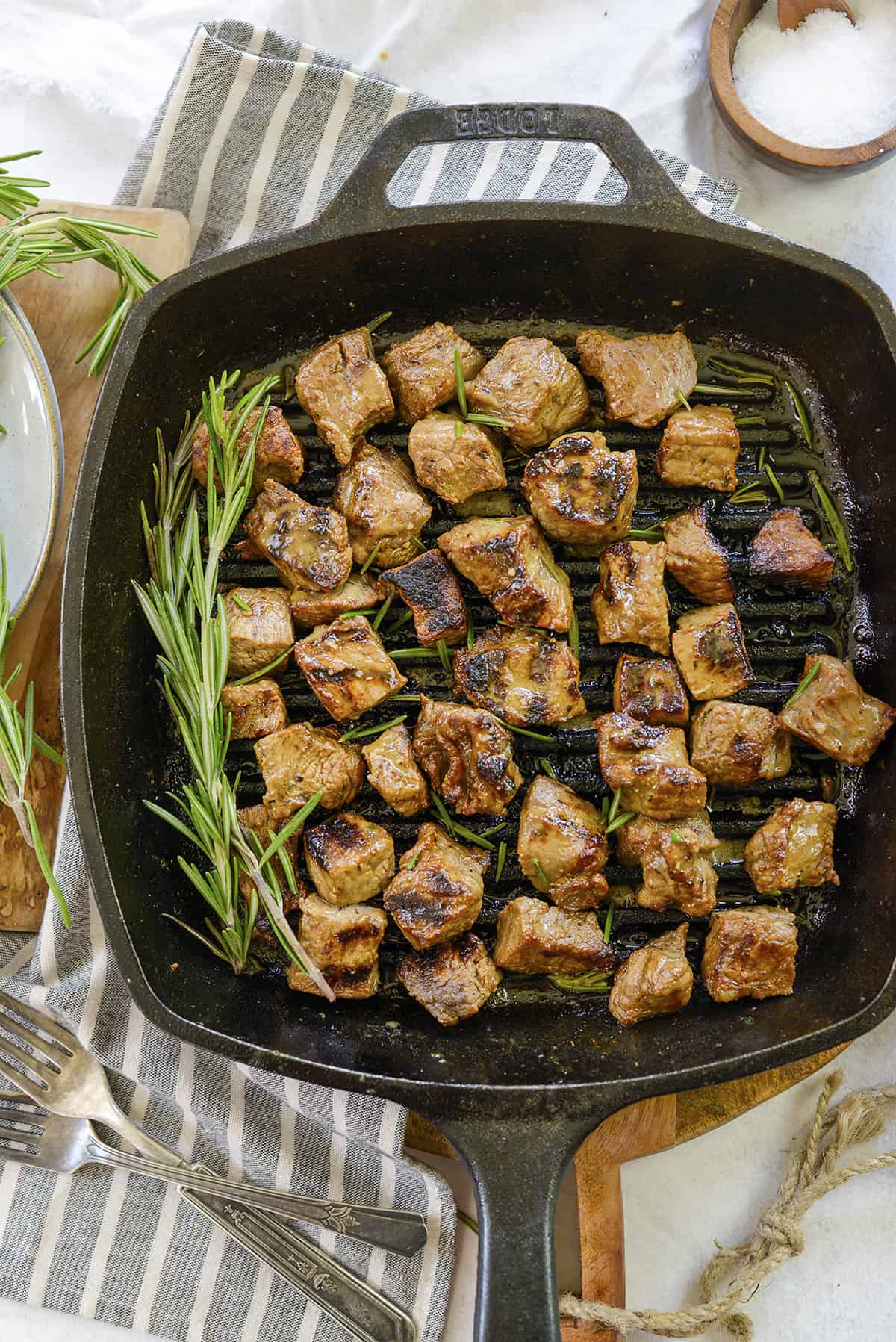 The other night I had the biggest craving for a big hunk of meat. I needed protein or iron, I'm not sure which, but it was definitely the night to make these keto steak bites!
Do you ever feel that way?
Makes planning dinner easy when a craving like that hits. 😉
There isn't much in this world tastier than a perfectly cooked steak! I love to grill them outside on our big grill, but sometimes I prefer to keep things simple and just cook them right inside on the stove.
My trusty cast iron skillet makes a fabulous steak!
Often, when I'm short on time for marinating my steak, I turn to steak bites.
Everyone just LOVES this little steak bites recipe. It's beyond simple, but it's just a major crowd pleaser.
These go great alongside our broccoli salad and cauliflower mac and cheese.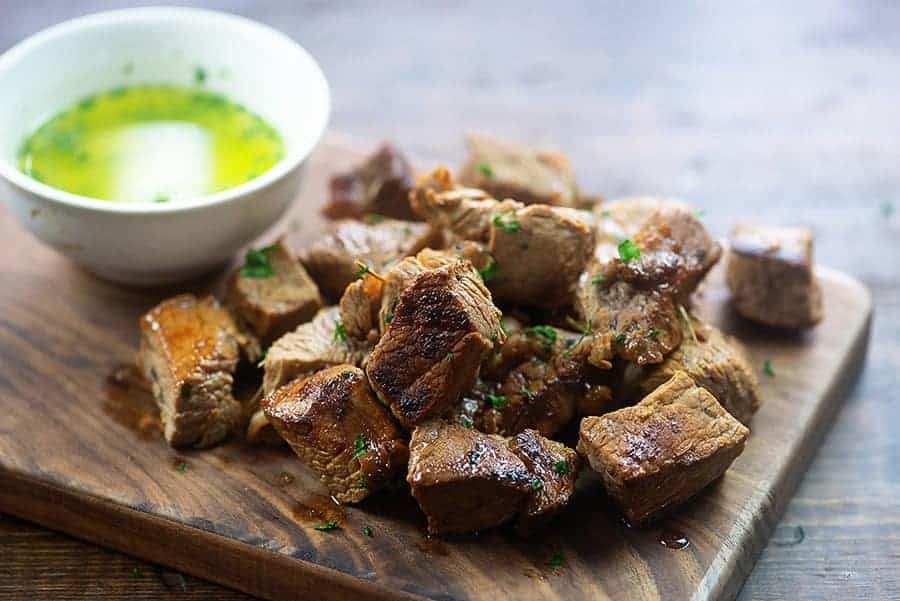 Ingredient Notes:
This post contains affiliate links. As an Amazon associate and member of other affiliate programs, I earn from qualifying purchases.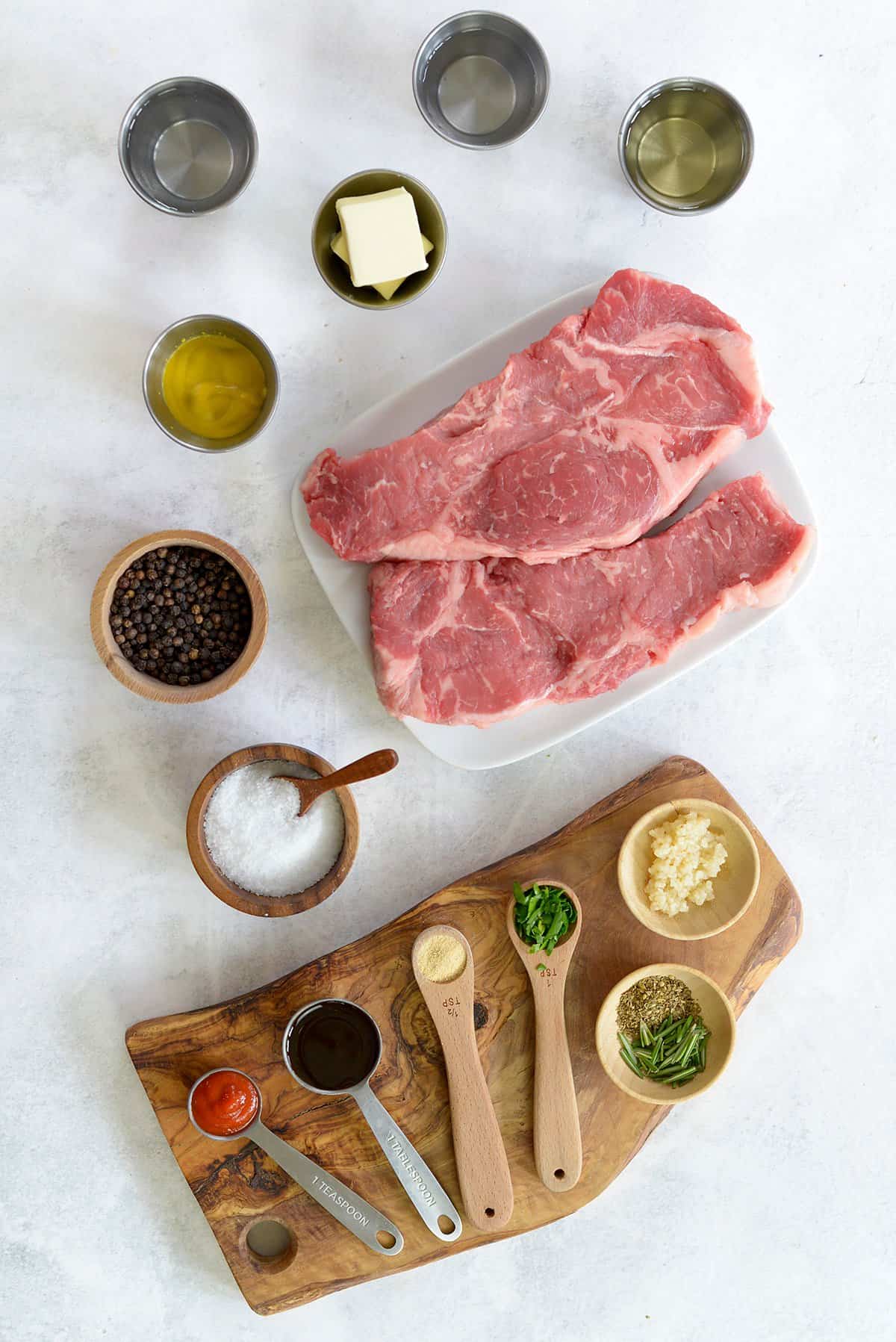 For the steak:
Steak – I'm using New York Strip steak that's been diced into bite-sized pieces. You can use another cut, like sirloin, especially if you're on a budget. Any steak that you like should work well here.
Marinade – This is a super flavorful marinade and you probably have most of the ingredients at home already! You'll mix together some oil, vinegar, water, Worcestershire sauce, mustard, and a little hot sauce. You'll also add some kosher salt, ground pepper, oregano, and rosemary. You'll let the steak bites marinate in all that flavor for at least 30 minutes and up to 8 hours!
For the garlic butter sauce:
Butter – If there is one way to improve steak, it's with lots of butter, and our sauce starts with melted butter.
Garlic – Some fresh minced garlic along with some garlic powder add flavor.
Parsley – We stir in a bit of dried or fresh parsley.
Why We Love This Recipe:
Cooking steak bites is quick and simple. A screaming hot pan will cook these up in minutes.
Marinating steak bites is also more effective than marinating a whole steak. The smaller pieces provide more surface area to soak up the marinade, and that means they are extra flavorful in less time.
These make dinner with kids easy, since the steak is already cut into bite-sized pieces.
Our Favorite Cast Iron Skillet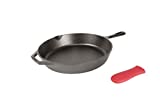 If you haven't invested in a good cast iron skillet, now is the time! They really do make a difference. For one thing, they can get much hotter than a regular skillet. That makes them perfect for searing meat like steak! And if you haven't tried bacon from a cast iron skillet, you've been missing out. This 12″ skillet is big enough for most recipes and it comes with a silicone handle holder! Get it on Amazon.
How To Make Steak Bites:
Marinade – I start with my easy steak marinade. Add some hot water to a mixing bowl and dissolve in a tablespoon of salt. I know that it feels like an awful lot of salt, but I like my steak to have some flavor and it starts with a bit of salt. Keep in mind that we're discarding the majority of the marinade, so you're not actually consuming as much of the salt as you'd think!Once the salt is pretty well dissolved in the hot water, stir in some vegetable oil, vinegar, Worcestershire sauce, mustard, hot sauce, oregano, rosemary, and pepper. It sounds like a laundry list of ingredients, but I'd bet you have most of those in your kitchen right now. This marinade is seriously just my favorite!! Whisk it all together and it's ready for your steak!
Steak – Slice the steaks into bite-sized chunks and then add them to the marinade. Because we're using small pieces of meat, the steak doesn't need to marinate nearly as long. Thirty minutes in the marinade is fine, but 3-4 hours is AMAZING.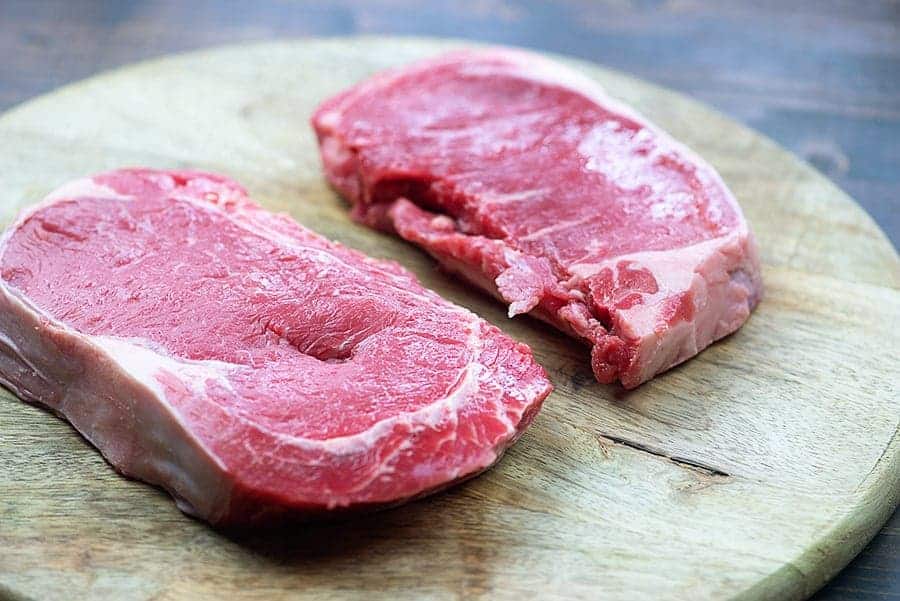 Sear – Heat a cast iron skillet as hot as you can get it and toss the steak bites right in, after draining off the marinade and patting them dry. Let the steak bites cook, stirring occasionally, until all the pieces are browned on the outside and cooked to your liking in the center. These go so quick, especially if you're more of a 'rare' type of person. Keep an eye out so you don't over cook your steak!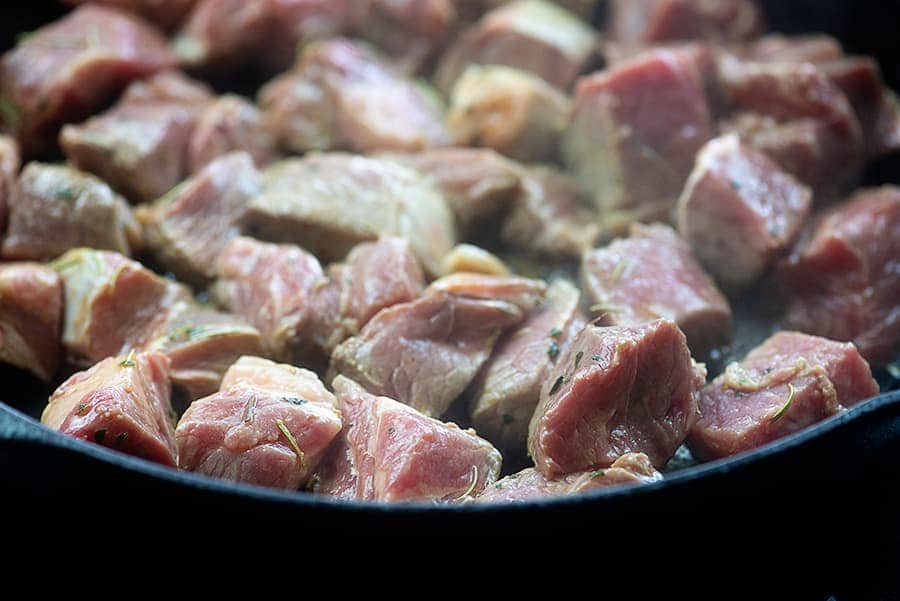 Garlic Butter Sauce – I like to melt together some butter, garlic, garlic powder, and parsley to make a simple garlic butter for dipping the seared steak bites. The steak already has a ton of flavor, so this really isn't necessary if it's not your thing, but it makes it so much more fun to dip, right? 😉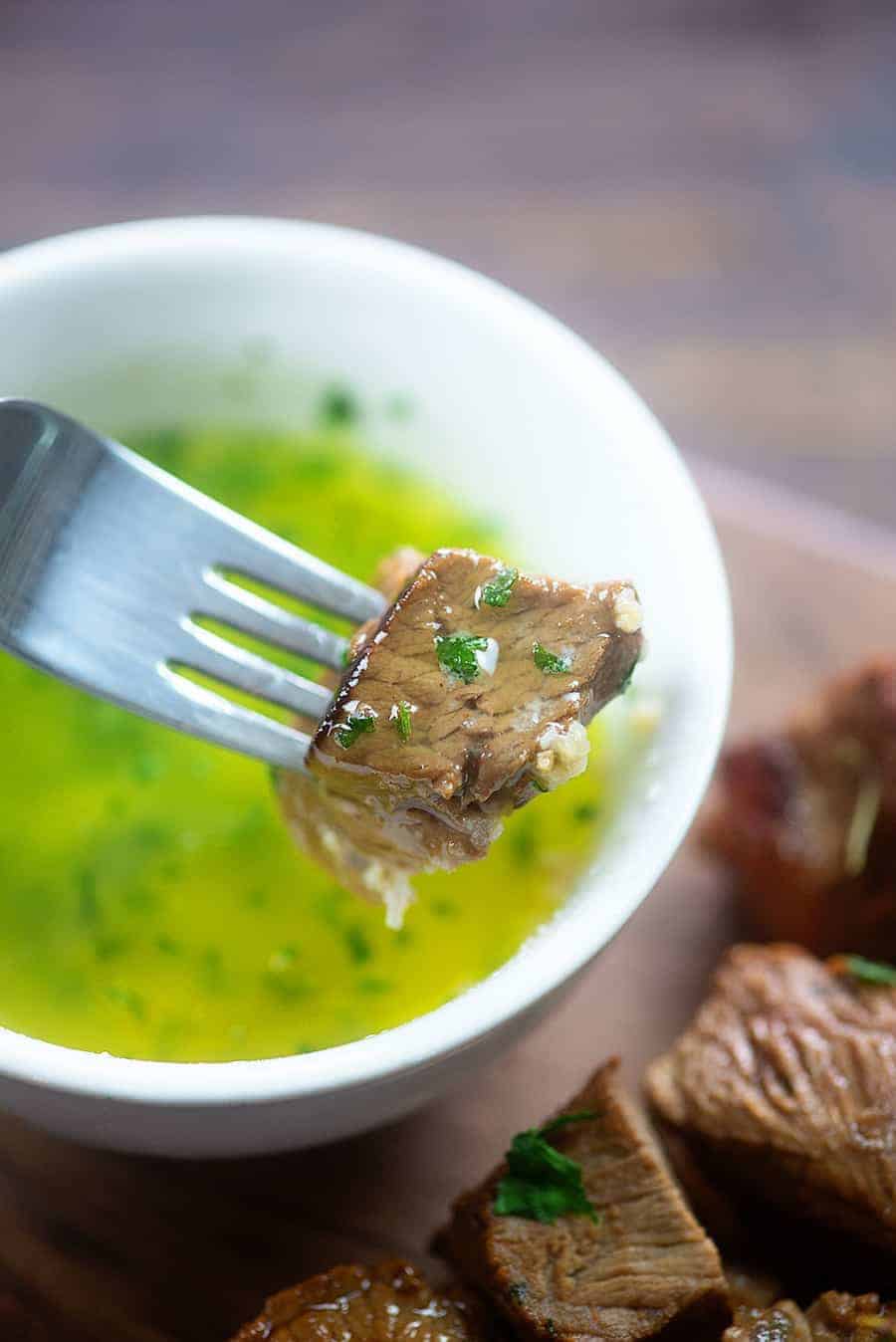 Air Fryer Steak Bites:
You can make these same steak bites in an air fryer and they'll turn out just as good. Check out my air fryer steak bites recipe! It's got the same marinade and garlic butter dipping sauce, but is a bit more hands off thanks to the air fryer.
FAQs:
How to store steak bites?
The steak bites will last in the fridge for 3-4 days in an airtight container. You could store the garlic butter sauce in the fridge too, but it'll need warmed up and melted again before serving.
What kind of hot sauce to use in the marinade?
We use Frank's Red Hot, but any variety of hot sauce will work fine here. It doesn't make the steak spicy at all – just adds an extra depth of flavor.
What to serve with steak bites: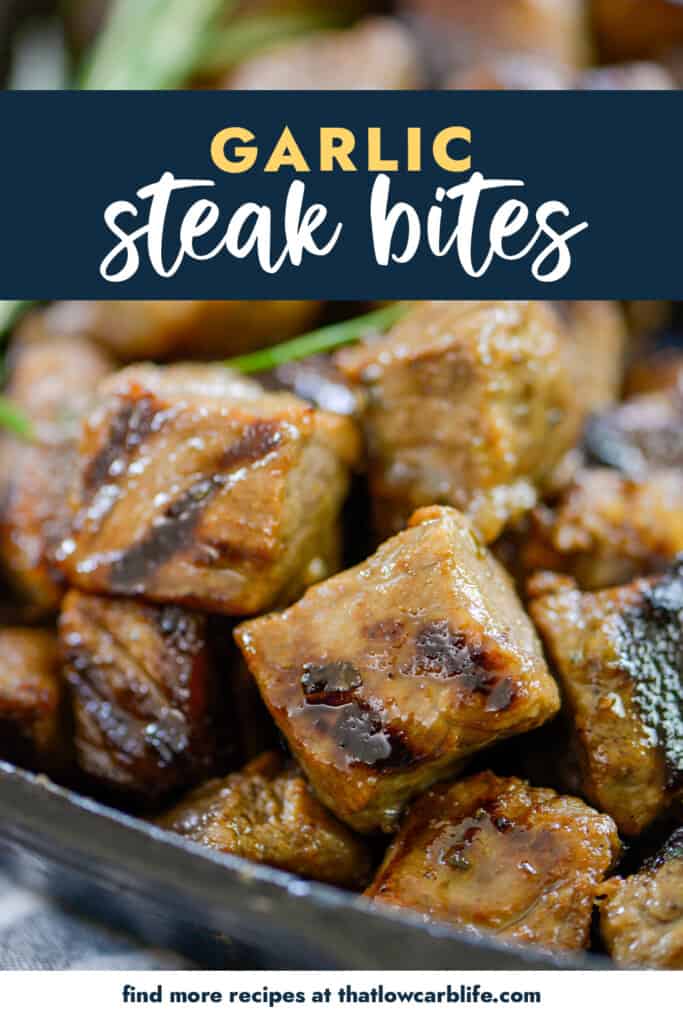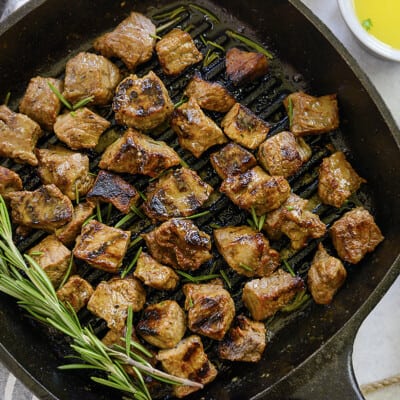 Steak Bites
So flavorful and juicy, these steak bites are always a hit in my house! Served with garlic butter for dipping!
Prep10 minutes
Cook10 minutes
Marinating Time3 hours
Total20 minutes
Ingredients
Steak Bites
1 pound New York Strip
¼ cup hot water
¼ cup vegetable oil
2 tablespoons white vinegar
1 tablespoon kosher salt
1 tablespoon Worcestershire sauce
1 tablespoon mustard
2 teaspoons ground pepper
1 teaspoon hot sauce
½ teaspoon oregano
½ teaspoon rosemary
Garlic Butter
1/4 cup butter
2 teaspoons minced garlic
1/2 teaspoon garlic powder
1 teaspoon minced parsley
Instructions
Dice the steak into bite-sized pieces and place into a zip top bag.

Whisk together the hot water and salt until the salt is nearly dissolved. Add the remaining ingredients and whisk well.

Pour the marinade over the steak. Seal the bag and marinate for 30 minutes to 8 hours.

When ready to cook, heat a cast iron skillet over high heat with a tablespoon of oil.

Drain the marinade from the steak and pat the steak bites dry.

Add to the hot skillet and cook, stirring occasionally, until browned on all sides and cooked to your liking.

To make the garlic butter, melt the butter in a small bowl and whisk in the minced garlic, garlic salt, and parsley.

Serve garlic butter with the steak for dipping.
Tips & Notes:
If you'll be marinating for longer than 2 hours, consider reducing the salt to 1-2 teaspoons. The longer the steak sits in the marinade, the saltier it will taste.
Nutrition Information:
Calories: 470kcal (24%)| Carbohydrates: 1g| Protein: 23g (46%)| Fat: 41g (63%)| Saturated Fat: 17g (106%)| Polyunsaturated Fat: 9g| Monounsaturated Fat: 14g| Trans Fat: 1g| Cholesterol: 100mg (33%)| Sodium: 2018mg (88%)| Potassium: 370mg (11%)| Sugar: 1g (1%)| Vitamin A: 391IU (8%)| Vitamin C: 1mg (1%)| Calcium: 29mg (3%)| Iron: 2mg (11%)| Net Carbs: 1g (2%)