This low carb SHREDDED BEEF CHILI is thick, hearty, and packed with beef and loads of chili spice. This recipe is a riff on my contest winning keto chili so you know it's going to be good!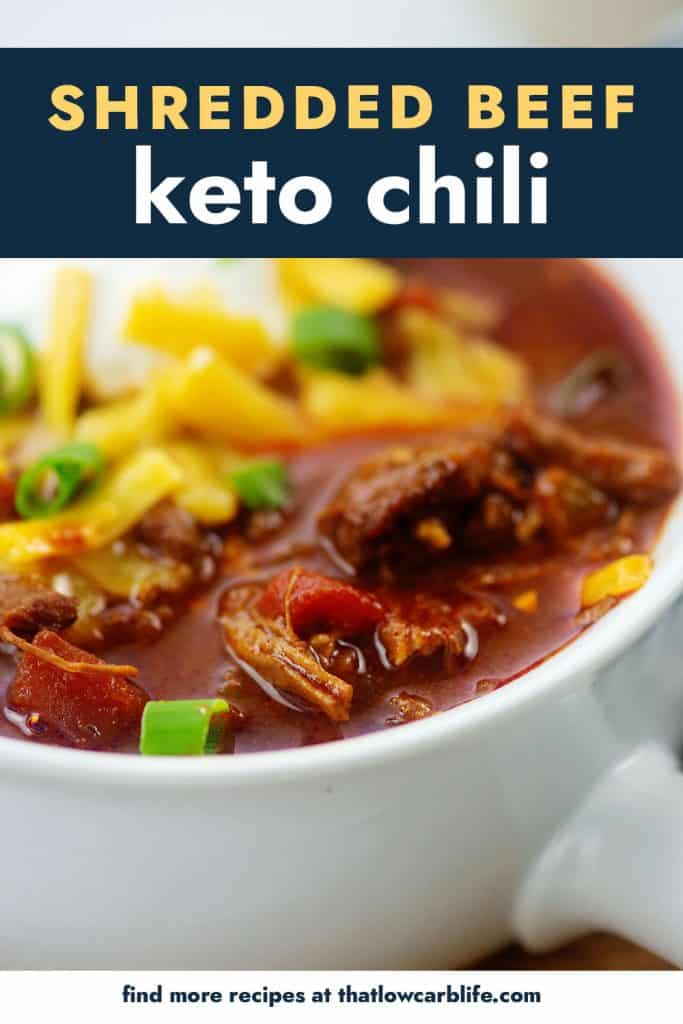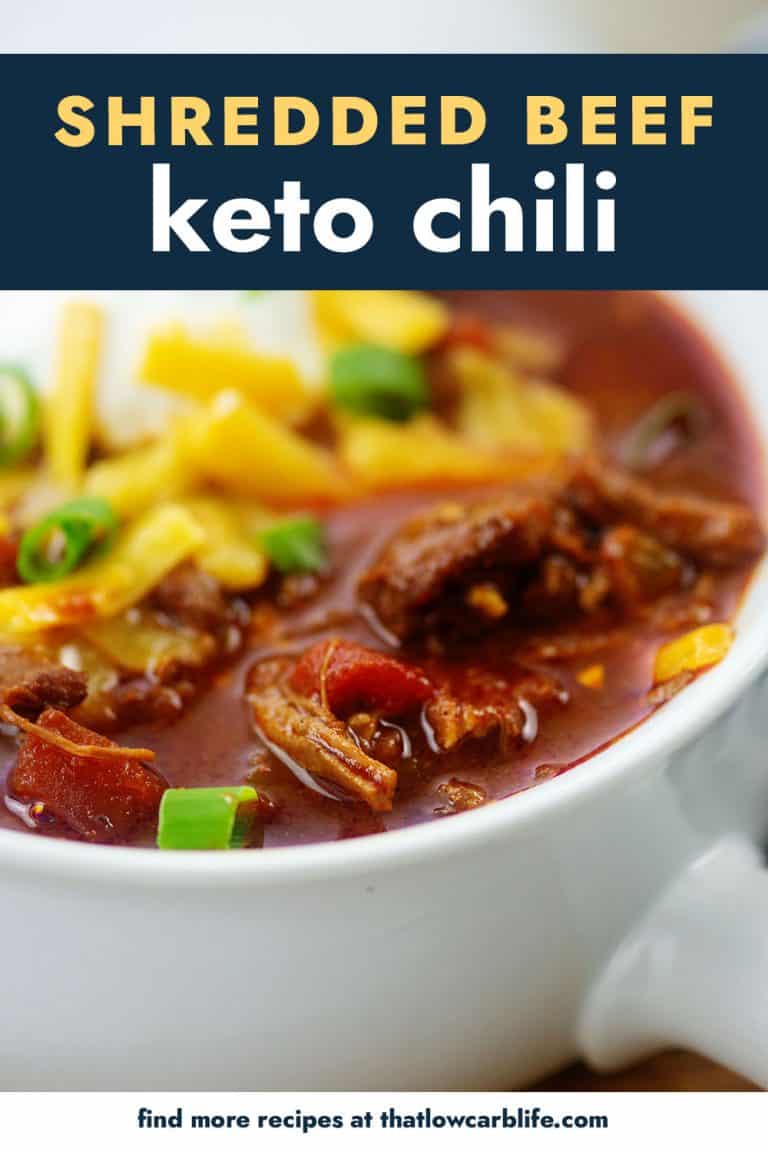 We eat chili all year when we get the craving, but usually just a few times throughout the summer.
As soon as it starts to cool off though? Bring. It. On.
We do chili almost weekly in our house, because it's rich, hearty, flavorful, and filling!
My keto chili recipe is so good that it actually won a chili cook off last year! Watch it here!
I love that classic version, but I had a chuck roast in the fridge and decided to make a shredded beef chili.
Y'all.
Talk about a stick to your ribs bowl of chili! This is so darn good!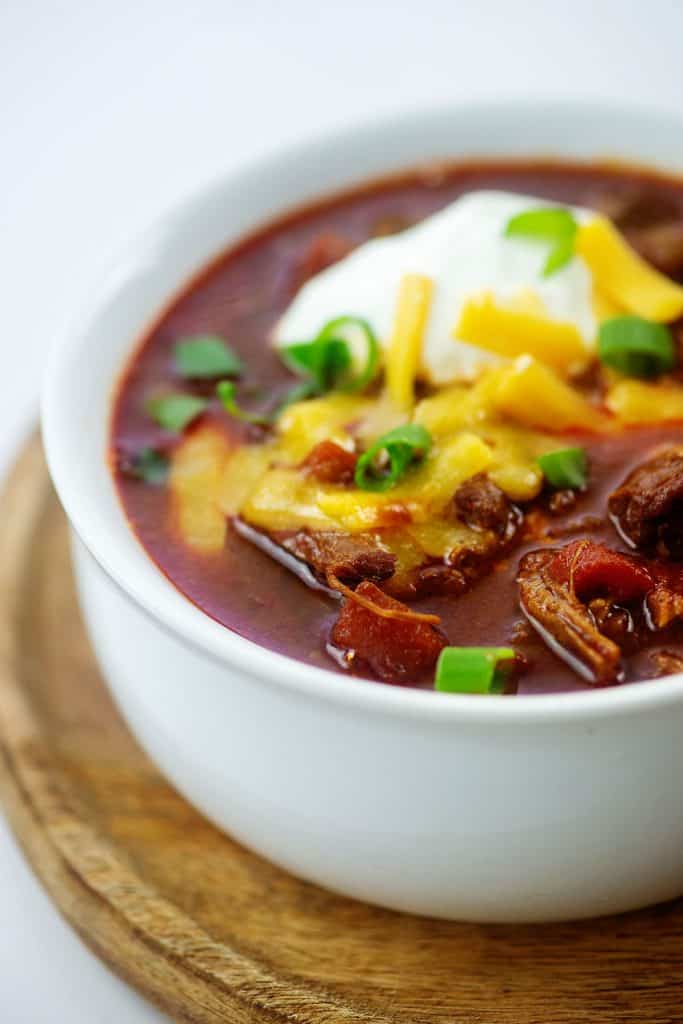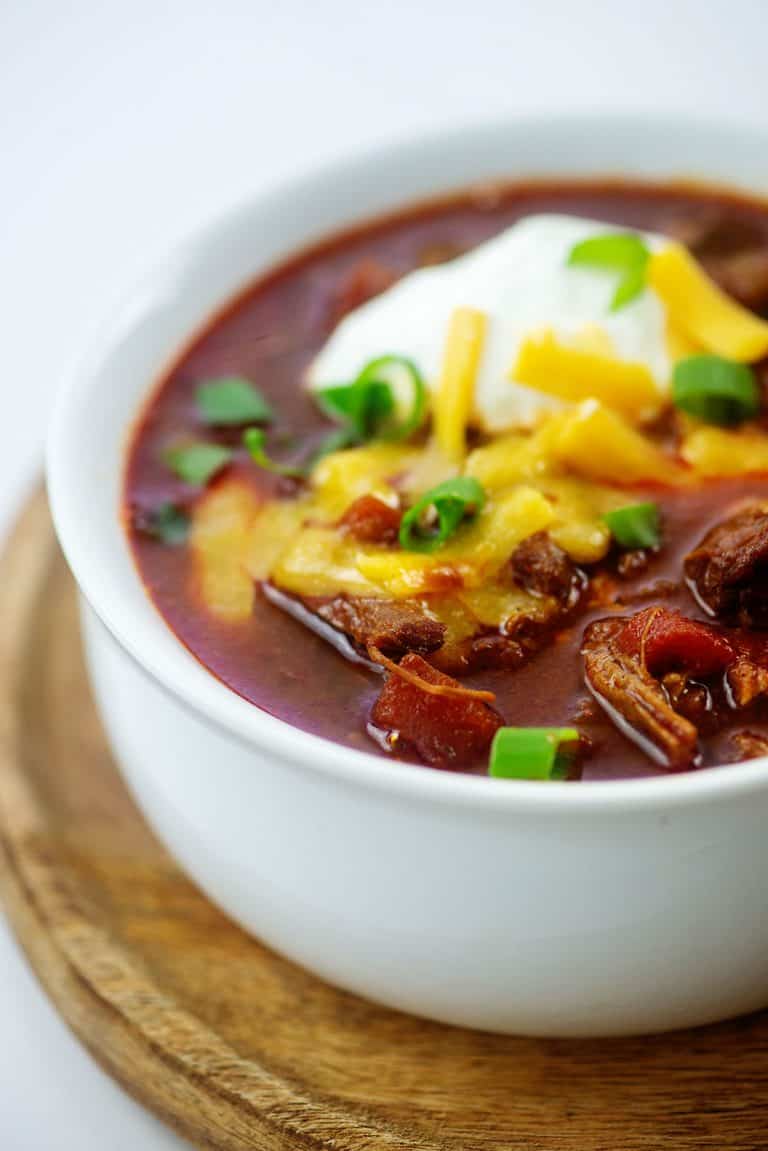 How to:
Start by searing up chunks of chuck roast. I think this would work just fine with stew meat as well, if that's what your grocery store has on sale. 😉
Remove the beef from the pot and then cook up some onions, bell peppers, and jalapeno.
I know bell peppers aren't a traditional ingredient in chili, but since we're not adding beans I like the bulk they give to the chili.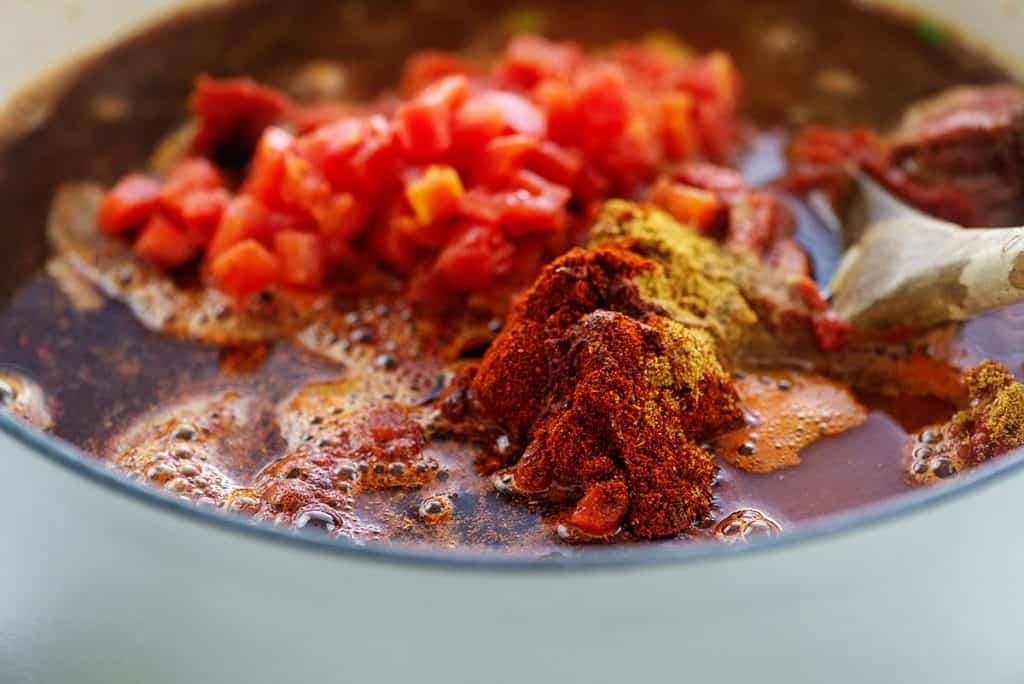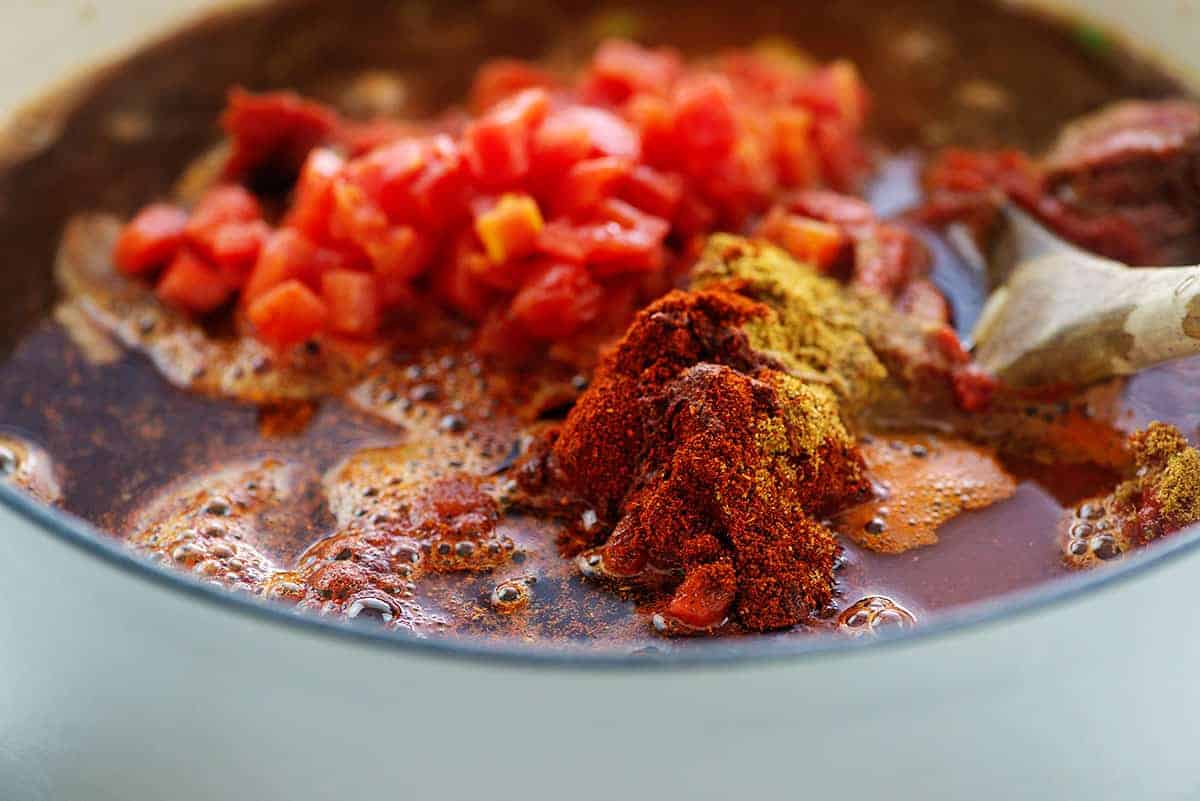 Once your veggies are softened, add back in your beef, along with some diced tomatoes, tomato paste, and beef broth.
We'll season the chili with just a couple of spices: chili powder and cumin! It doesn't get much simpler than this, but not worry – you're going to have a nice bold chili flavor by the time this is done cooking!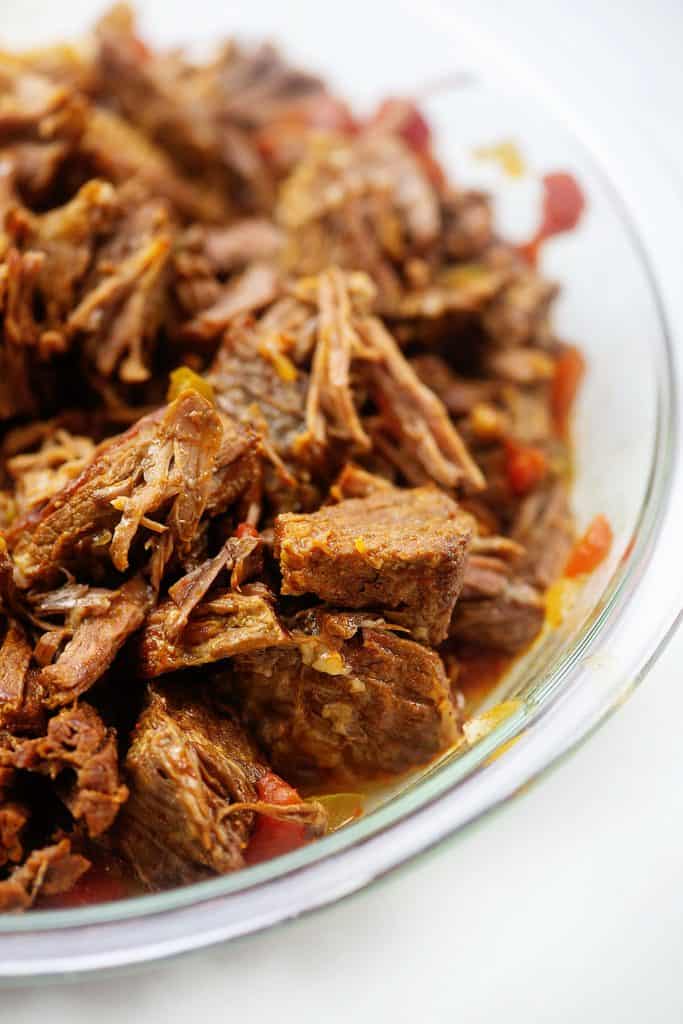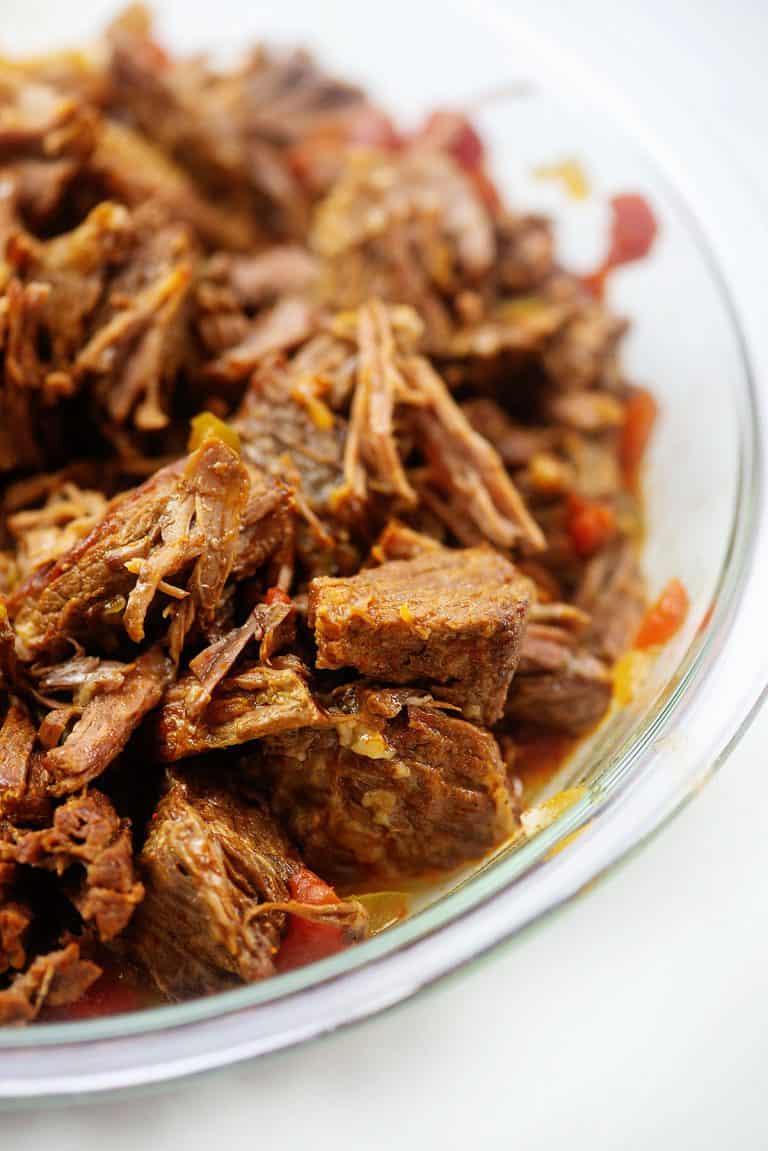 Let this simmer for about 3 hours and then the beef will be so tender that it pulls apart easily with a fork.
This chili is rich and hearty with big, bold flavors.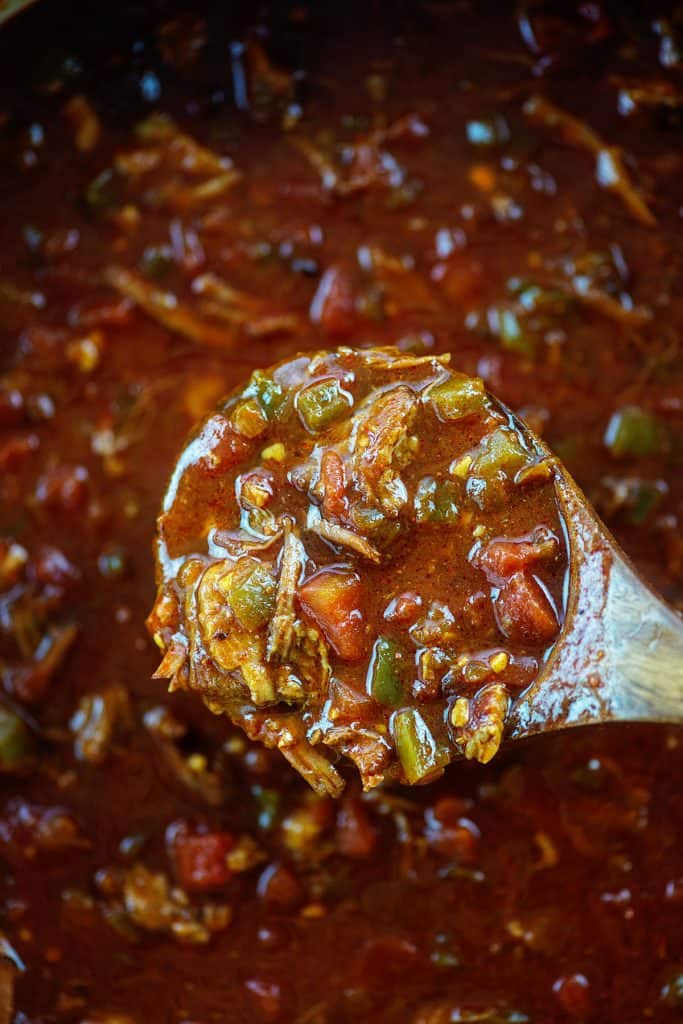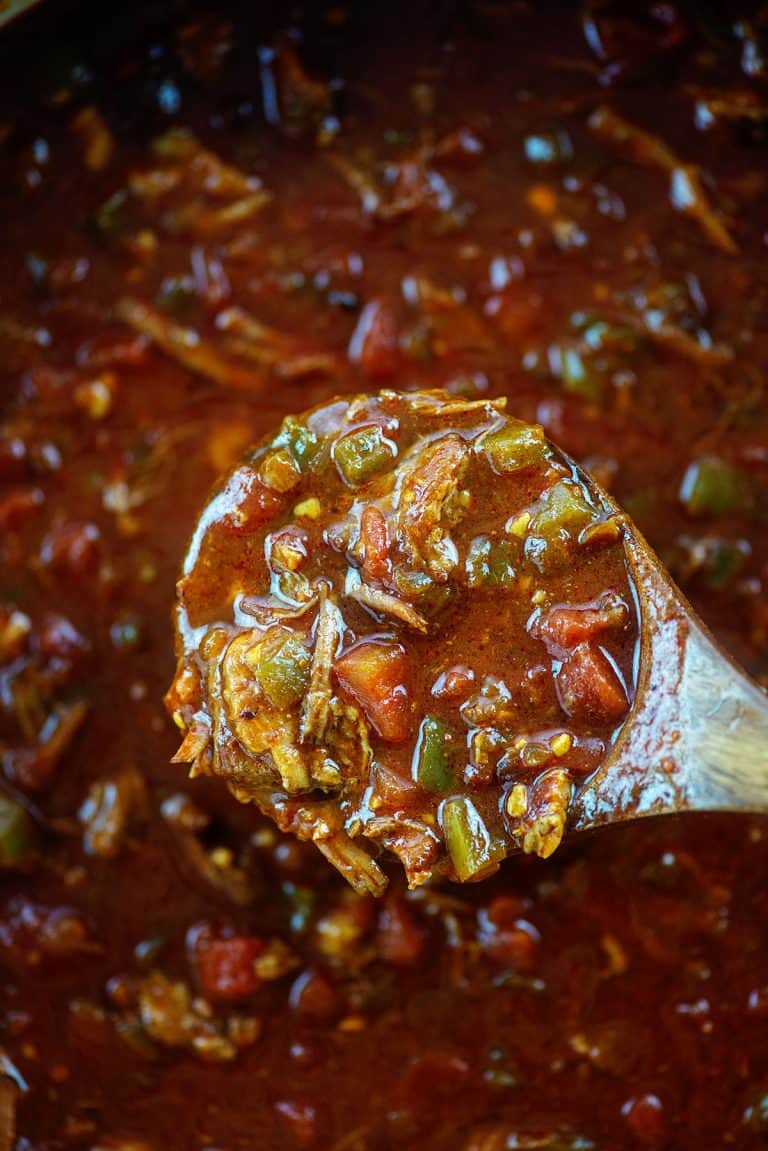 Can I add beans?
Beans really aren't a low carb food, unfortunately, but not to worry – we have options!
Black Soy Beans: If you're doing strict keto with a focus on ingredients, you'll want to avoid soy. If you're not quite as strict, black soy beans can be a great option for adding to this chili. One 15 ounce can will add a total of 4 net carbs to the whole pot of chili – less than 1 extra carb per serving.
Boiled Peanuts: Okay, this sounds crazy and I haven't actually tried it, but I plan to soon because it sounds super yum! Boiled peanuts do have a similar texture to beans and I've heard they're a great replacement!
Black Olives: Again, not something I've tried, but I've heard from others that they work well and my guess is that no one would even realize they weren't beans once they were cooked in the chili.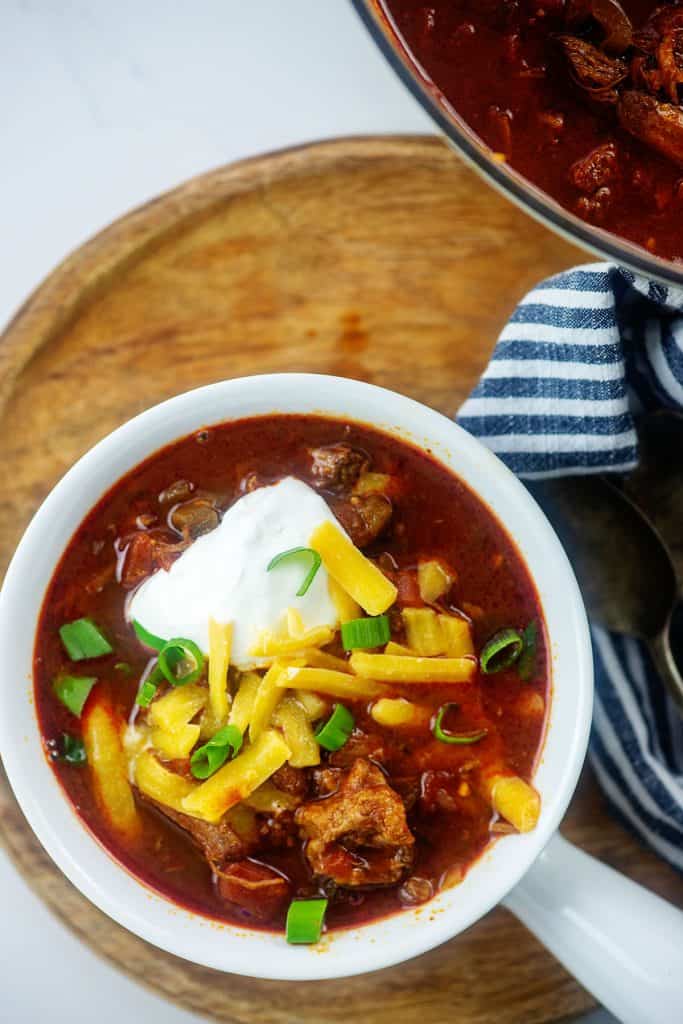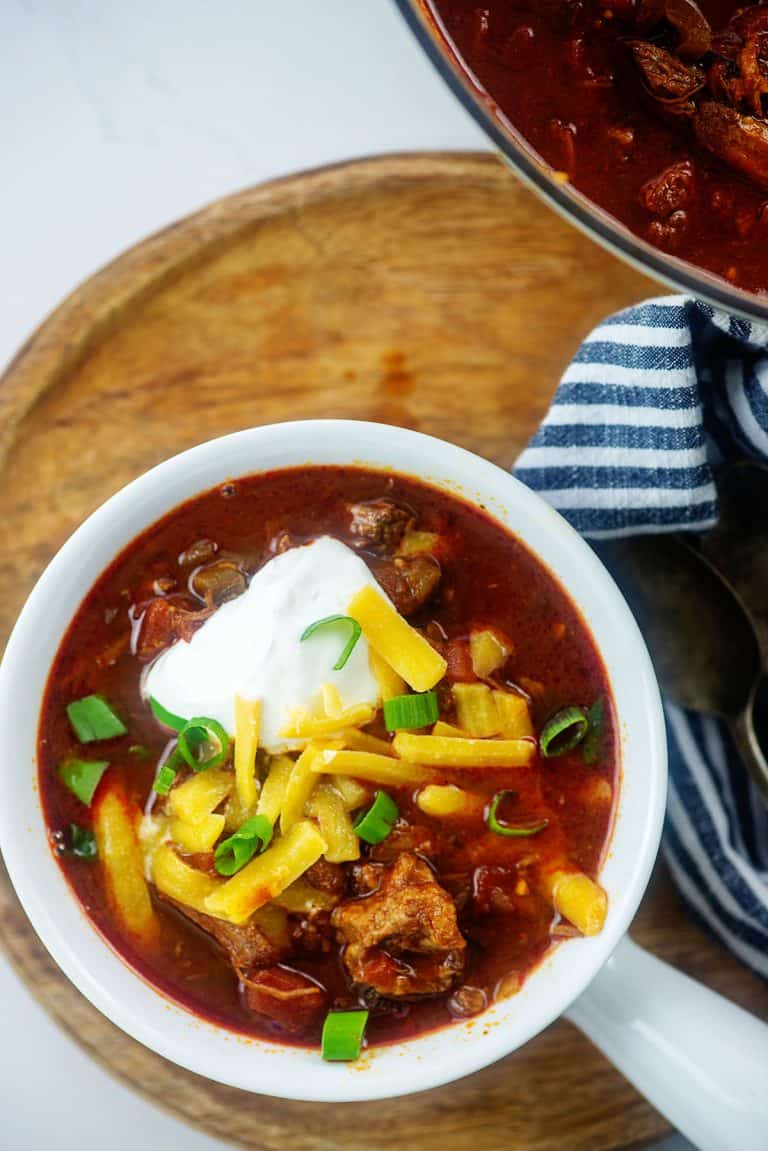 More low carb favorites: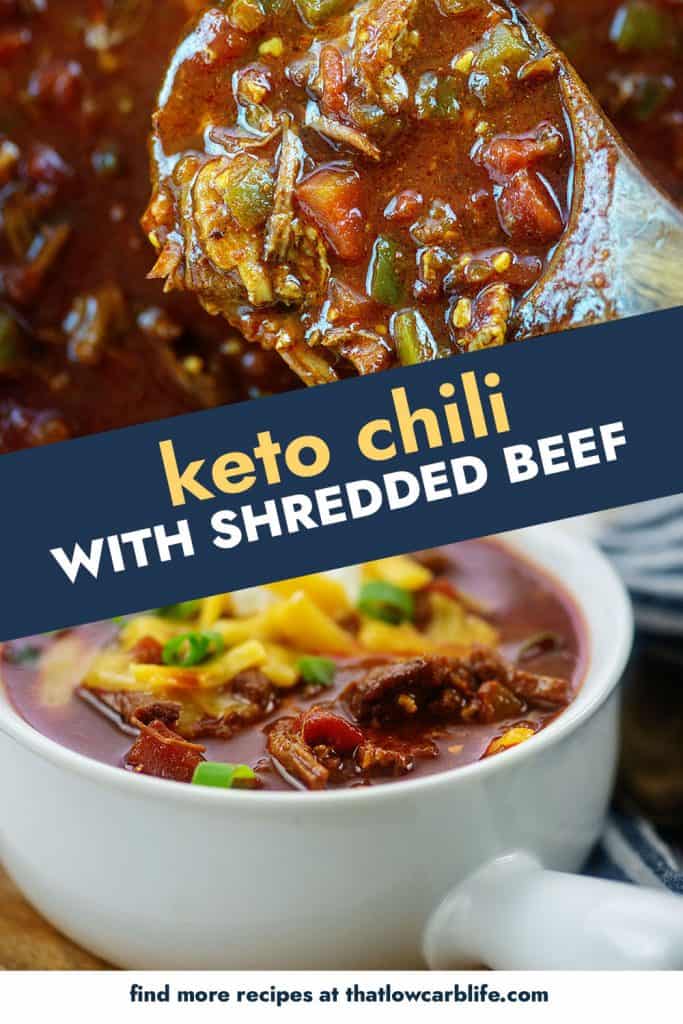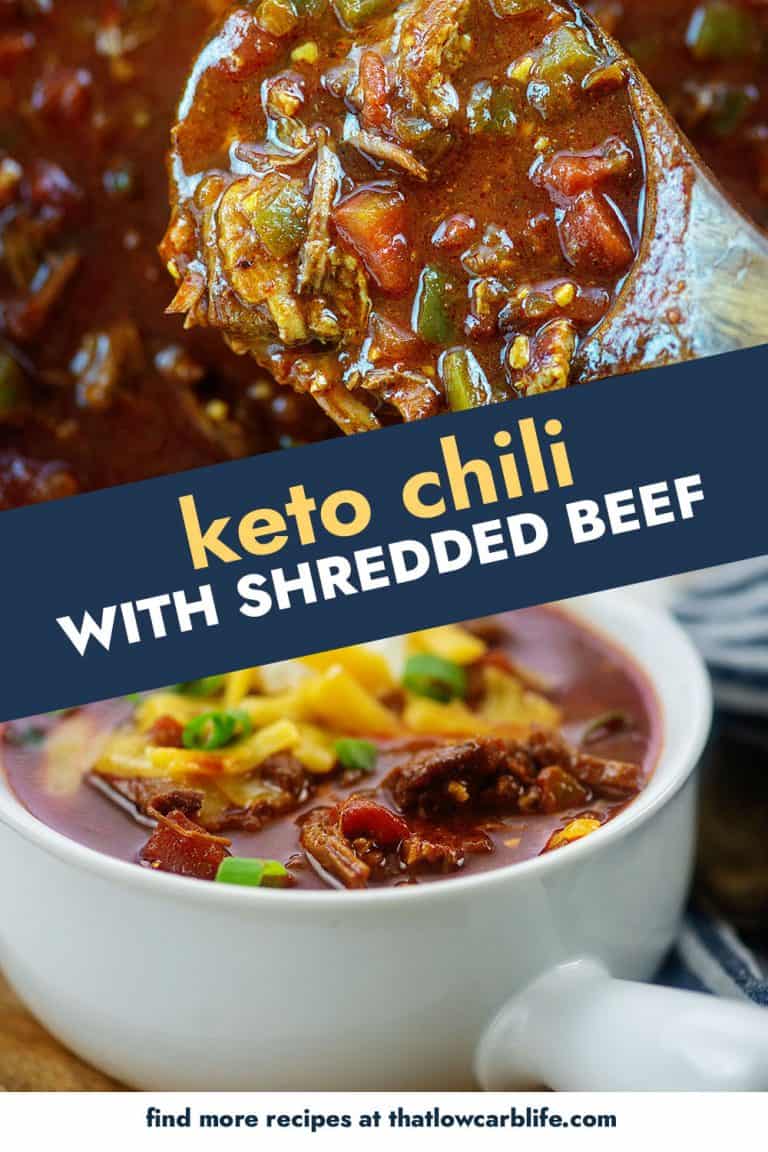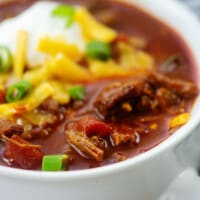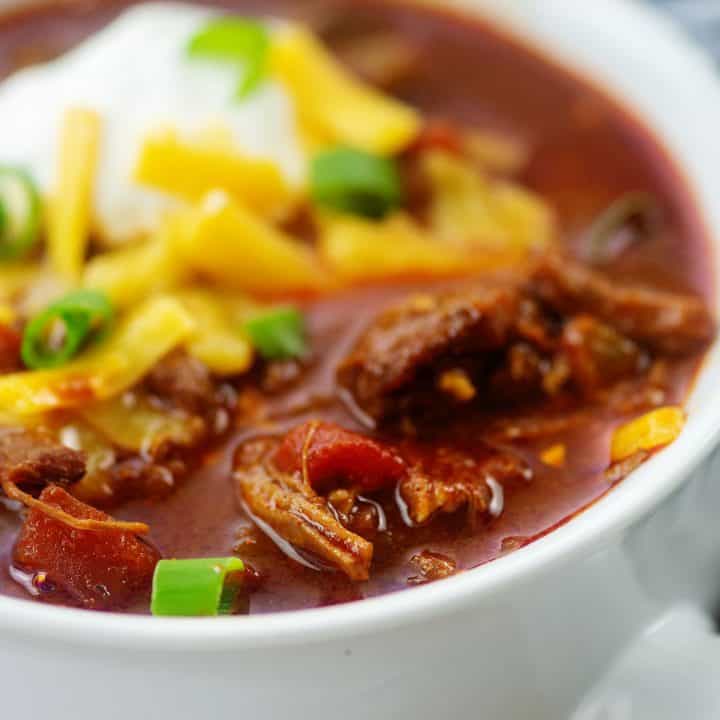 Low Carb Shredded Beef Chili
This rich, hearty chili is absolutely packed with shredded beef, making it a hearty, stick to your ribs meal that is perfect for a cool night.
Cook Time 3 hours 45 minutes
Ingredients
3 pounds chuck roast
2 teaspoon salt
1 teaspoon cracked pepper
2 tablespoons oil, divided
2 green peppers, diced
1 yellow onion, diced
1 large jalapeno, minced
3 clove garlic, minced
1/2 cup tomato paste
30 ounces canned diced tomatoes
4 cups beef broth
¼ cup chili powder
2 teaspoon cumin
Instructions
Cut the roast into 8 pieces. Season each side with salt and pepper.
Heat a large stock pot or dutch oven over high heat and add 1 tablespoon of oil.
When oil is hot, add the roast to the pot and sear on each side. You may need to work in batches so as not to overcrowd the pan.
Remove the beef to a plate and set aside.
Add the remaining oil to the pot and reduce the heat to medium.
Add the peppers, onion, and jalapeno and cook, stirring occasionally, for 5 minutes or until softened. Stir in the garlic and cook for 30 seconds.
Add the beef back to the pot along with the remaining ingredients and bring to a boil. Reduce to a simmer and cook, covered, for 3 hours or until the beef is easily shredded with a fork.
Remove the beef from the pot and shred. Return to the pot and cook, uncovered, for 30 minutes more.
Serve with your favorite toppings, such as cheddar, sour cream, and diced onion.
Recommended Products
As an Amazon Associate and member of other affiliate programs, I earn from qualifying purchases.
Nutrition Information:
Yield: 10
Serving Size: 1 cup
Amount Per Serving:
Calories: 400
Total Fat: 25g
Saturated Fat: 9g
Trans Fat: 1g
Unsaturated Fat: 14g
Cholesterol: 113mg
Sodium: 1083mg
Carbohydrates: 10g
Net Carbohydrates: 6g
Fiber: 4g
Sugar: 5g
Protein: 37g
All information and tools presented and written within this site are intended for informational purposes only. This information is provided as a courtesy and there is no guarantee that the information is accurate.