This keto chia pudding is full of nutritious chia seeds in a rich, chocolatey pudding made with low carb sweetener! This healthy dessert is high in fiber, packs in a bit of protein, and turns out so creamy and delicious!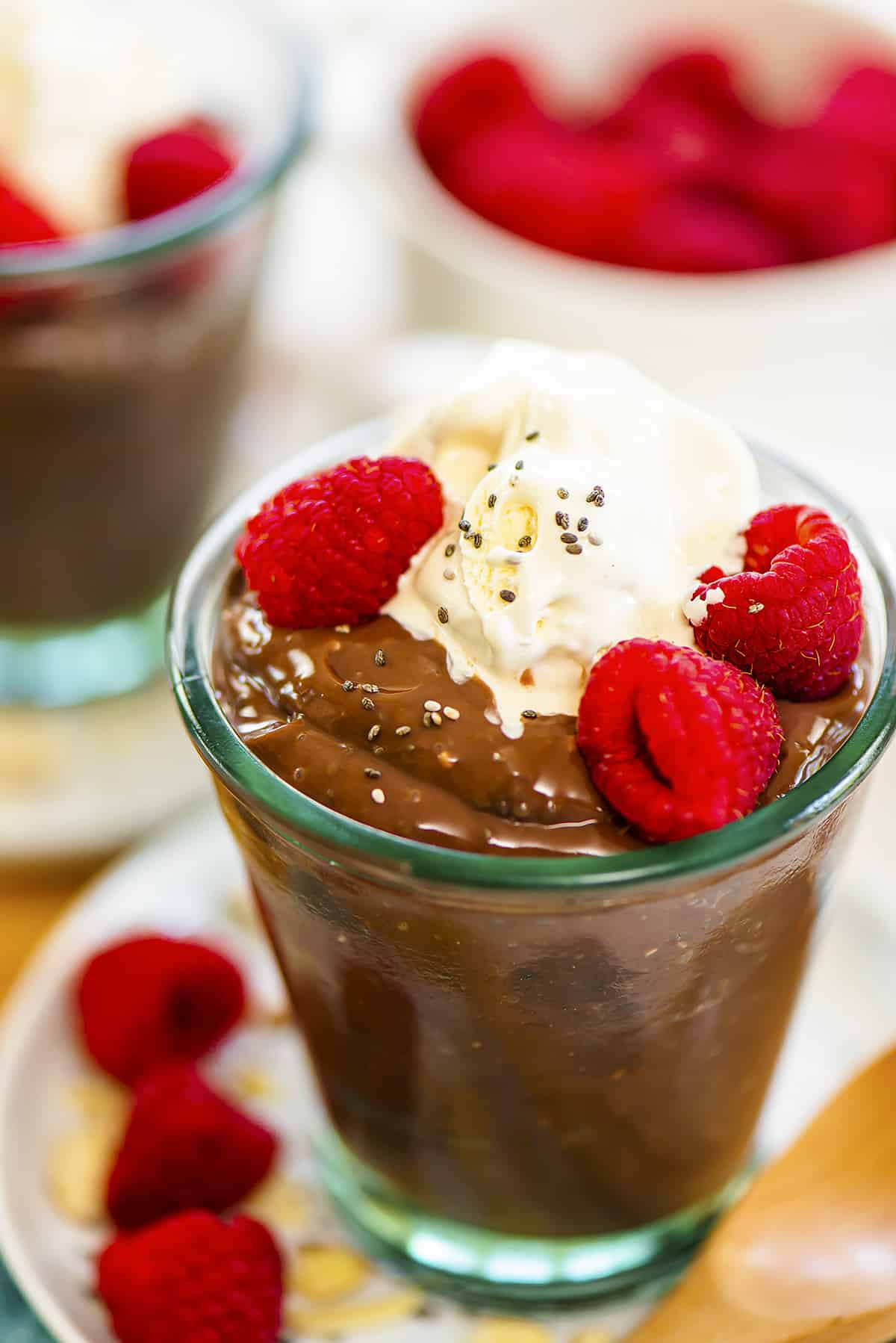 I'm about to share one of my favorite dessert for breakfast recipes with you and I know you're going to love it!
This chocolate chia pudding is simple to make, rich and creamy, and makes a great dessert…but it's definitely one of my go-to breakfast recipes.
In fact, I put this recipe in my Keto Breakfasts eBook, right next to our PB&J Noatmeal recipe that my kids are obsessed with.
We love how this recipe combines our love of chocolate with nutritious chia seeds for a treat that you can feel good about enjoying.
The total carb count on this is quite high, but that's because chia seeds are absolutely PACKED with fiber. The net carbs is just 4g per serving – totally reasonable for a tasty breakfast or a sweet treat at the end of the day.
Not into chia seeds? You might like my keto chocolate mousse instead!
Ingredient Notes:
This post contains affiliate links. As an Amazon associate and member of other affiliate programs, I earn from qualifying purchases.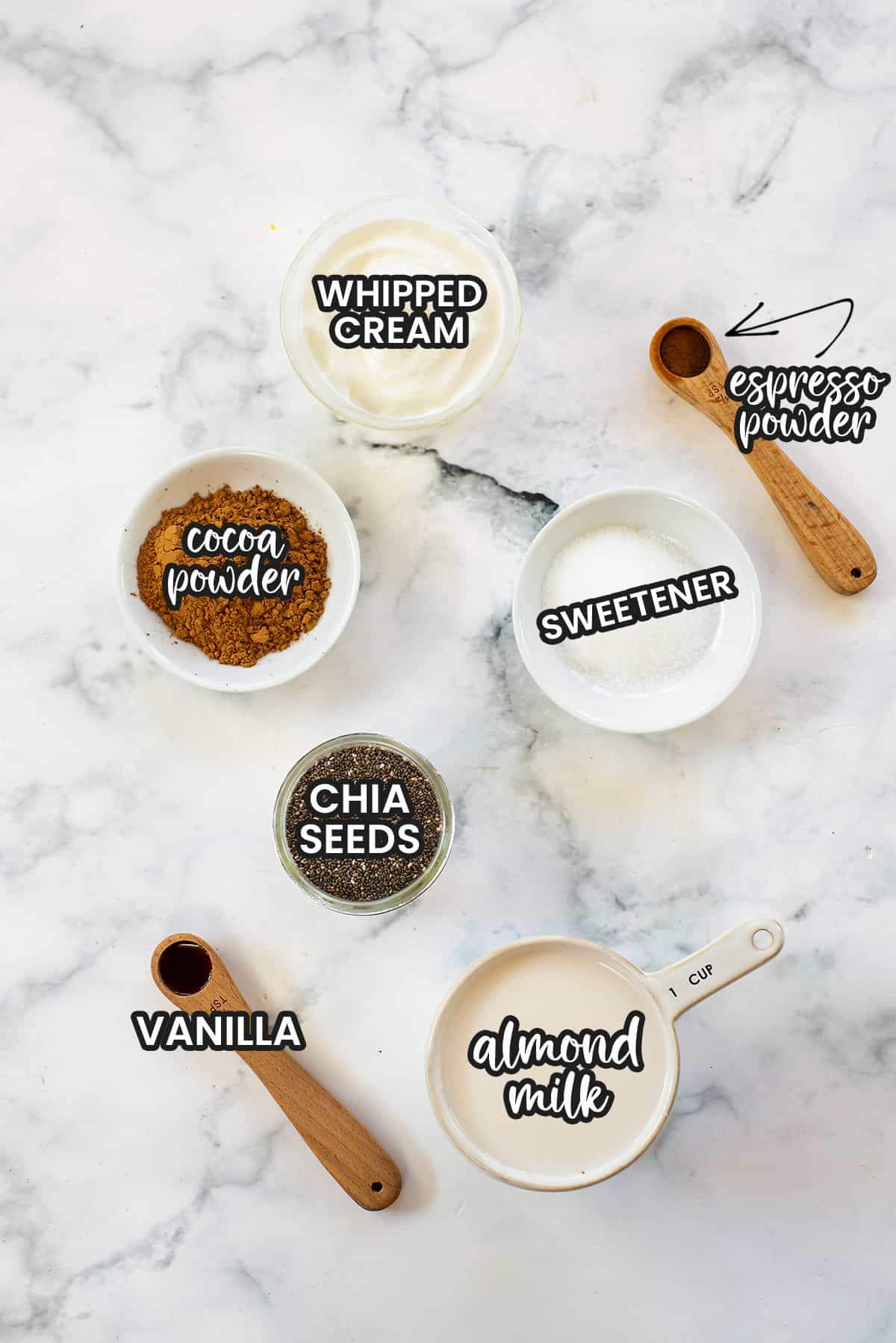 Chia Seeds – You can find this nutritious superfood in most grocery stores, often in the healthy foods section or organic areas.
Almond Milk – We're using unsweetened almond milk. Coconut milk will also work well.
Cocoa Powder – Unsweetened cocoa powder is what you'll need for this recipe to add in all that wonderful chocolate flavor. You can use any brand you prefer, including dark chocolate!
Sweetener – You'll need a low carb sweetener for this pudding. We're using Lakanto, but Swerve also works well!
Vanilla Extract – For flavor!
Espresso Powder – This is optional but the bitter flavor of the espresso powder enhances the rich chocolate flavor of the cocoa powder and we love how it tastes! Your chia seed pudding won't taste like coffee, I promise. It'll just taste EXTRA rich and chocolatey.
Keto Whipped Cream – Follow the link to try my homemade keto whipped cream recipe! It'll go perfectly with this chocolate chia pudding.
Shop Keto Ingredients
We use Thrive Market for a lot of our specialty ingredients and keto snacks or products. Their prices tend to be cheaper than the local stores and I love that you can so easily sort products by diet.
Like Costco, this is a membership site, but we find that it's more than worth it based on the amount we save over the regular grocery store.
They have monthly or yearly plans. Check it out here.
Why We Love This Recipe:
There isn't a lot of work involved in preparing this. We love that you can make it the day before and then have it all ready to go the next day when you're in the mood for some chocolate!
This keto chia pudding is versatile! Enjoy it for breakfast or serve it up as a sweet treat at the end of the day.
This recipe whips up in just one bowl! Easy clean up is always a favorite around here.
How To Make Chia Seed Pudding: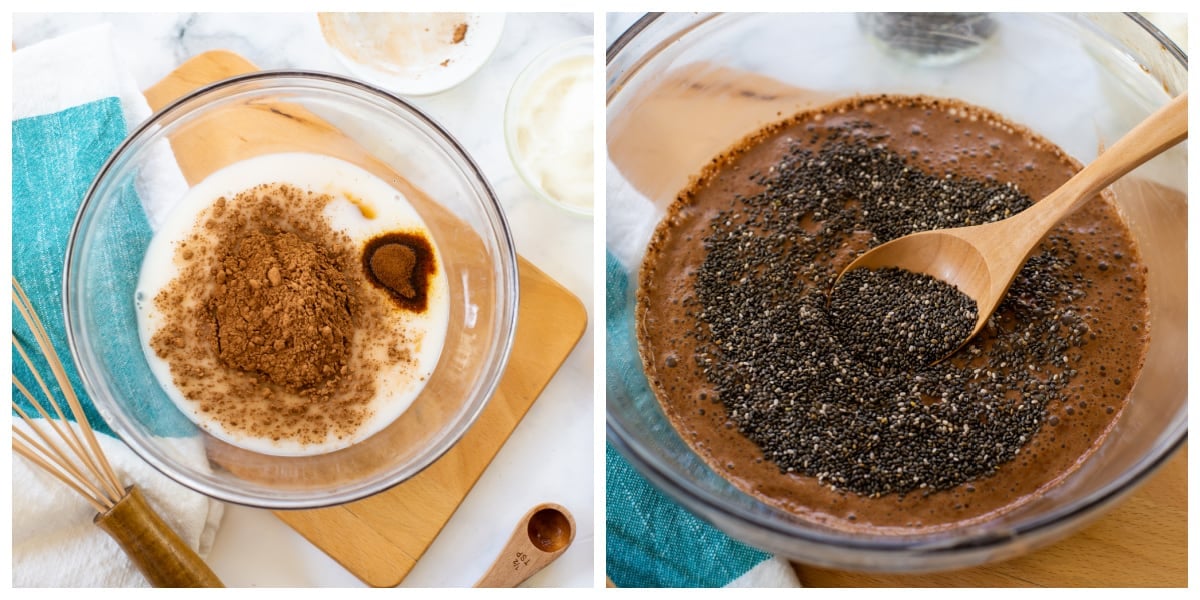 Mix – To get started you'll add the almond milk to a small bowl with the cocoa powder, sweetener, vanilla, and espresso powder. Whisk all that together until well combined.
Chia Seeds – Now you can start stirring in the chia seeds with the chocolate mixture! Stir it up well.
Refrigerate – When you've finished preparing the pudding you'll need to cover the bowl and let it refrigerate overnight. This is necessary for the chia seeds to absorb all that chocolate goodness!
Serve – Before serving stir the pudding well and then divide it into two servings. We like to top it with fresh raspberries and my keto whipped cream!
Helpful Tip!
Another simple way to prepare this chocolate chia pudding is with a mason jar. Start by adding everything but the chia seeds, covering the jar, and shaking well to combine. Then add the chia seeds and shake well again before refrigerating.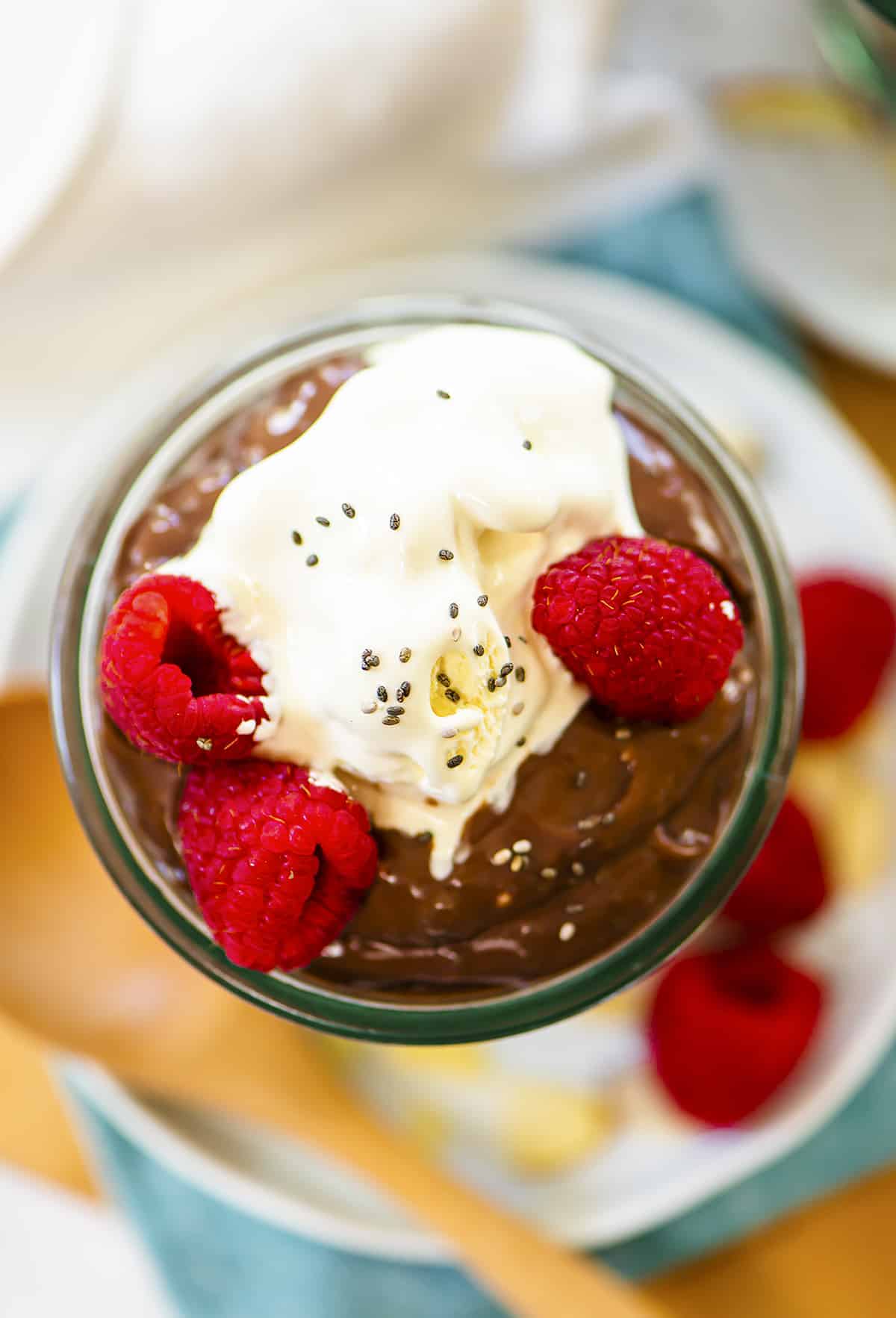 Helpful Tip!
Extra Smooth & Creamy
Chia pudding will often have a tapioca-like consistency. Pop it in the blender for an extra smooth and creamy pudding!
FAQ's:
Where do chia seeds come from?
Chia seeds come from the chia plant which is native to Central America. Due to the nutritious value of the seeds they are considered a superfood. They do have a lot of carbs but they're almost all fiber!
What do chia seeds taste like?
They've got a very mild sort of nutty flavor. They soak up liquid really well which makes them perfect for taking on other flavors like the chocolate in this chia pudding recipe!
Can you eat chia seeds raw?
Yes, you can! Technically they are raw in this recipe, they'll just have soaked up the chocolate pudding flavor while chilling in the fridge.
How to store chia pudding?
You can keep any leftover chocolate chia pudding stored in an airtight container in the fridge for up to a week!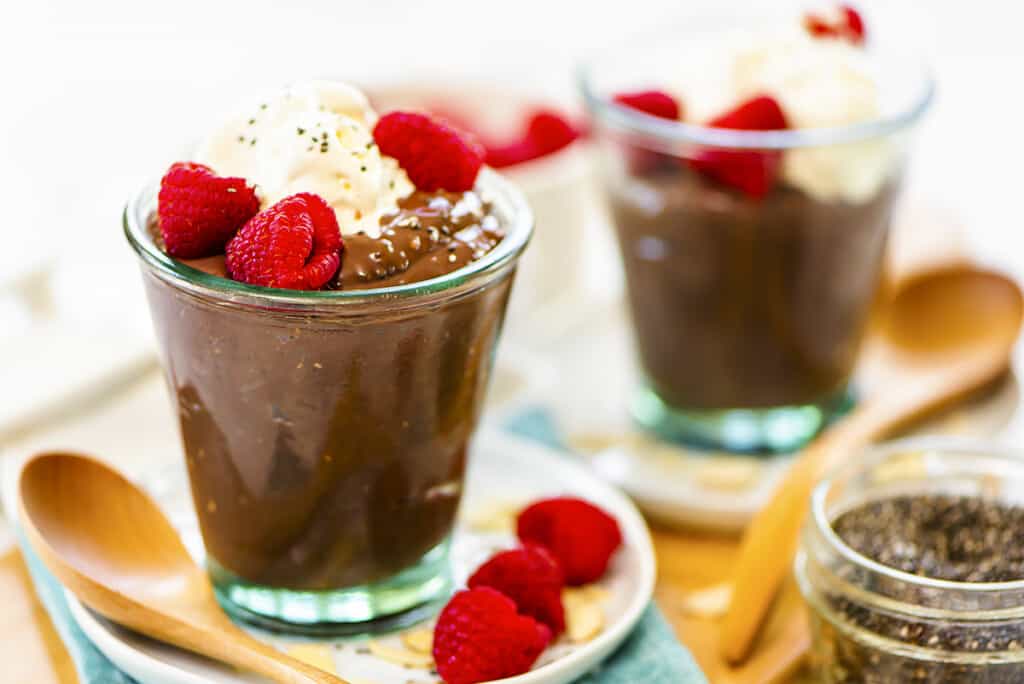 MORE LOW CARB DESSERT RECIPES!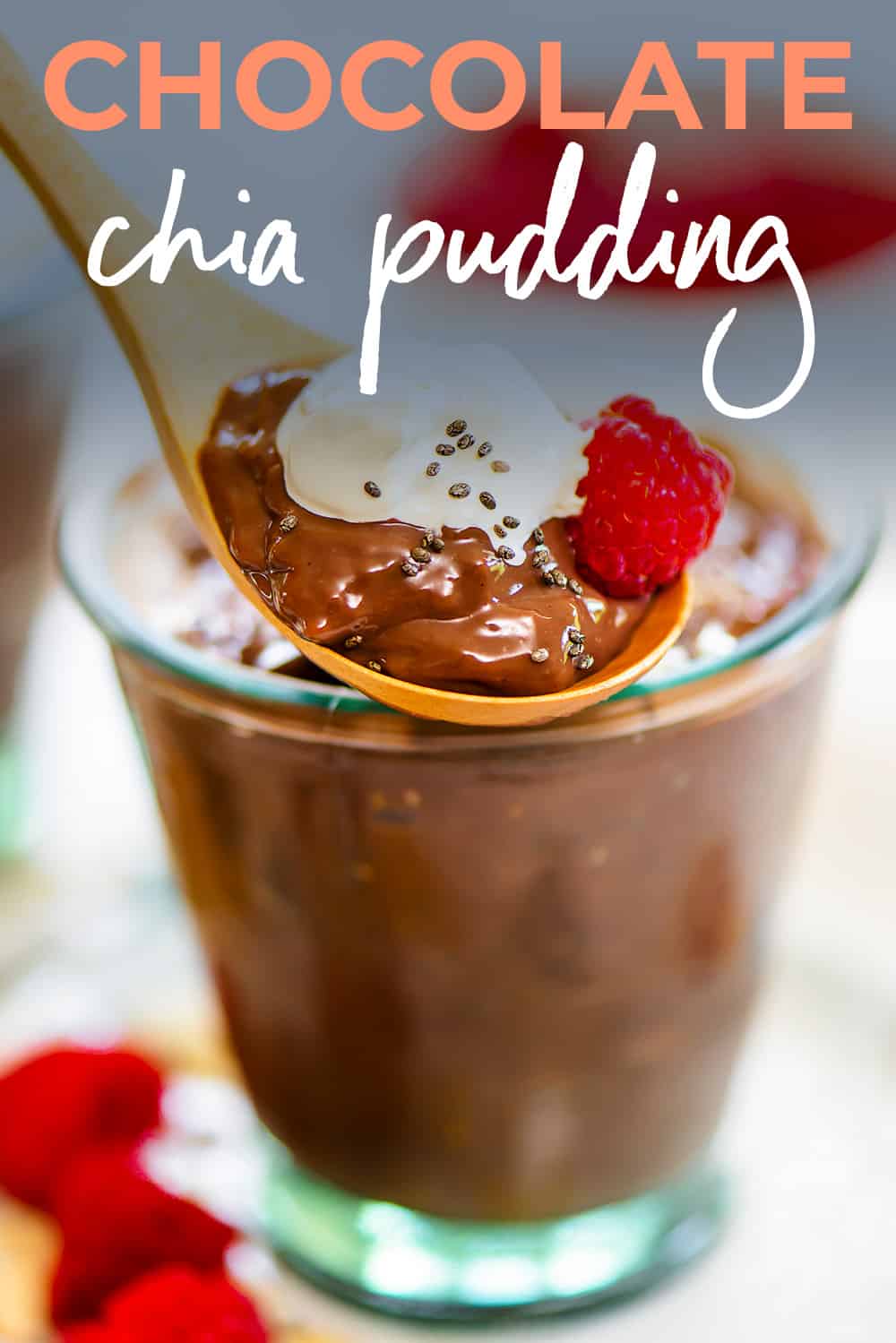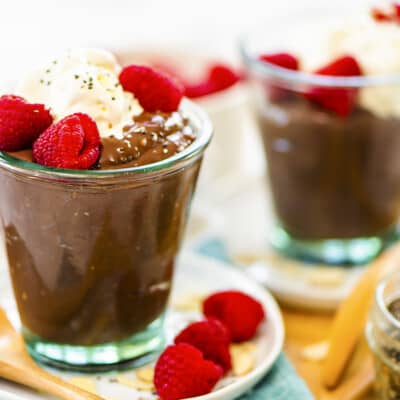 Keto Chia Pudding
This sweet treat works as a quick treat for breakfast but it also makes a tasty dessert. I like to pair with a couple of eggs to up the protein factor, but either way, it's tasty. Don't be alarmed by the total carbs in this recipe…chia seeds have a lot, but they're almost all fiber!
Prep5 minutes
Chill Time8 hours
Total8 hours 5 minutes
Ingredients
1 cup almond milk
2 tablespoons cocoa powder
2 tablespoons erythritol or other low carb sweetener
¼ teaspoon vanilla
¼ teaspoon espresso powder optional
¼ cup chia seeds
Fresh raspberries
Instructions
Add almond milk, cocoa powder, sweetener, vanilla, and espresso powder to a small bowl and whisk well to combine.

Stir in chia seeds to combine.

Cover and refrigerate overnight. Stir well.

Divide into 2 servings and top with raspberries and whipped cream before serving.
Tips & Notes:
You can use any dairy free milk you like, however the carb count will vary depending on the milk. The espresso powder doesn't make this taste like coffee. It just helps to deepen and enhance the chocolate flavor. For a smooth consistency, blend the pudding before serving.
Nutrition Information:
Serving: 1| Calories: 167kcal (8%)| Carbohydrates: 28g (9%)| Protein: 6g (12%)| Fat: 11g (17%)| Sodium: 96mg (4%)| Potassium: 168mg (5%)| Fiber: 12g (50%)| Vitamin A: 11IU| Vitamin C: 0.3mg| Calcium: 291mg (29%)| Iron: 2mg (11%)| Sugar Alcohol: 12g| Net Carbs: 4g (8%)