Lemon caper chicken is a low carb dish that's bursting with flavor. Easy enough for any night of the week, ready in 25 minutes, but this dish looks and tasty like it came from a fancy restaurant!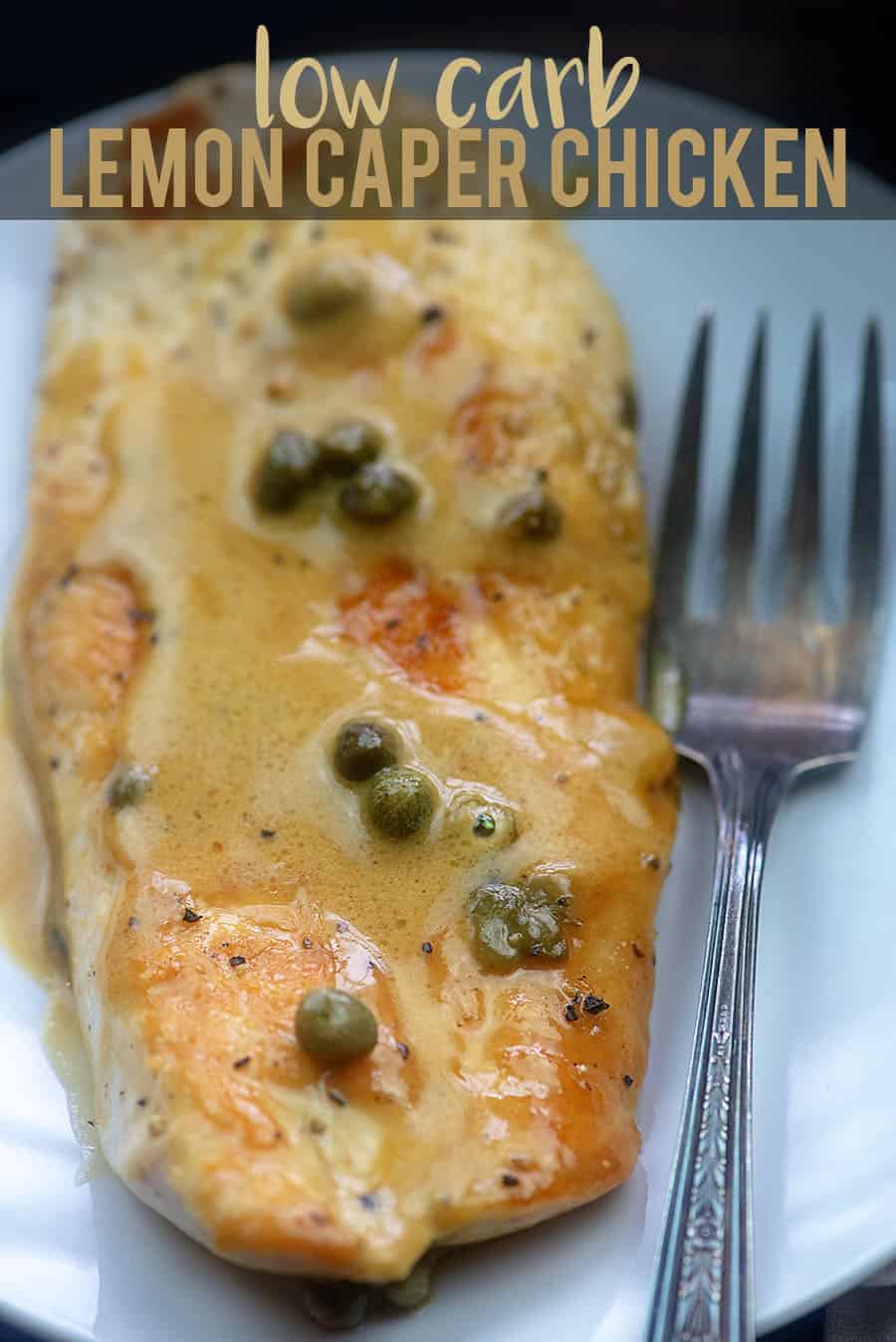 Have you ever had capers before?
My family tried them for the first time recently and they were honestly pretty split on whether they liked them or not.
Personally, I think they're delicious! Then again, I also like green olives and I think they're somewhat similar in flavor. They also have a bit of a mustard vibe going on, in my opinion.

Have you tried them? Do you want to?
This lemon caper chicken recipe is the perfect recipe to test out if you're unsure about capers. They pair so well with the brightness of the lemon and the cream sauce is so darn good, you'll want to drink it!
Ingredient Notes:
This post contains affiliate links. As an Amazon associate and member of other affiliate programs, I earn from qualifying purchases.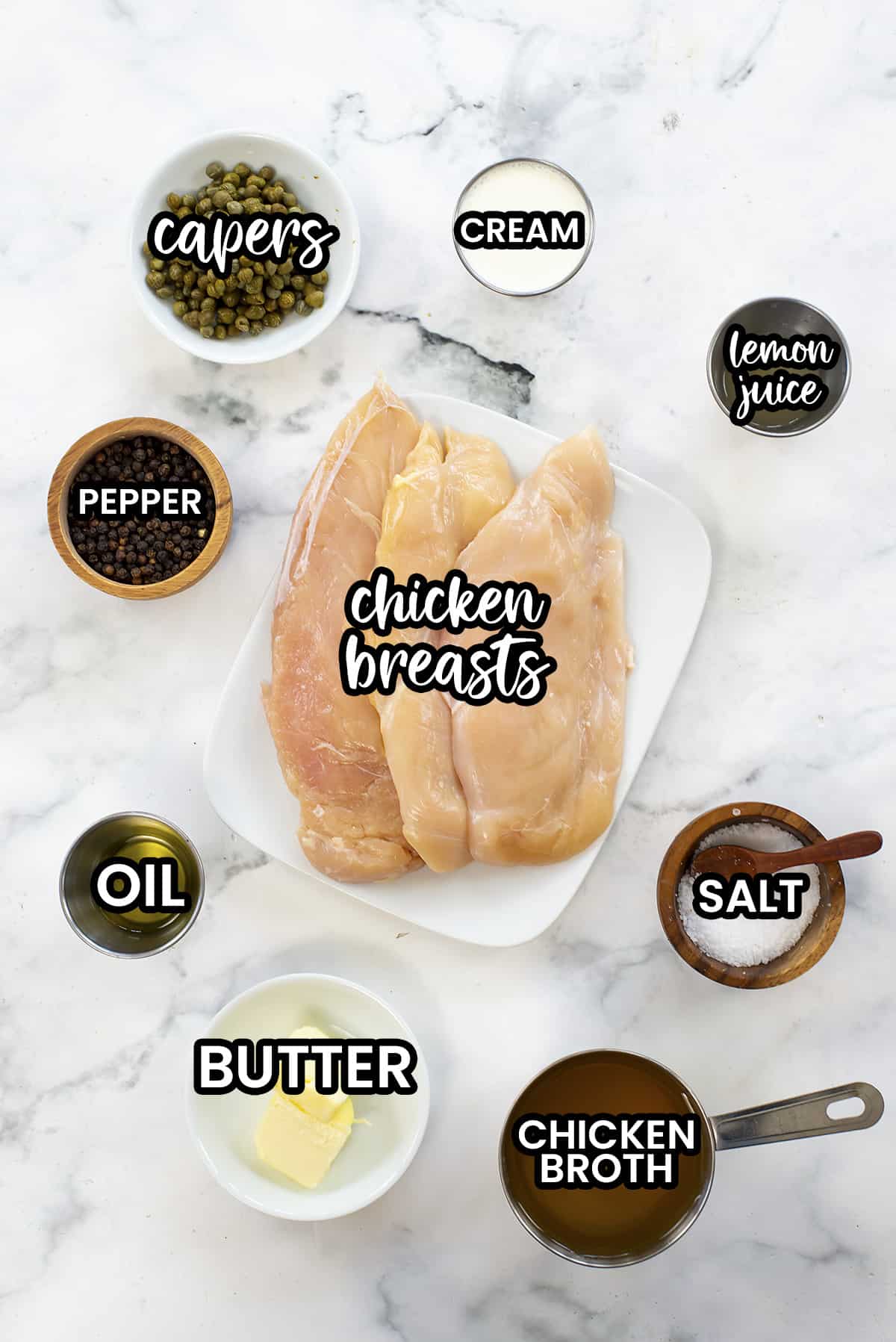 Chicken Breast – I'd recommend using thinly sliced chicken breasts for this recipe. They will cook quicker and more evenly. You could also use boneless chicken thighs for this.
Avocado Oil – For cooking the chicken.
Chicken Broth – The zesty, creamy sauce for this caper chicken recipe starts with some savory chicken broth.
Butter – This will go in with the chicken broth and other sauce ingredients.
Lemon Juice – You'll want to use freshly squeezed lemon juice for the best flavor. It'll add bright zesty flavor to the sauce!
Heavy Cream – This is where all the rich, creamy goodness comes in. You'll love how it tastes with the zesty lemon, savory chicken and the briny, tangy capers.
Capers – The flavor of the capers pairs so well with the creamy sauce! If you've never had capers before, this is the perfect way to try them. You can add more or less of these as you wish.
Salt & Pepper – For seasoning the chicken.
Why We Love This Recipe:
Capers have a unique flavor that is briny and salty – they work perfectly with the lemon cream sauce!
This dish is ready in less than 30 minutes and is made in just one skillet. Love a quick meal like this.
The extra pan sauce is perfect drizzled over a variety of veggies, like broccoli, cauliflower, or asparagus.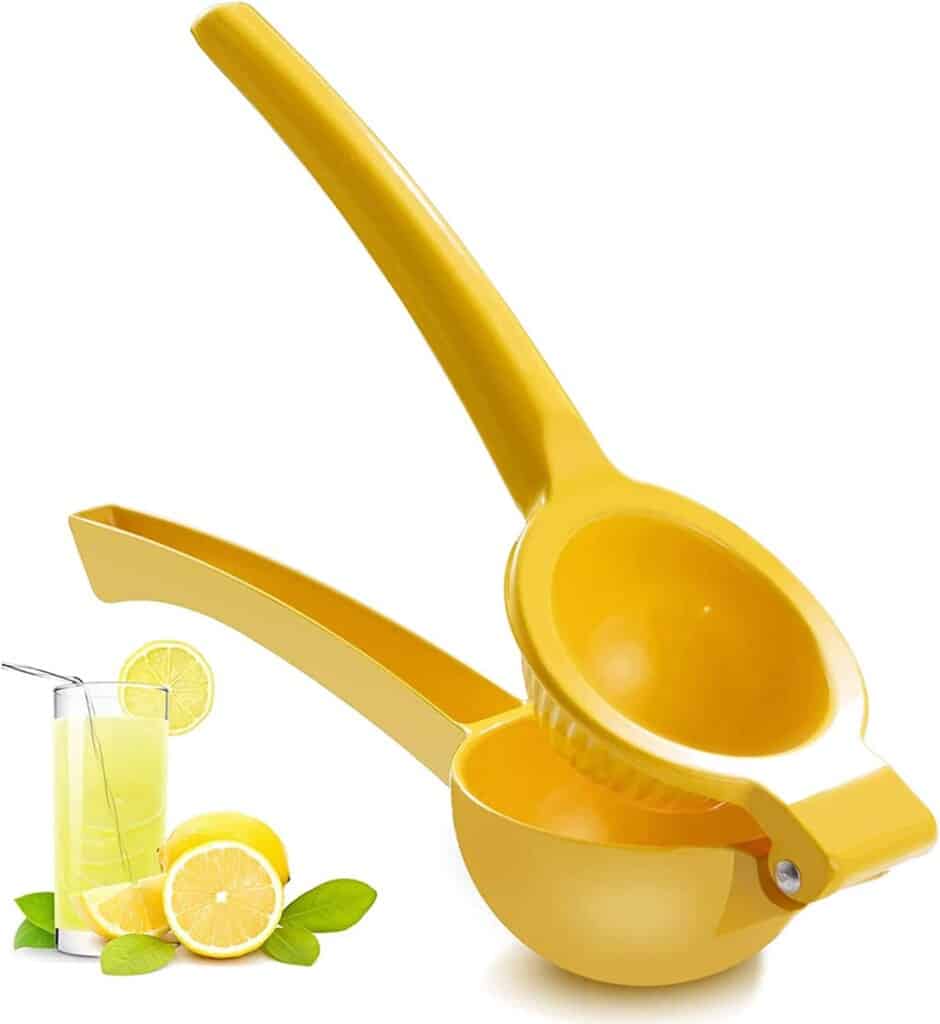 Citrus Juicer
Freshly squeezed lime and lemon juice is useful in lots of recipes, and this tool makes it easy and mess free.
How To Make Chicken with Lemon and Capers:
Season – To make this chicken with lemon and capers, we're going to start by seasoning some chicken breasts or thighs with salt and pepper. I prefer white meat, so I always use breasts, but thighs work fine if you like dark meat.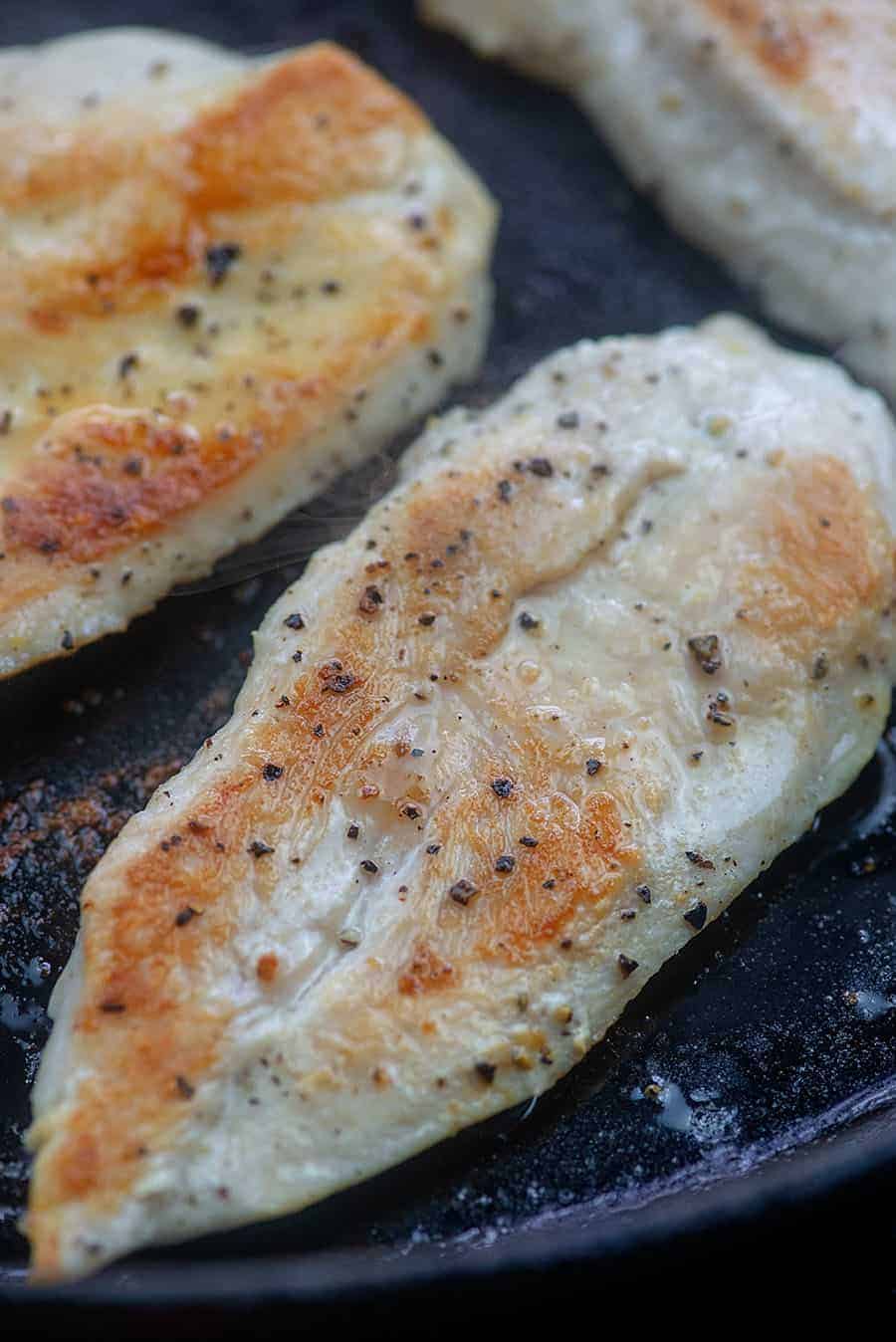 Sear – Heat a skillet up with some avocado oil or butter. When it's good and hot add the thinly sliced chicken and cook it through to a safe internal temp of 165 degrees. Remove it to a plate while you prepare the lemon caper sauce!
Our Favorite Meat Thermometer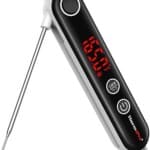 I love using this meat thermometer for making sure the meat is fully cooked! Easy for beginners & absolutely worth the low cost. Just stick it in the thickest part of the meat to check for doneness. This thermometer is also magnetic so it's easy to store right on the side of the fridge or oven for easy access! Get it on Amazon.
How To Make Lemon Caper Sauce:
Broth – The lemon caper sauce is low carb and oh so easy to whip up. You'll just reduce some chicken broth and lemon juice, which means that you'll simmer the chicken broth, letting some of it evaporate so that the broth thickens a bit.
Cream – Next, you'll add in some heavy cream and let that simmer for a bit. It's going to add lots of rich creamy flavor and texture to the sauce.
Capers – There isn't much to this step, just stir in the capers and the sauce is done! So easy!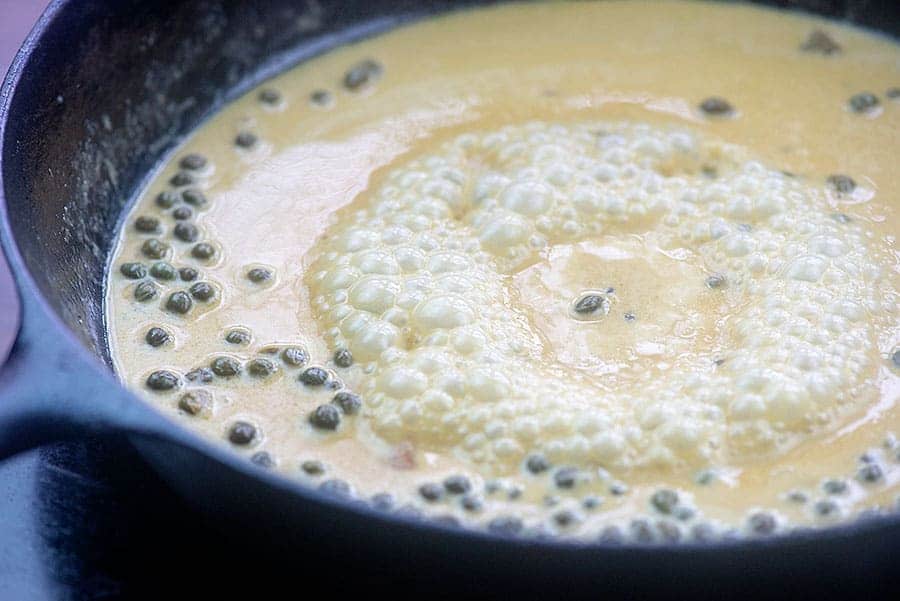 Finish – Add your chicken back to the sauce to rewarm and serve. We like to drizzle extra sauce over our chicken because it's so full of flavor.
You can serve this as is or over a bed of zucchini noodles. Either way, I bet you'll love this chicken with lemon and capers!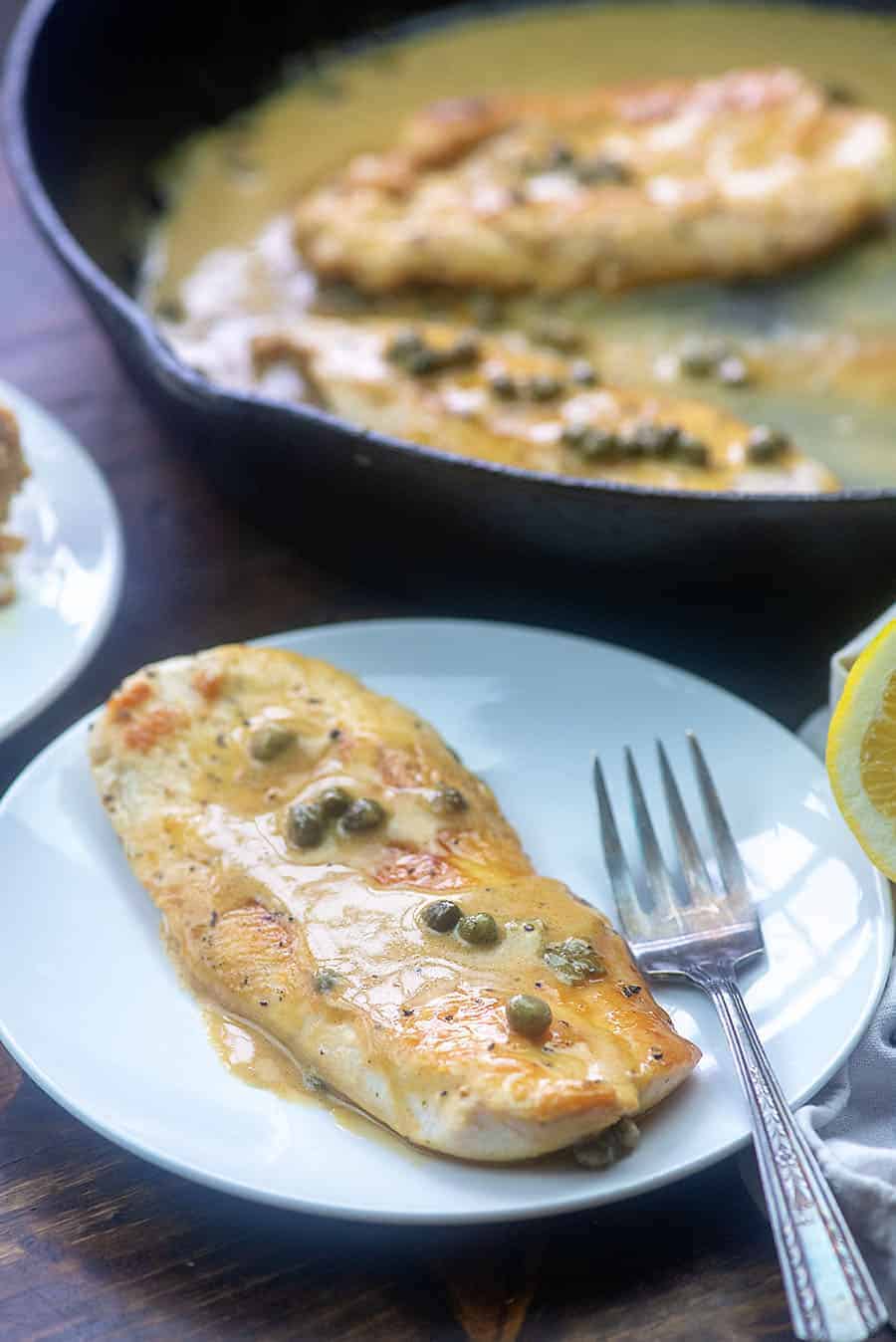 FAQ's:
What are capers?
They are small pickled flower buds that have a unique flavor. They're kind of tangy and usually briny from being pickled. They are a little bit like a green olive.
How to store lemon caper chicken?
You can keep leftovers stored in the fridge for about 3 days. Store the sauce separately from the chicken if possible, and let it cool completely before storing.
MORE LOW CARB CHICKEN RECIPES!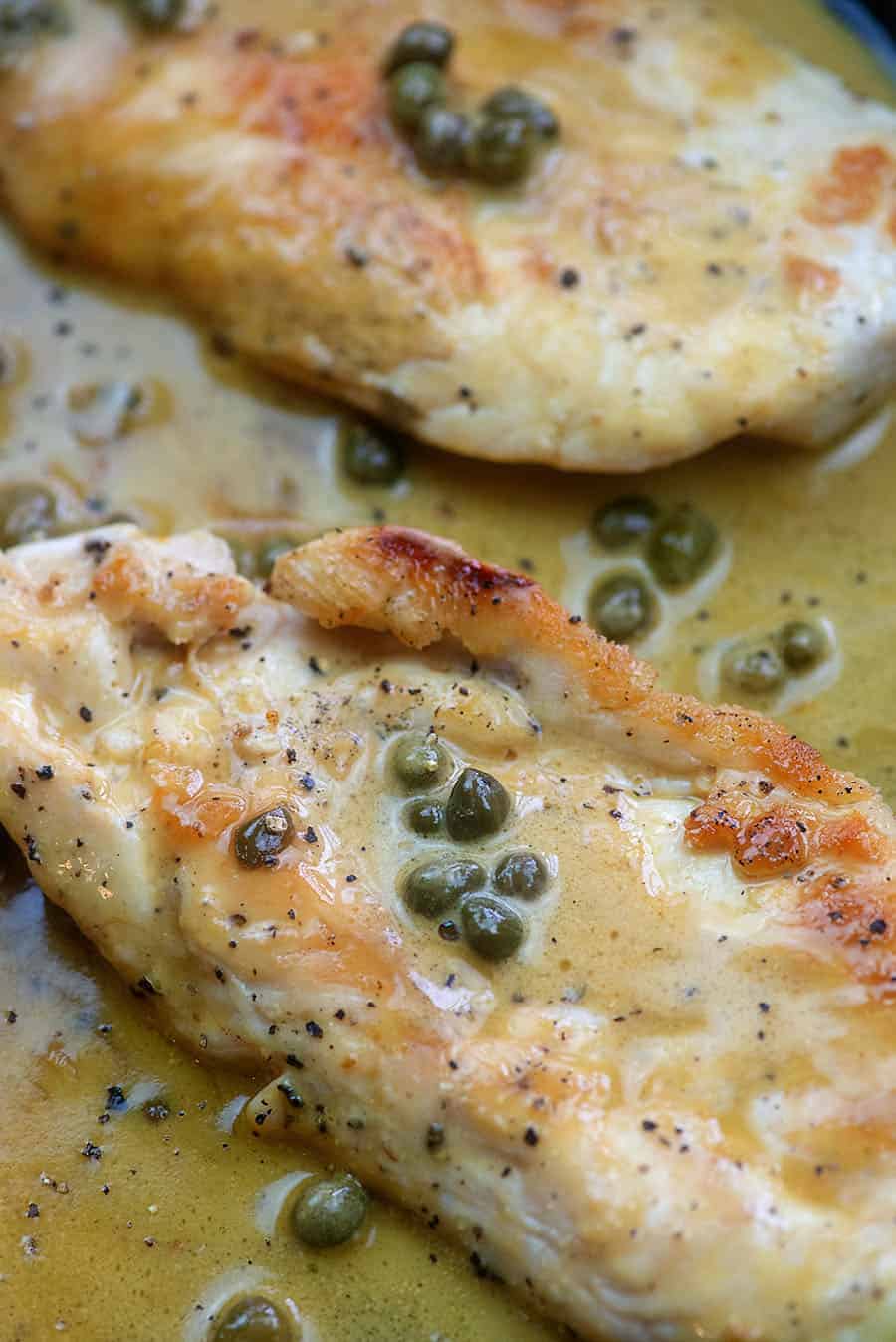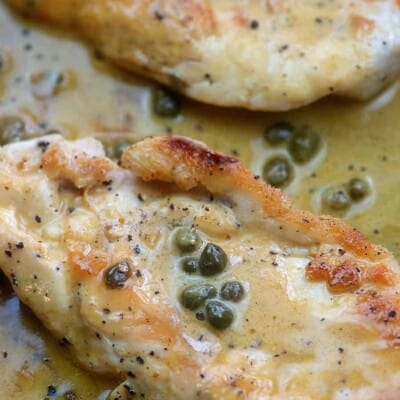 Lemon Caper Chicken
The bright flavors of lemons pairs so well with capers! This simple chicken recipe is a perfect low carb dinner!
Prep5 minutes
Cook20 minutes
Total25 minutes
Ingredients
1 pound thin sliced chicken breasts
1 teaspoon salt
1 teaspoon pepper
1 tablespoon avocado oil
1 cup chicken broth
2 tablespoons butter
1 tablespoon lemon juice
¼ cup heavy cream
3 tablespoons capers
Instructions
Season the chicken on both sides with salt and pepper.

Heat the avocado oil in a large, heavy bottomed skillet over medium heat.

Add the chicken and cook through, flipping halfway through cooking, about 8 minutes.

Remove the chicken to a plate and set aside.

Add the chicken broth and butter to the skillet and bring to a boil. Let the chicken broth reduce by half, about 5 minutes.

Add the lemon juice and cream to the skillet and simmer, stirring occasionally, until the sauce is thick enough to coat the back of a spoon, about 5 minutes.

Add the capers to the sauce and stir to combine.

Return the chicken to the skillet and coat with the sauce. Cook 1 more minute to rewarm the chicken.

Serve immediately.
Tips & Notes:
Serve over zucchini noodles or cauliflower rice to soak up some of the extra sauce.
Nutrition Information:
Serving: 1| Calories: 326kcal (16%)| Carbohydrates: 2g (1%)| Protein: 36g (72%)| Fat: 19g (29%)| Saturated Fat: 9g (56%)| Polyunsaturated Fat: 9g| Cholesterol: 130mg (43%)| Sodium: 1046mg (45%)| Sugar: 1g (1%)| Net Carbs: 2g (4%)