Lemon caper chicken is a low carb dish that's bursting with flavor. Easy enough for any night of the week, but this dish looks a bit fancy and is just 2 carbs per serving!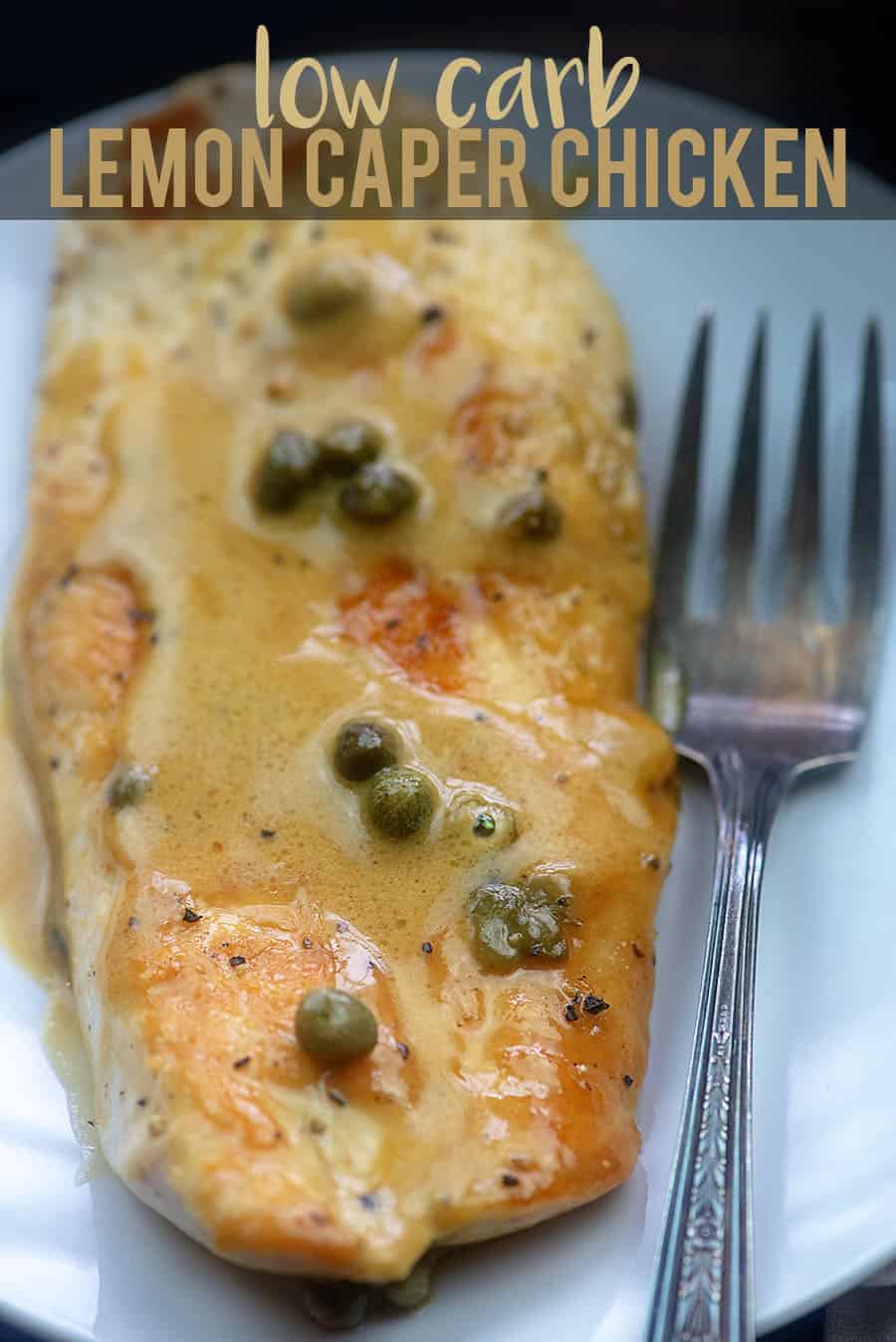 Have you ever had capers before?
My family tried them for the first time recently and they were honestly pretty split on whether they liked them or not.
Personally, I think they're delicious! Then again, I also like green olives and I think they're somewhat similar in flavor. They also have a bit of a mustard vibe going on, in my opinion.

Have you tried them? Do you want to?
This lemon caper chicken recipe is the perfect recipe to test out if you're unsure about capers. They pair so well with the brightness of the lemon and the cream sauce is so darn good, you'll want to drink it!
Chicken with lemon and capers: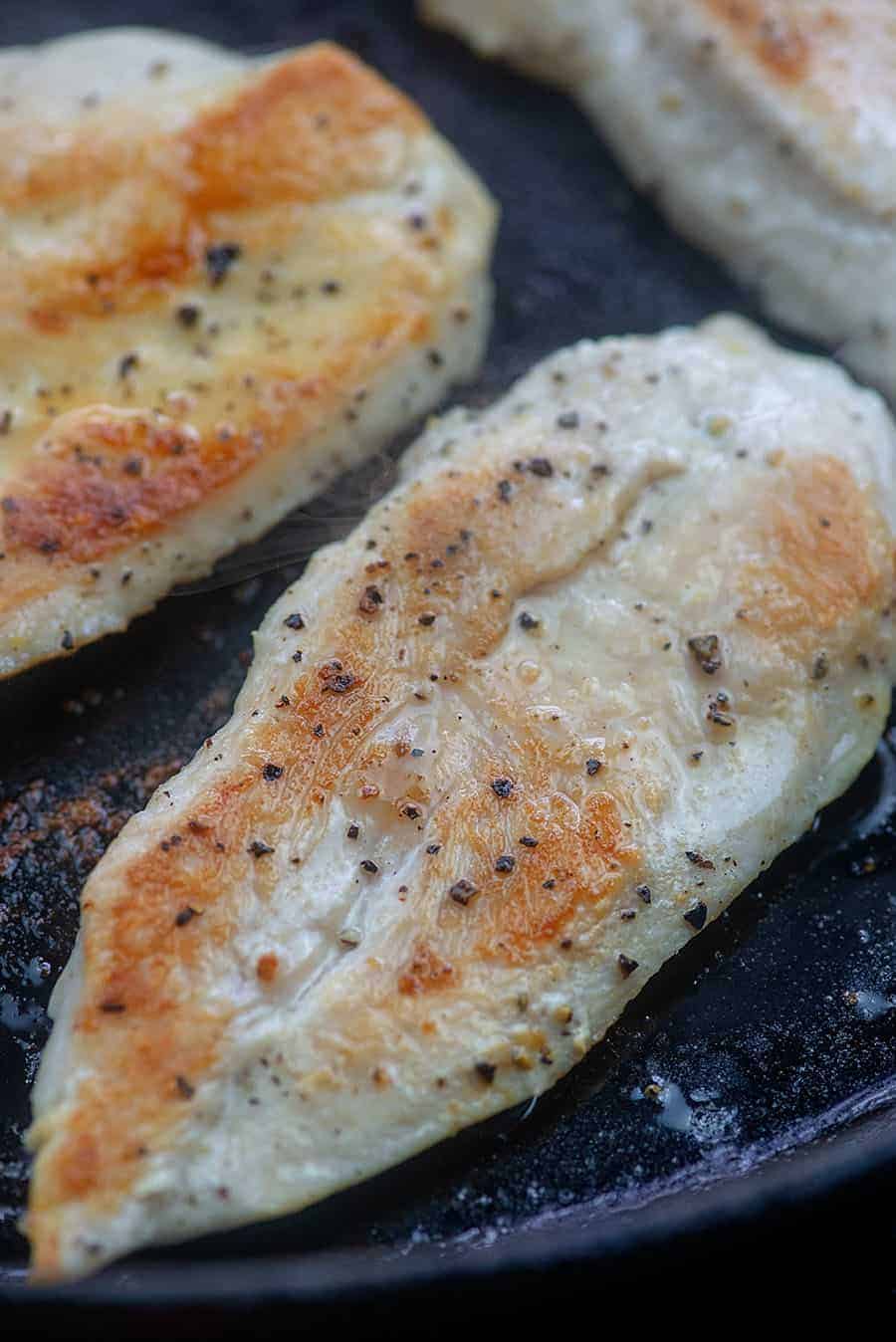 To make this chicken with lemon and capers, we're going to start by seasoning some chicken breasts or thighs. I prefer white meat, so I always use breasts, but thighs work fine if you like dark meat.
Season the chicken with salt and pepper and then cook it in a hot skillet with a little avocado oil or butter.
When the chicken is cooked through, remove it to a plate and get started on the lemon caper sauce.
Lemon caper sauce:
The lemon caper sauce is low carb and oh so easy to whip up.
You'll just reduce some chicken broth and lemon juice, which means that you'll simmer the chicken broth, letting some of it evaporate so that the broth thickens a bit.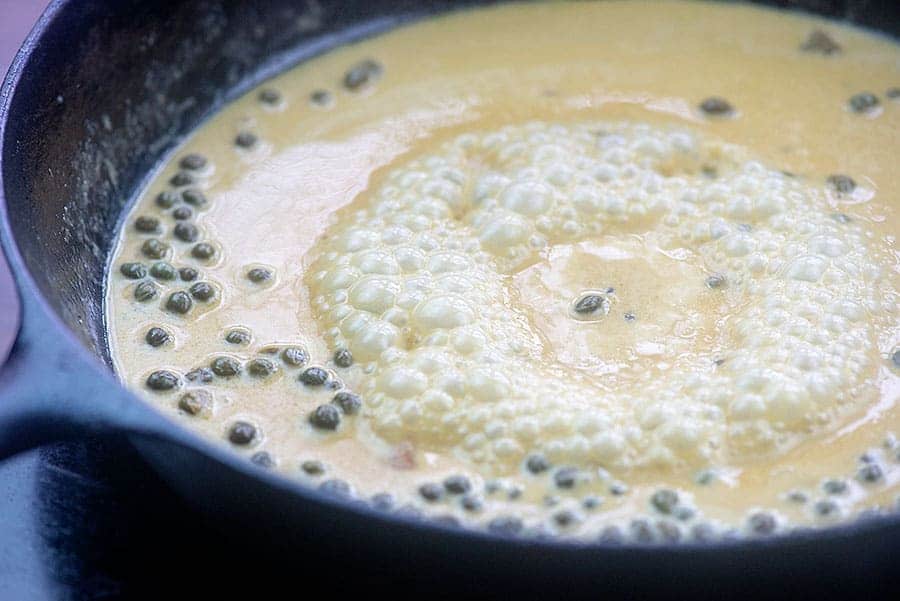 Next, you'll add in some heavy cream and let that simmer for a bit.
Stir in the capers and the sauce is done! So easy!
Add your chicken back to the sauce to rewarm and serve.
We like to drizzle extra sauce over our chicken because it's so full of flavor.
You can serve this as is or over a bed of zucchini noodles. Either way, I bet you'll love this chicken with lemon and capers!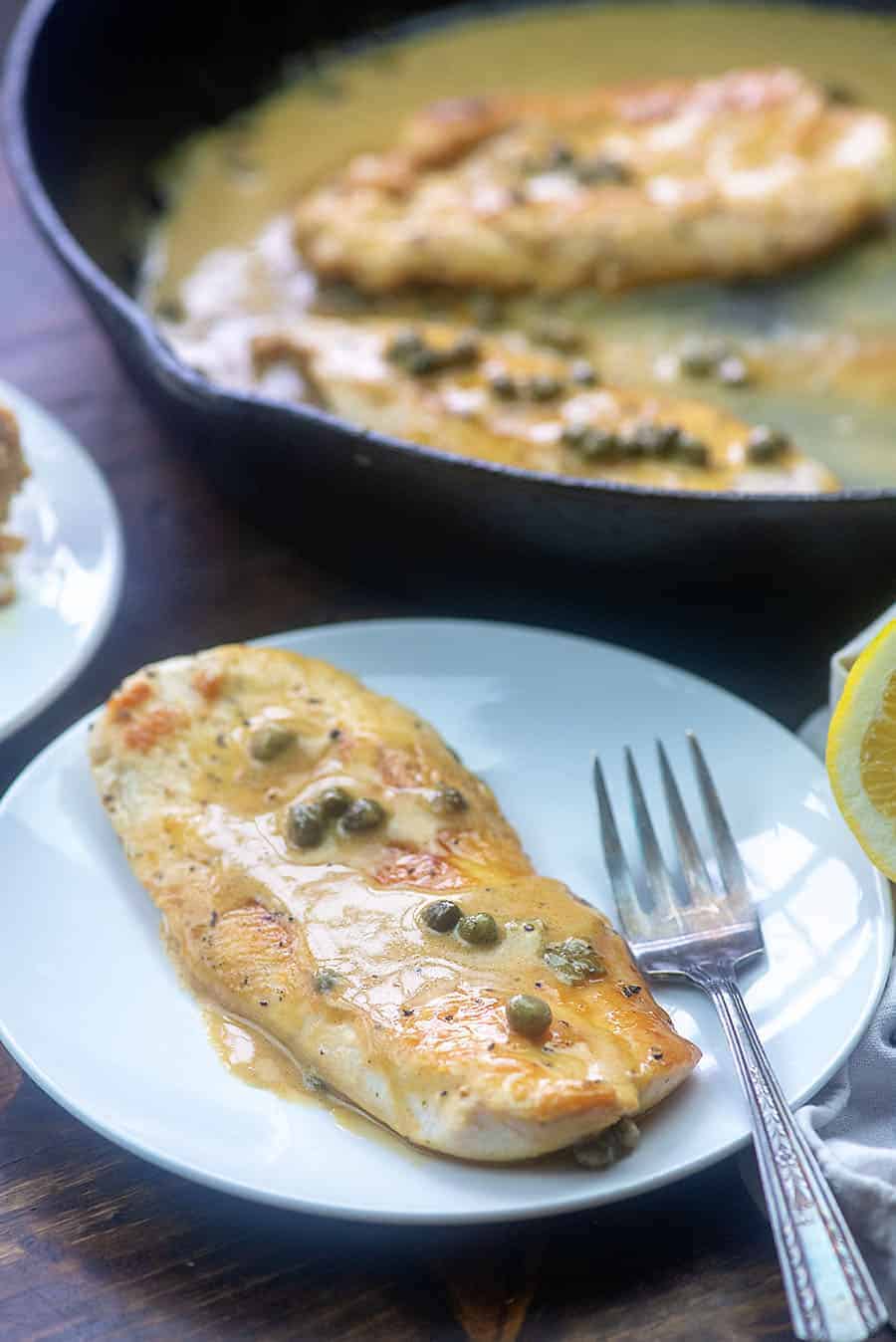 More low carb chicken recipes to try:
Spinach Stuffed Chicken: Everyone's favorite!
Buffalo Chicken Casserole: Who else loves buffalo chicken?
Low Carb Chicken Parmesan: My husband's favorite meal!
Lemon Garlic Chicken: Just as delicious as this version, but without the capers!
Jalapeno Popper Chicken: Wrapped in bacon!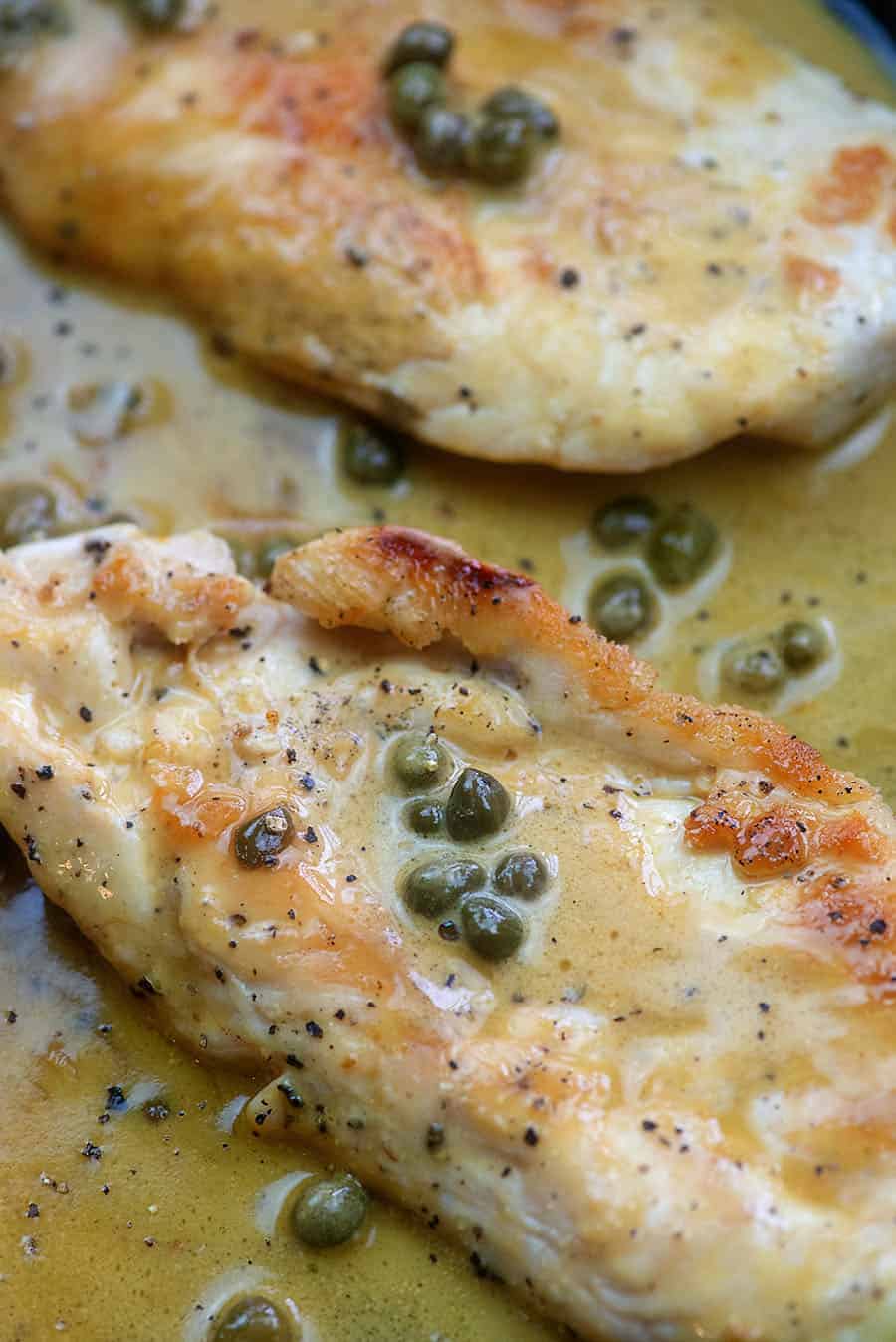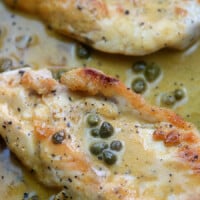 Lemon Caper Chicken
The bright flavors of lemons pairs so well with capers! This simple chicken recipe is a perfect low carb dinner!
Ingredients
1 pound thin sliced chicken breasts
1 teaspoon salt
1 teaspoon pepper
1 tablespoon avocado oil
1 cup chicken broth
2 tablespoons butter
1 tablespoon lemon juice
¼ cup heavy cream
3 tablespoons capers
Instructions
Season the chicken on both sides with salt and pepper.
Heat the avocado oil in a large, heavy bottomed skillet over medium heat.
Add the chicken and cook through, flipping halfway through cooking, about 8 minutes.
Remove the chicken to a plate and set aside.
Add the chicken broth and butter to the skillet and bring to a boil. Let the chicken broth reduce by half, about 5 minutes.
Add the lemon juice and cream to the skillet and simmer, stirring occasionally, until the sauce is thick enough to coat the back of a spoon, about 5 minutes.
Add the capers to the sauce and stir to combine.
Return the chicken to the skillet and coat with the sauce. Cook 1 more minute to rewarm the chicken.
Serve immediately.
Notes
Serve over zucchini noodles or cauliflower rice to soak up some of the extra sauce.
Recommended Products
As an Amazon Associate and member of other affiliate programs, I earn from qualifying purchases.
Nutrition Information:
Yield: 4
Serving Size: 1
Amount Per Serving:
Calories: 326
Total Fat: 19g
Saturated Fat: 9g
Trans Fat: 0g
Unsaturated Fat: 9g
Cholesterol: 130mg
Sodium: 1046mg
Carbohydrates: 2g
Net Carbohydrates: 2g
Fiber: 0g
Sugar: 1g
Protein: 36g
All information and tools presented and written within this site are intended for informational purposes only. This information is provided as a courtesy and there is no guarantee that the information is accurate.