Fathead pizza crust topped off with loads of melty cheese and tasty pepperoni. You can add any of your favorite toppings to this low carb pizza for a pizza recipe the whole family will enjoy!
I'm not going to lie. There are plenty of times that I order my family pizza from the local pizza shop and then I just pick all the toppings off the top and eat them with a fork.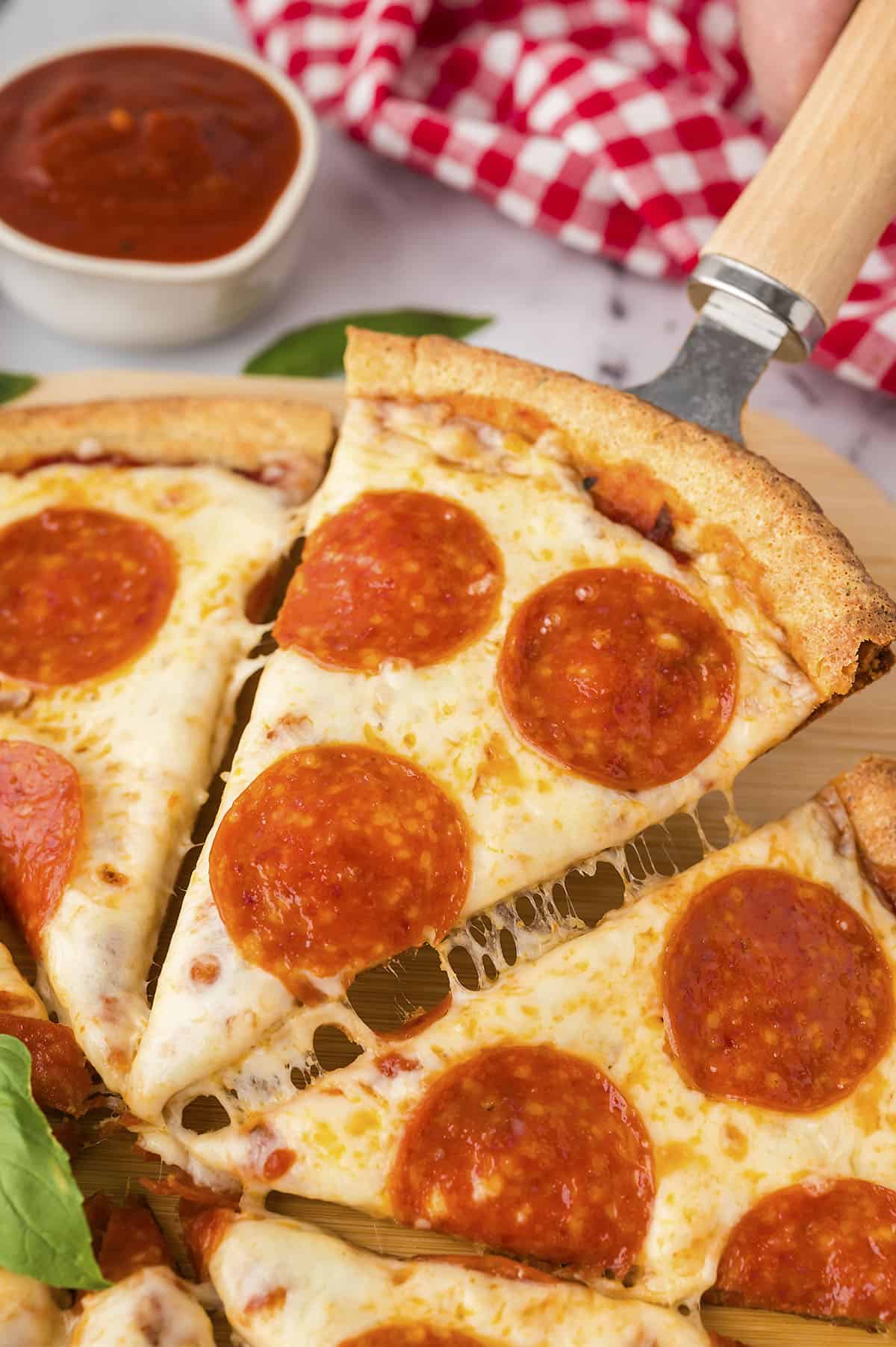 I get some weird looks from my people, but they're mostly used to my crustless pizza ways.
On nights when I'm not too lazy to get in the kitchen, though, this keto pizza crust recipe is where it's at.

Have you tried fathead pizza before? I shared a BLT Pizza using this fathead dough awhile back and it was a big hit. I think you'll all like a more traditional pizza too!
How to make fathead pizza crust:
This fat head pizza recipe starts with some shredded mozzarella cheese and a little cream cheese. You'll microwave those together until nice and melty.
Stir in an egg and some almond flour. I like to add a little Italian seasoning to the crust as well, but this is totally optional. Just gives it a little boost of flavor, if you like that kind of thing.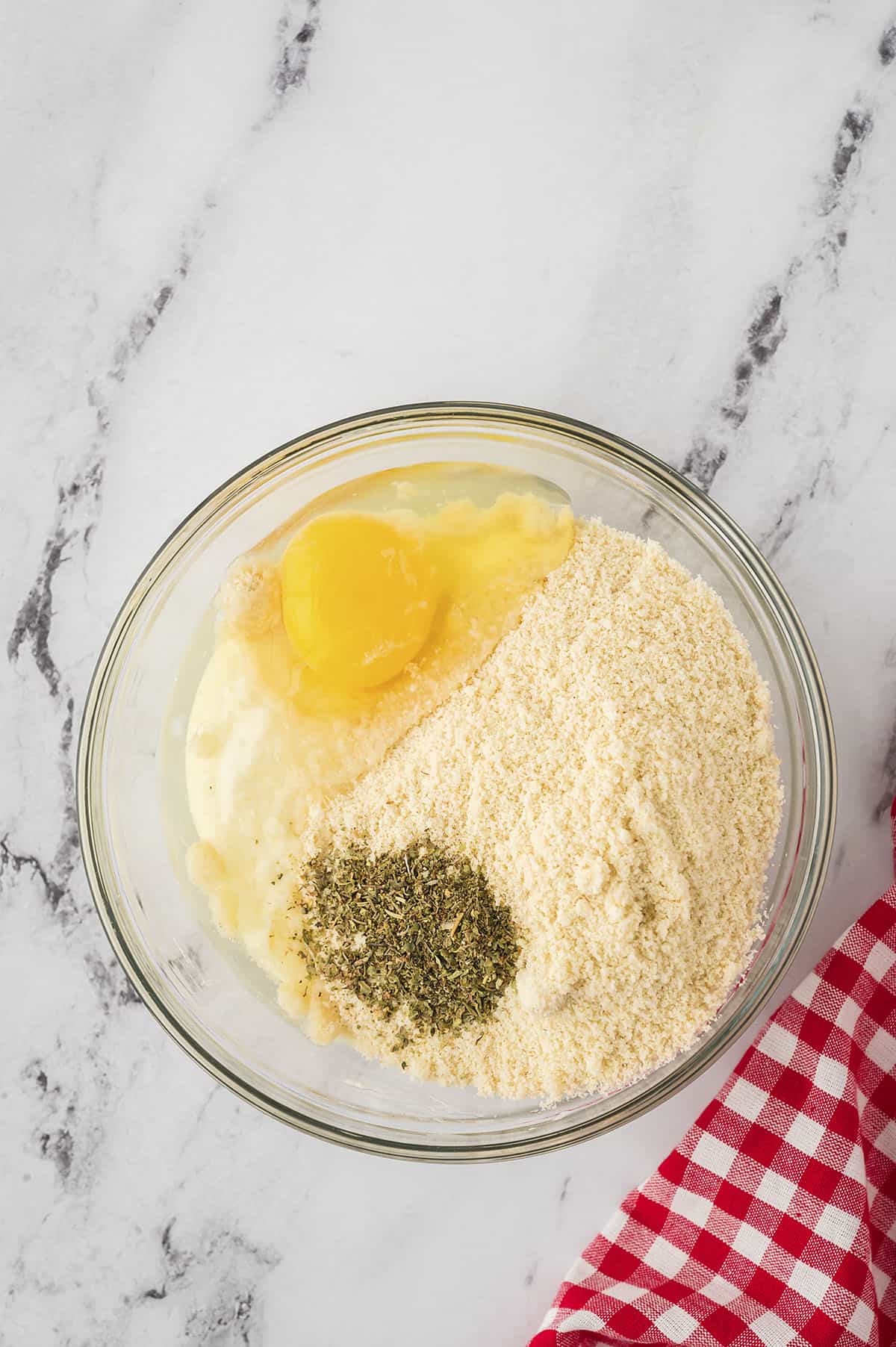 Stir that mixture all together. It'll get pretty thick and sticky.
Drop the 'dough' onto a large piece of parchment paper and place another piece of parchment on top. Use your rolling pin to roll the dough out into a 12 inch circle.
The parchment paper is key to success with this recipe. The dough will be too sticky to work without the the parchment.
Remove that top piece of parchment and trim the bottom piece to fit your pizza pan.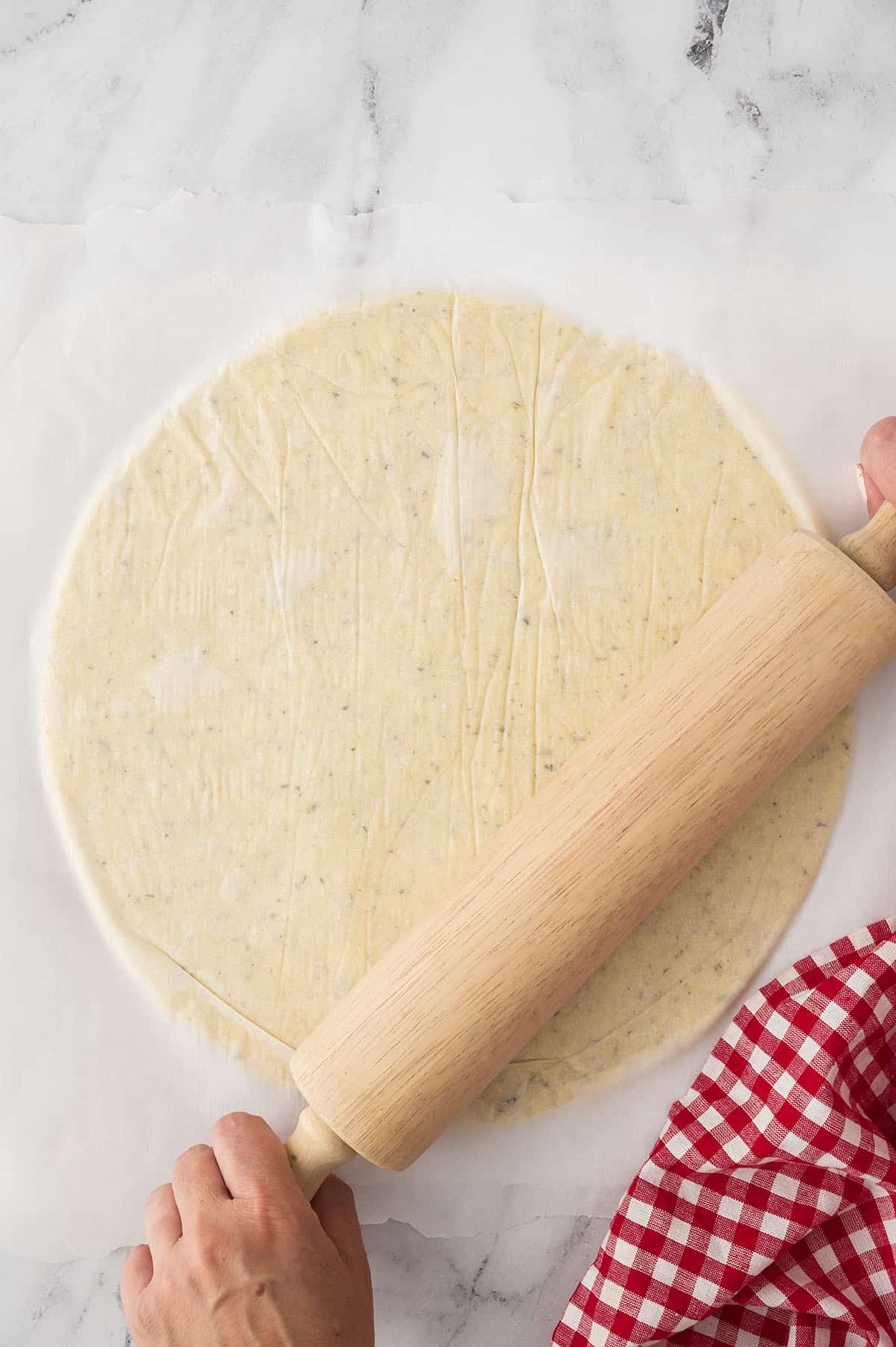 Do not bake this directly on the pizza pan or it will stick. Bake the fathead pizza crust on a parchment lined pan for best results.
You'll want to bake the crust in a hot oven for about 10 minutes to let it firm up and start turning golden brown.
If you really want a sturdy crust, flip the crust over and bake a few more minutes. This helps it hold up really well.
Once you've parbaked the crust, spread on a little pizza sauce. I use Rao's marinara because I always have it on hand, it's very low in carbs, and it tastes amazing.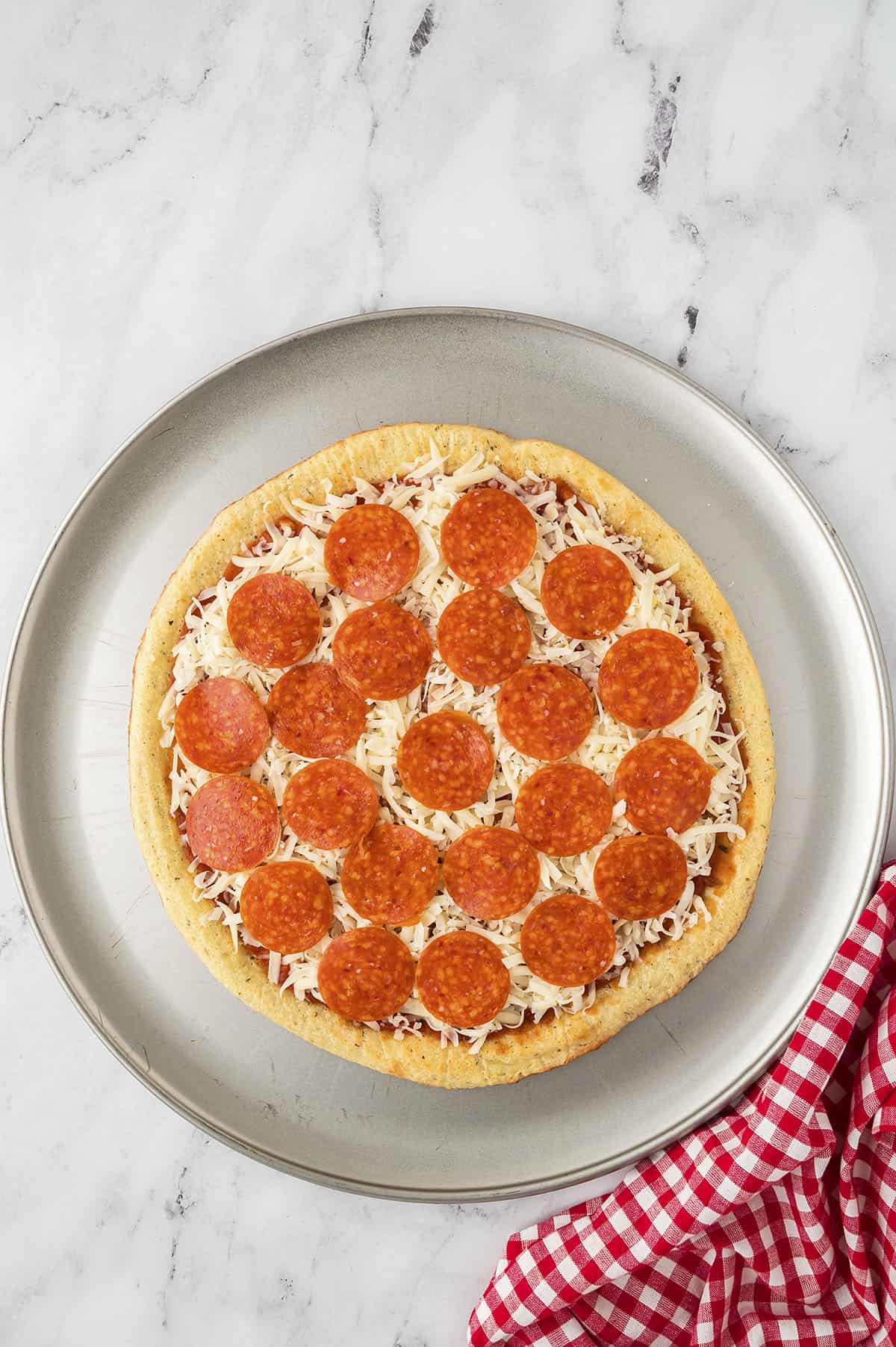 Top that off with extra cheese and your favorite toppings. Pepperoni is always the preferred choice in my house. 😉
Pop this bake in the oven for about 10 minutes to melt the cheese.
Slice this up into 6 slices and serve!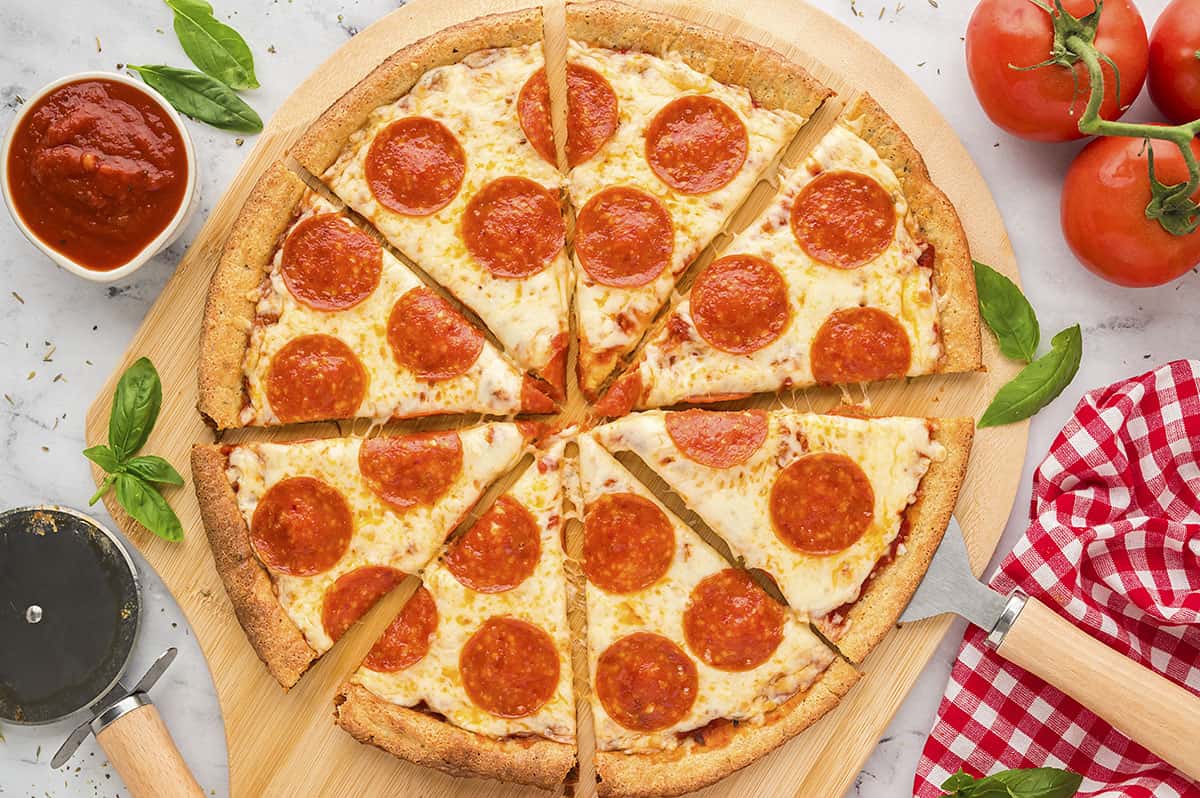 How does this low carb pizza crust taste?
The ingredients sound a bit strange for a pizza crust, but the cheese firms up nicely in the oven and takes on the texture of a traditional dough.
It's a bit chewy and very pliable. If you underbake the crust, you may have issues with it holding together but otherwise it holds up very well and you can eat it like you would a traditional pizza.
The crust tastes very similar to your traditional pizza dough.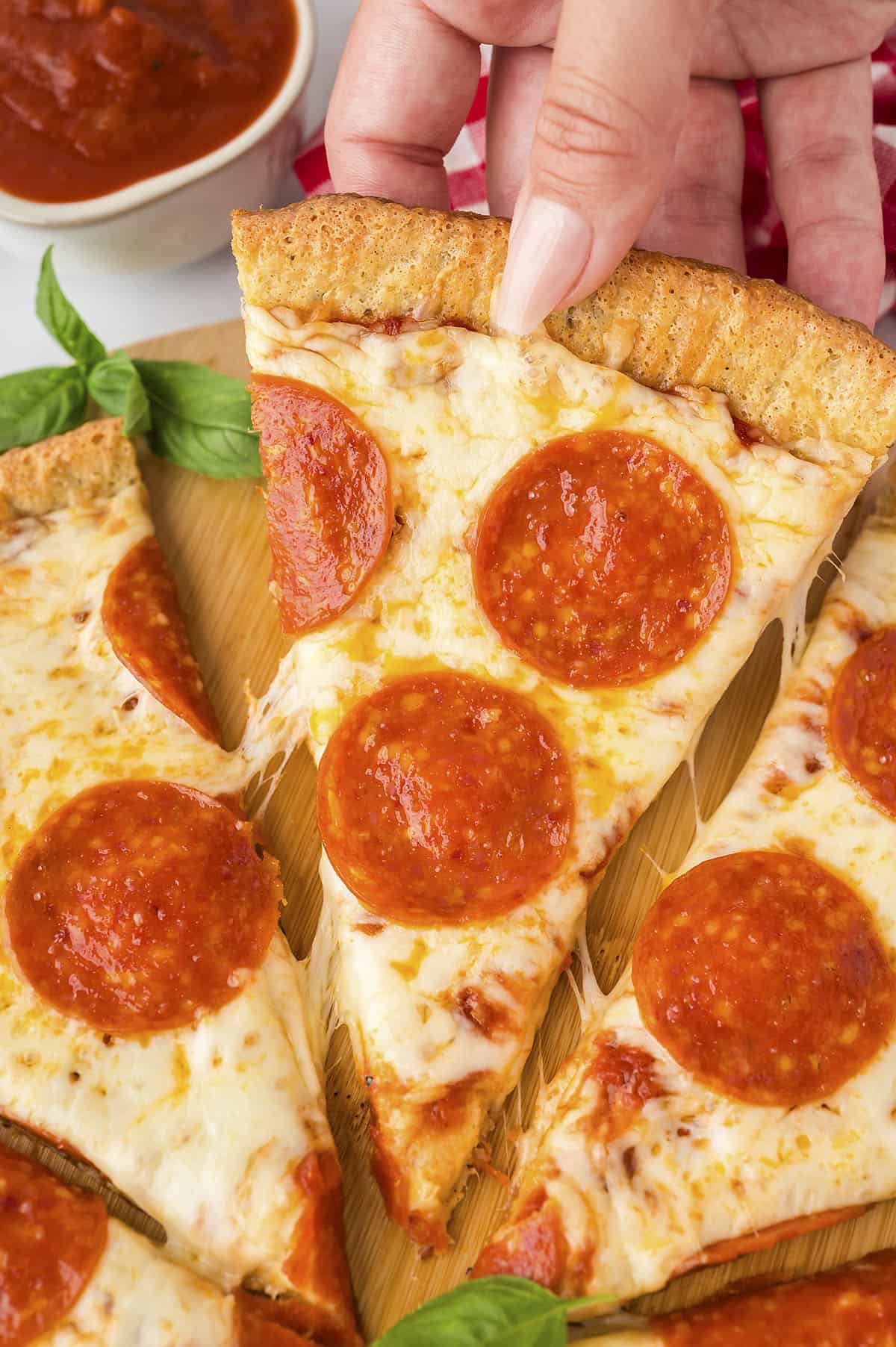 The true test of any recipe: Will my carb-loving children eat it? Oh yes! They actually prefer my keto pizza to the standard flour crust.
I double this recipe to serve my entire family because I have a teenage boy who can really put away the pizza. That said, because the crust is made of cheese, it's very filling and I personally can't often eat more than 2 pieces.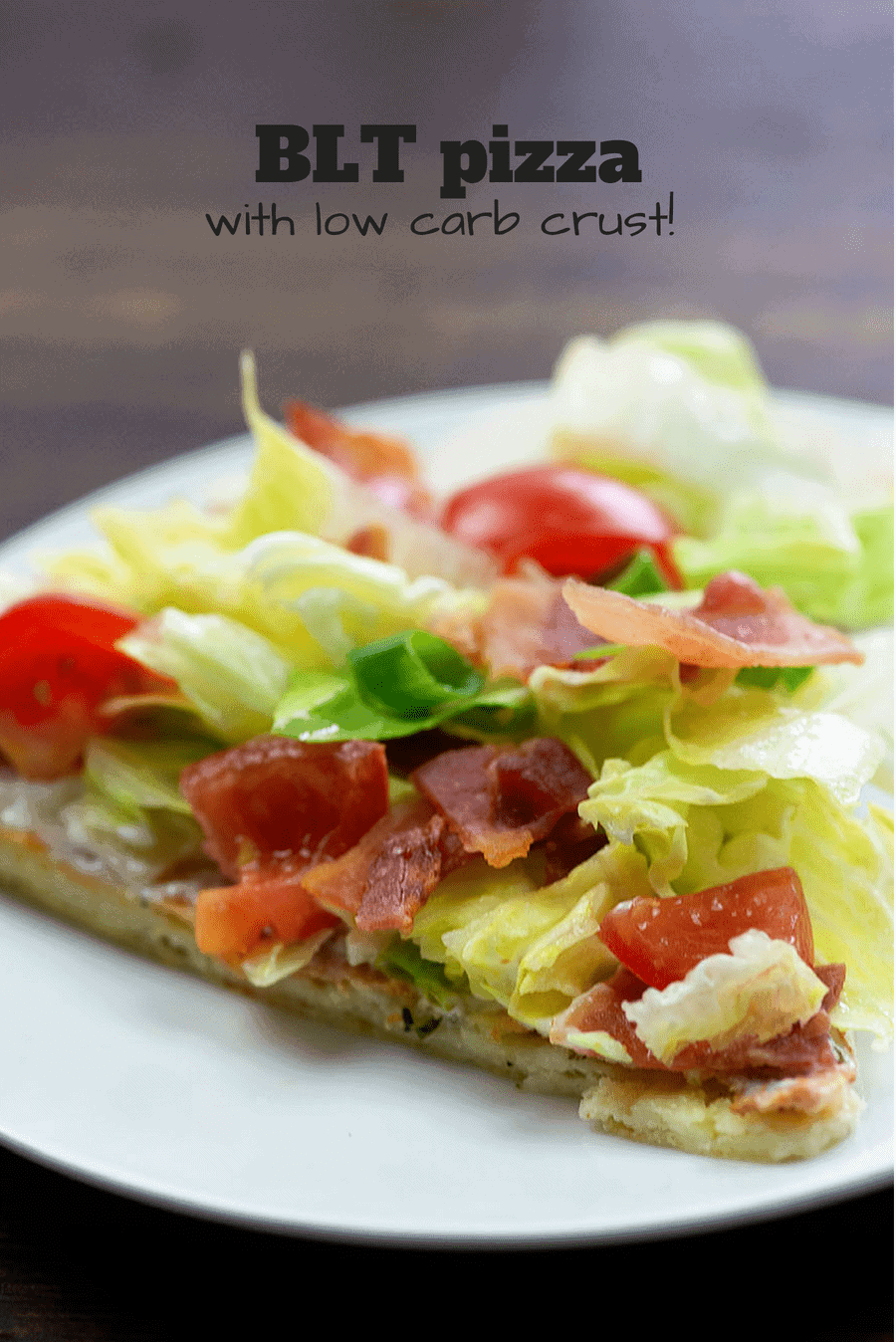 Try this fathead pizza crust with my BLT Pizza too!
More low carb recipes to try:
Steak Bites: My steak marinade is bursting with flavor!
Low Carb Crackers: I use this same dough to make crackers and season them up with ranch.
Low Carb Lasagna: You'll never guess what I'm using in place of pasta.
Philly Cheese Steak Casserole: A total hit in my house!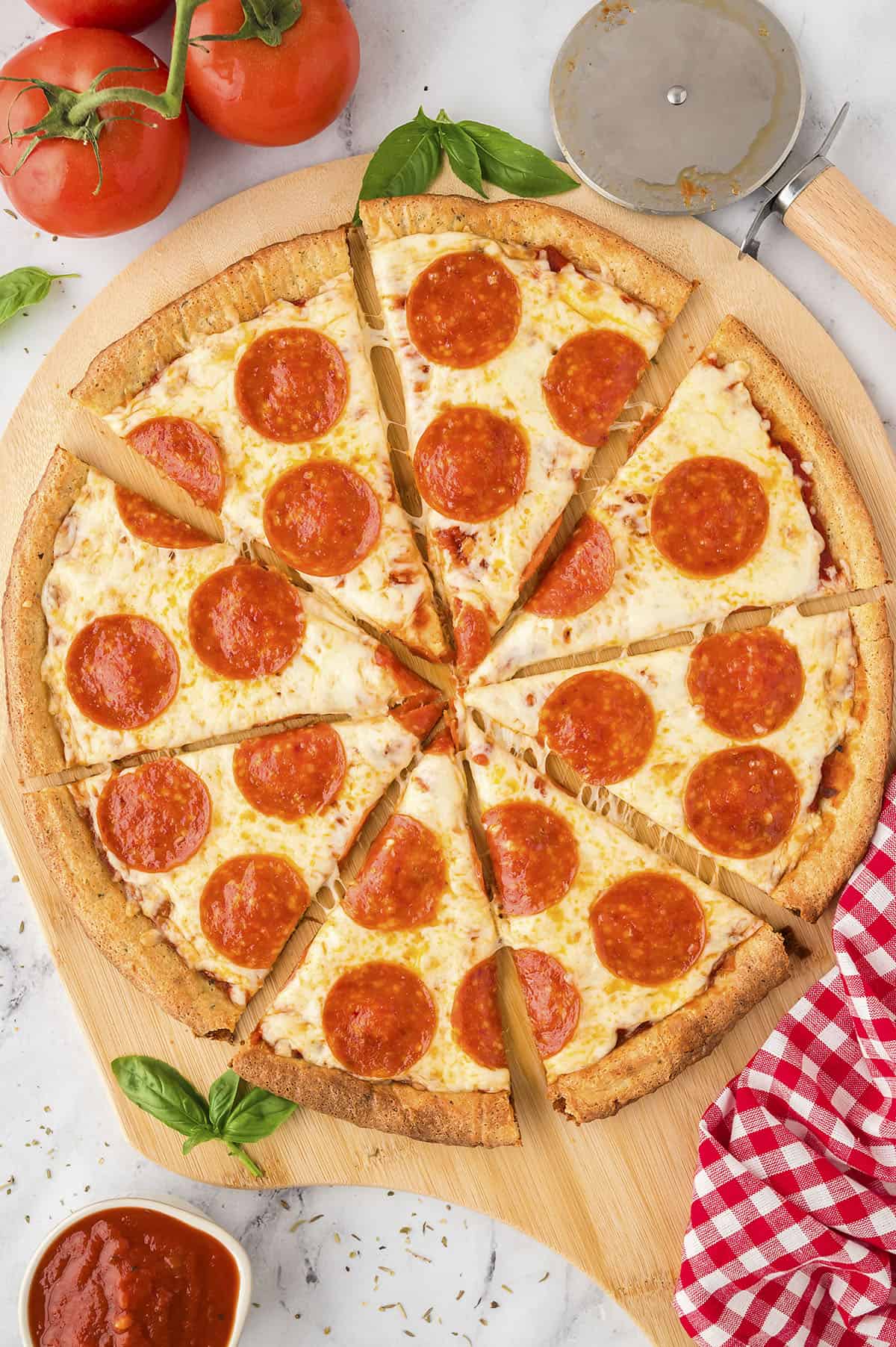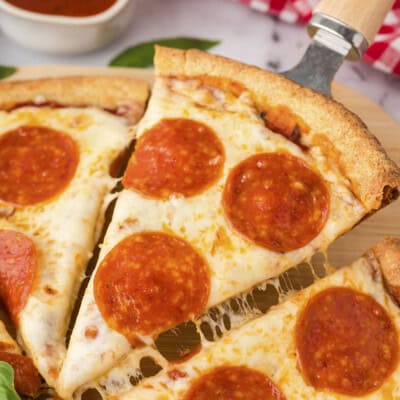 Pepperoni Fathead Pizza
Low carb pizza crust made with cheese and almond flour! Top it off with all your favorite pizza toppings.
Prep10 minutes
Cook20 minutes
Total30 minutes
Ingredients
3 1/2 cups shredded mozzarella divided
2 tablespoons cream cheese
1 large egg
3/4 cup almond flour
1 teaspoon Italian seasoning
1/3 cup sugar-free marinara
1/4 cup sliced pepperoni
Instructions
Preheat oven to 425 degrees.

Add 2 cups of mozzarella and cream cheese to a microwave safe bowl and microwave for 1 minute. Stir to combine and return to microwave until cheese has melted, about 30 more seconds.

Stir in the almond flour, egg, and Italian seasoning to combine.

Place the dough on a large sheet of parchment paper. Top with a second sheet of parchment.

Roll the dough out into a 12 inch diameter circle.

Remove the top piece of parchment and transfer the bottom sheet with the dough on it to a pizza pan.

Bake for 10 minutes or until crust is lightly golden.

For an extra sturdy crust that holds up well, carefully flip the crust over and bake for 3 more minutes.

Remove crust from the oven. Spread the marinara over the pizza crust and sprinkle with the remaining 1 1/2 cups mozzarella. Arrange pepperoni evenly over the top.

Bake the pizza for another 10 minutes. Cool 5 minutes before slicing into 8 pieces and serving.
Tips & Notes:
Use whatever toppings you prefer! You may use whatever brand of marinara or pizza sauce you prefer, but I've based the nutrition info off of Rao's brand because it's what I use in my house.
Nutrition Information:
Serving: 1slice| Calories: 235kcal (12%)| Carbohydrates: 4g (1%)| Protein: 18g (36%)| Fat: 19g (29%)| Cholesterol: 63mg (21%)| Sodium: 491mg (21%)| Fiber: 2g (8%)| Sugar: 1g (1%)| Net Carbs: 2g (4%)