BEEF TIPS AND GRAVY is pure comfort food and this version is low carb and keto! We serve ours over a pile of mashed cauliflower for a hearty dinner that the whole family will request again and again.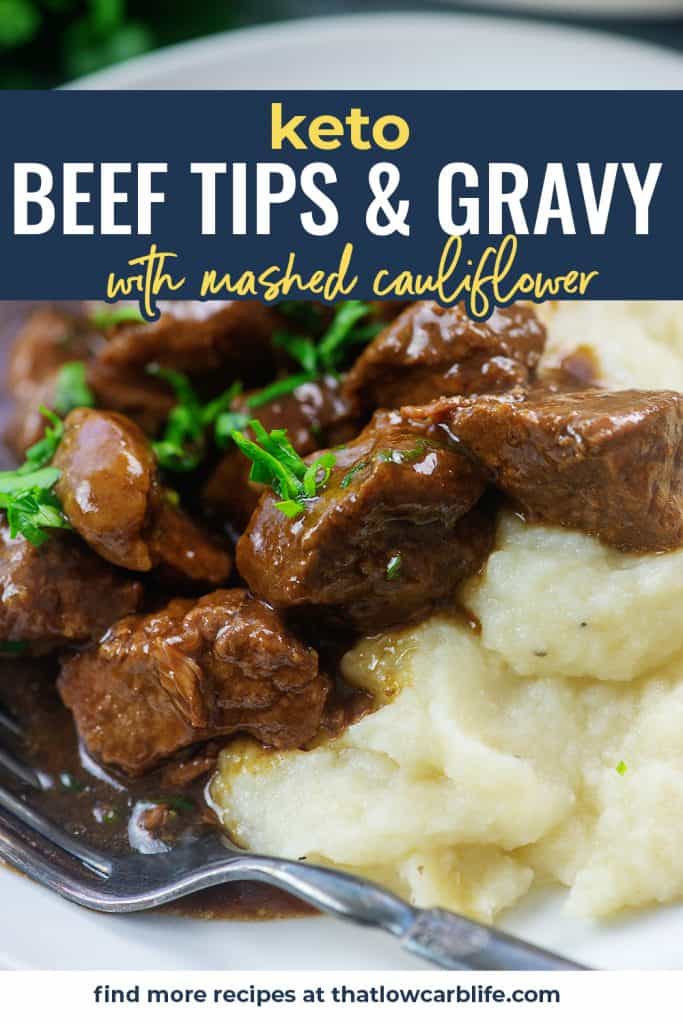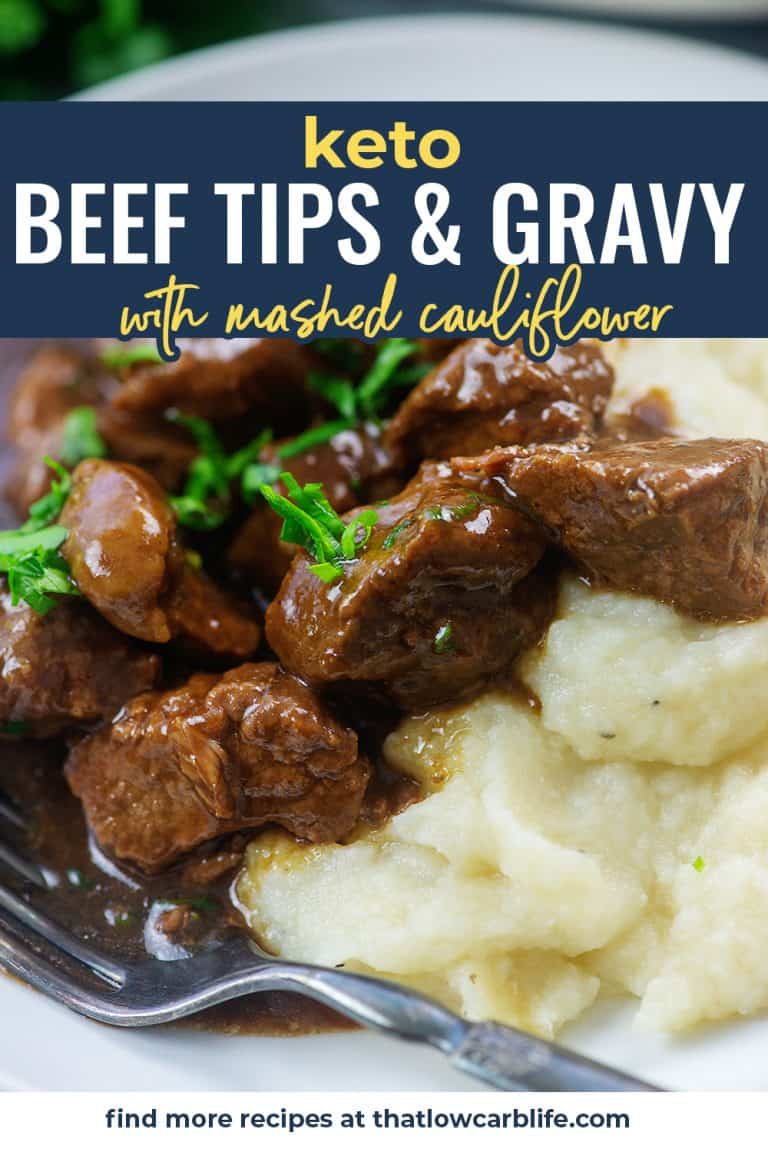 I'm such a sucker for comfort food. Which, I guess…who isn't?
But lately, I have been on a major comfort food kick. I'm sure the rest of the world is right along with me in that. 2020 has been rough, right?
I wanted to bring you all a little comfort today with one of our all time favorite keto recipes…keto beef tips and gravy!
The beef is so tender, the sauce is so rich, hearty, and savory, and when you serve these over my mashed cauliflower, I swear you'll never guess you're eating a low carb dinner.
This is a meal that the whole family will love!
What are beef tips?
Beef tips often are referring to beef tenderloin or sirloin, however this term isn't regulated and grocery stores will also sell many different cuts of meat labeled as beef tips.
For quick cooking recipes, you'd want to be sure you were getting tenderloin or sirloin tips (just confirm with your butcher before purchasing). This will ensure your meat is nice and tender.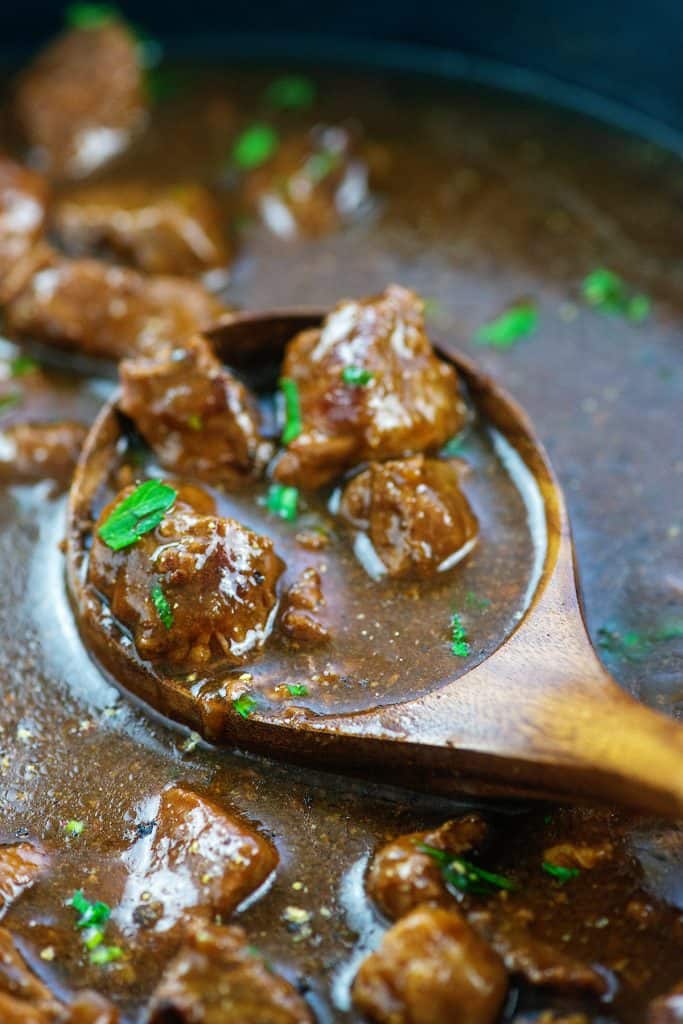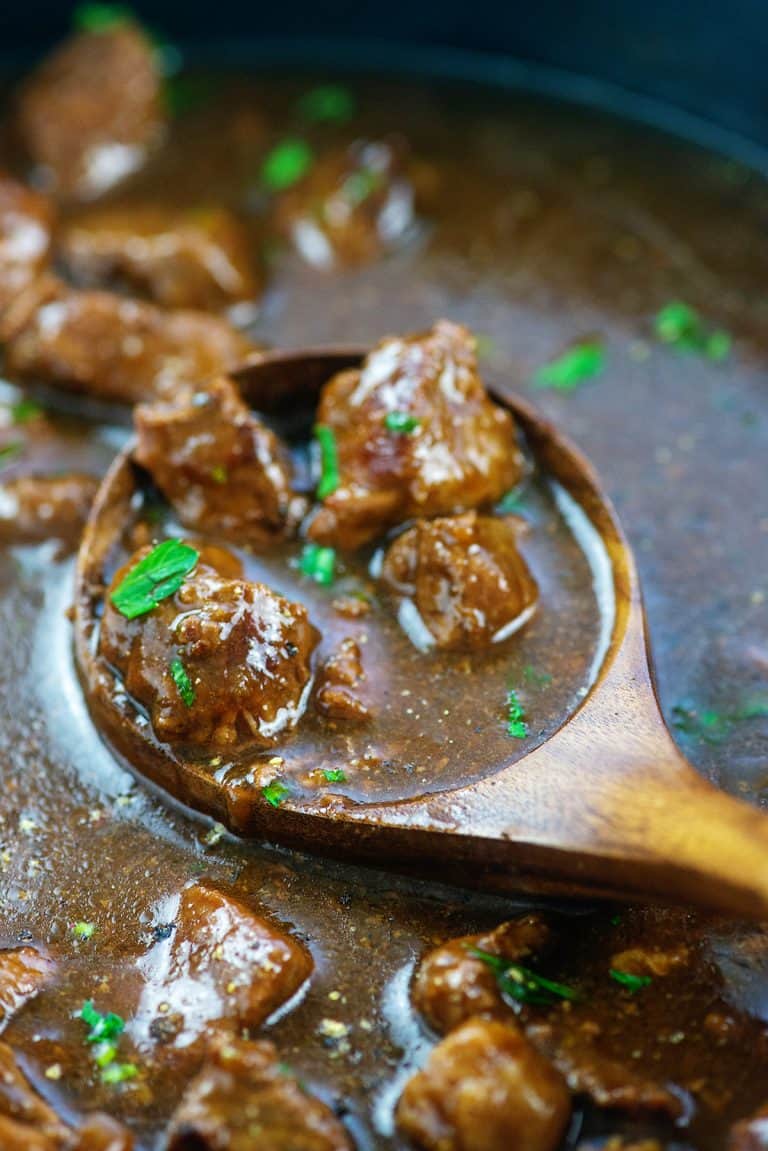 But, for this recipe and others like it, a cut like chuck roast is the better option because we're cooking it low and slow. This is the more economical choice and, in the end, the beef is going to be super tender thanks to the way we cook it.
If your grocery store doesn't sell 'beef tips' you can purchase a chuck roast and cut it into bite sized pieces or you can buy a package of stew meat. Both work great!
How to cook beef tips:
We're going the more economical route and using chuck roast for our beef tips, which means we'll want to first sear the meat to build in some of that deep, savory flavor.
Next, you'll want to simmer the beef, covered, for a couple of hours to let it get nice and tender.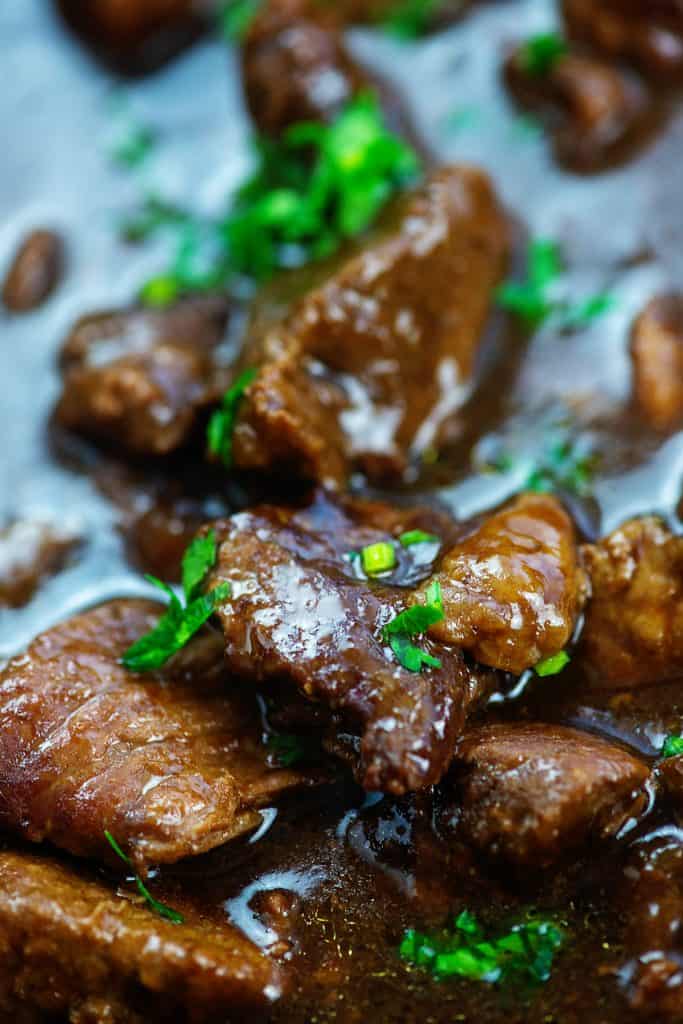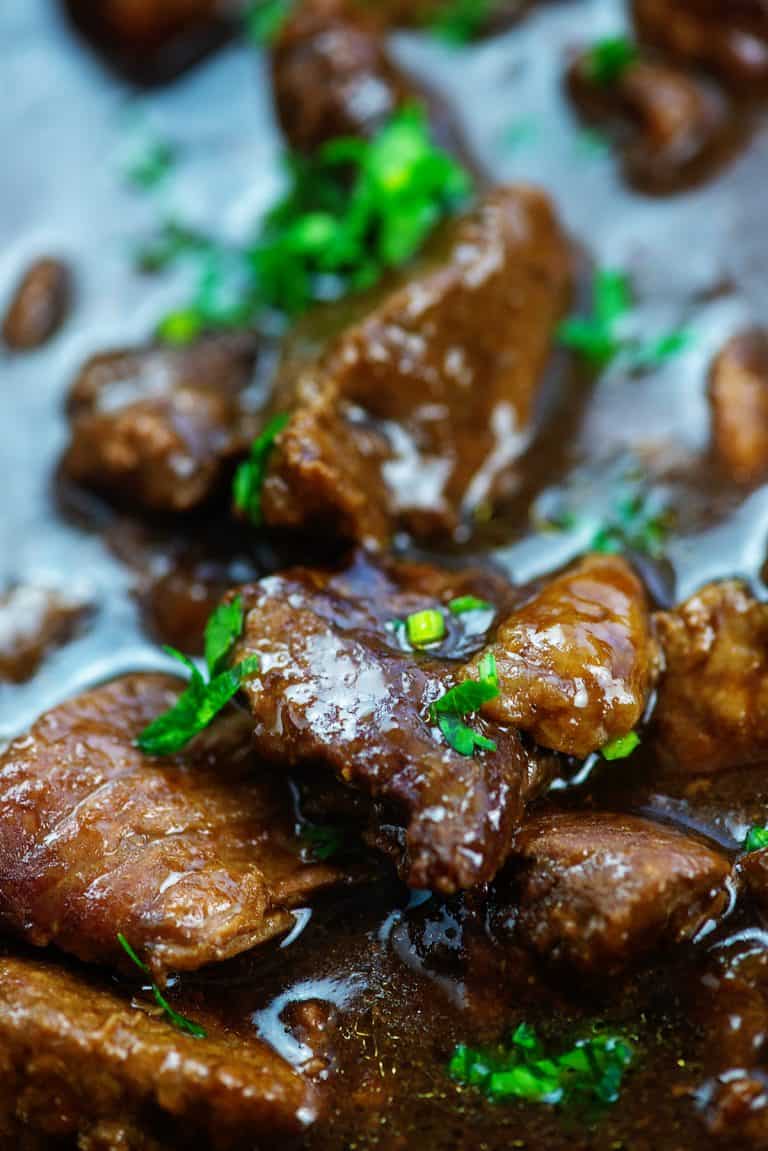 The meat cooks in a rich sauce of broth, bouillon, Worcestershire, onion, and spices. Think onion soup mix, but instead of a packet, we're doing the seasoning ourselves.
To thicken the sauce, you'll whisk a little xanthan gum into the broth and let it simmer for 30 minutes to thicken up.
Voila! Beef tips and gravy!
You'll definitely want a plate full of mashed cauliflower to soak up some of that delicious gravy. It's so good I could almost drink it!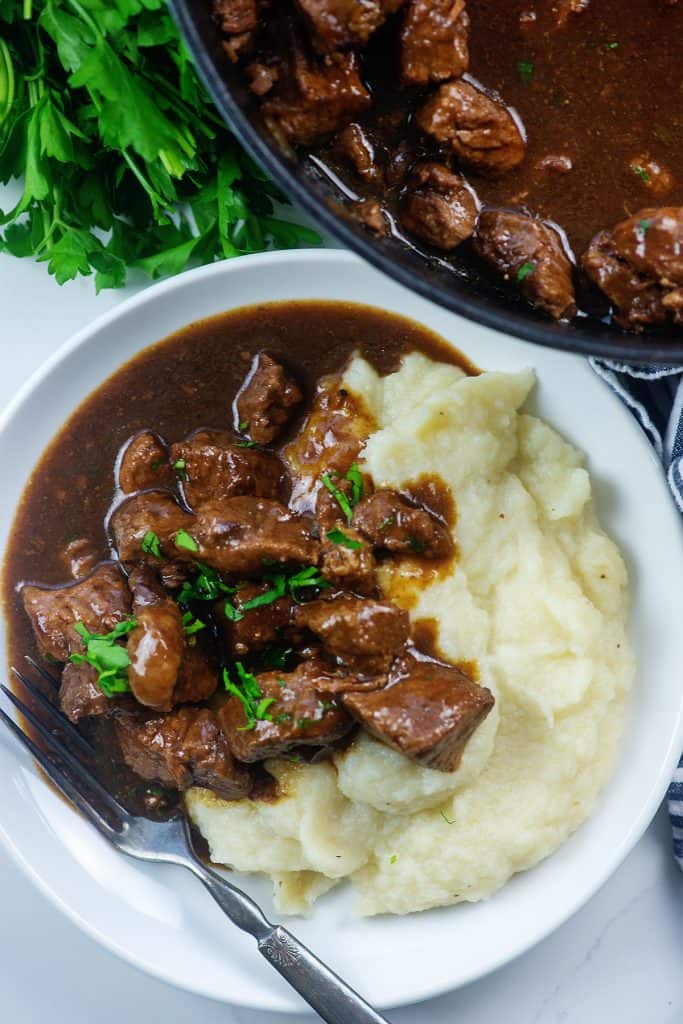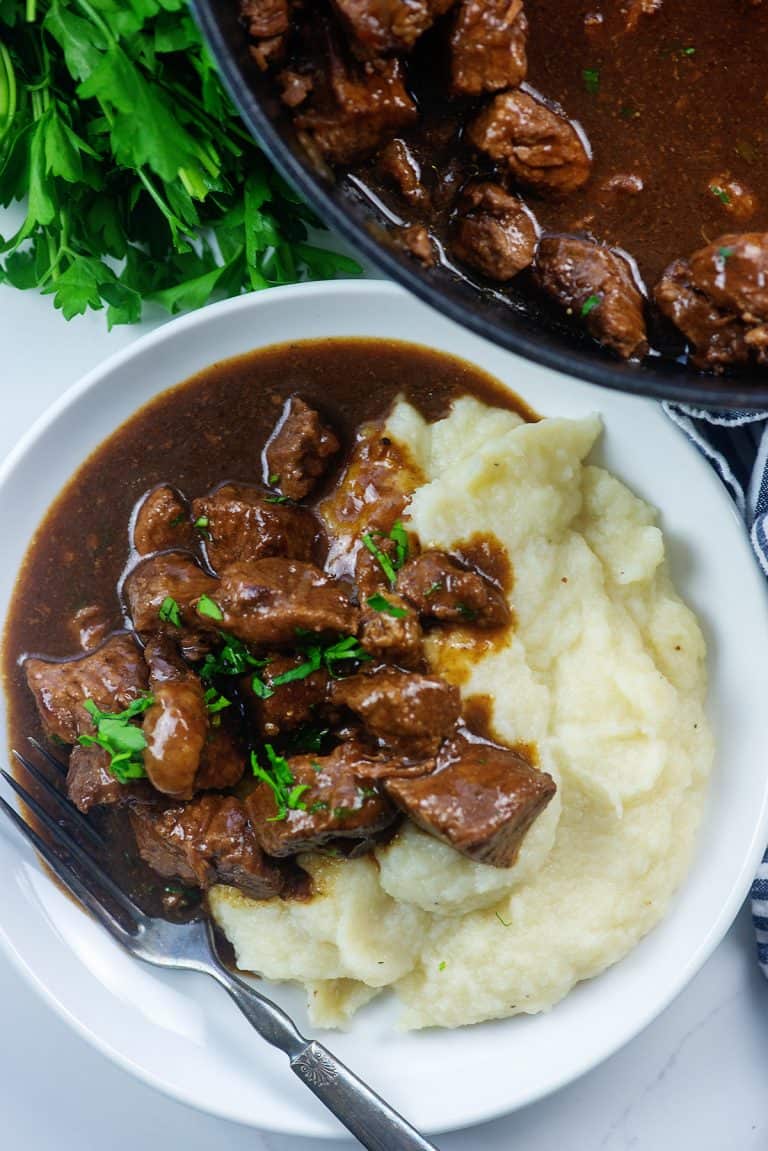 What is xanthan gum:
Xanthan gum sounds a little weird, but it's a totally natural product that's added to more foods than you realize. It's used to thicken and stabilize products like salad dressings, soups, ice creams, syrups, and many gluten free foods.
It's a soluble fiber, which means it's a carb that your body doesn't break down.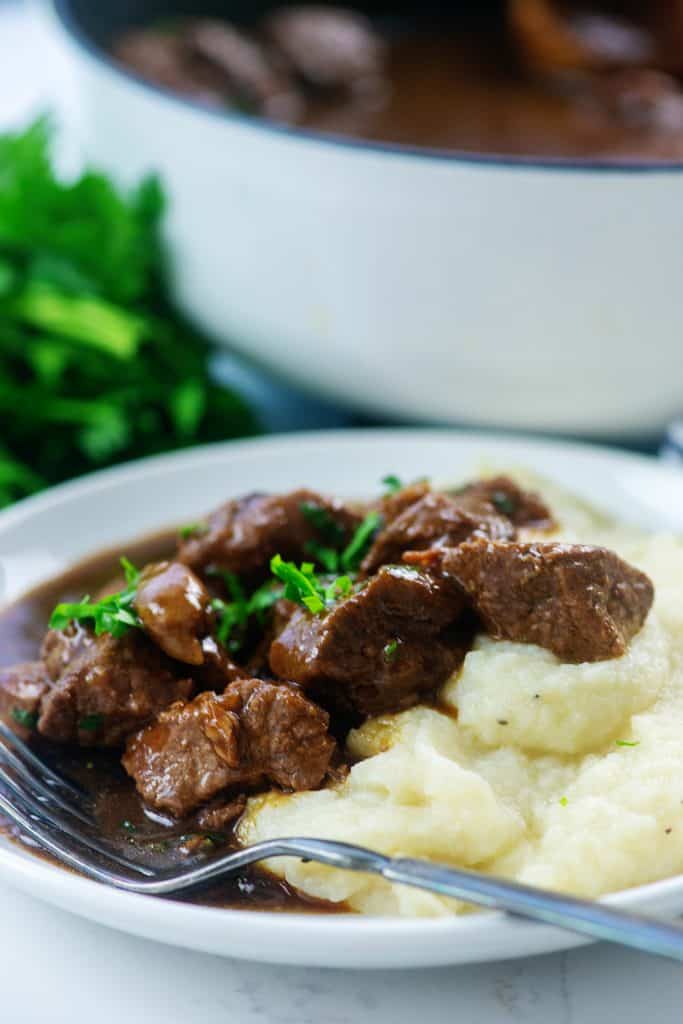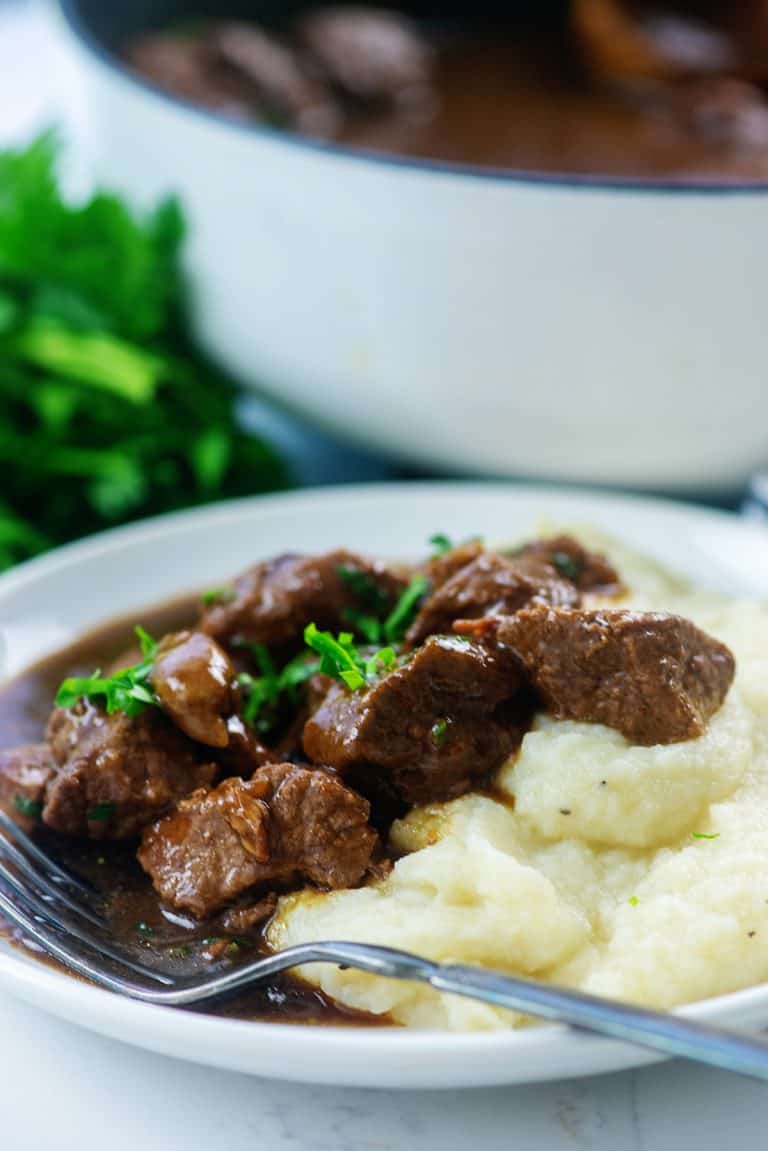 You probably already eat it, you just likely don't cook with it at home unless you're well versed in this low carb life.
It's easily found at most well-stocked grocery stores or you can order it from my Amazon link.
More keto comfort food: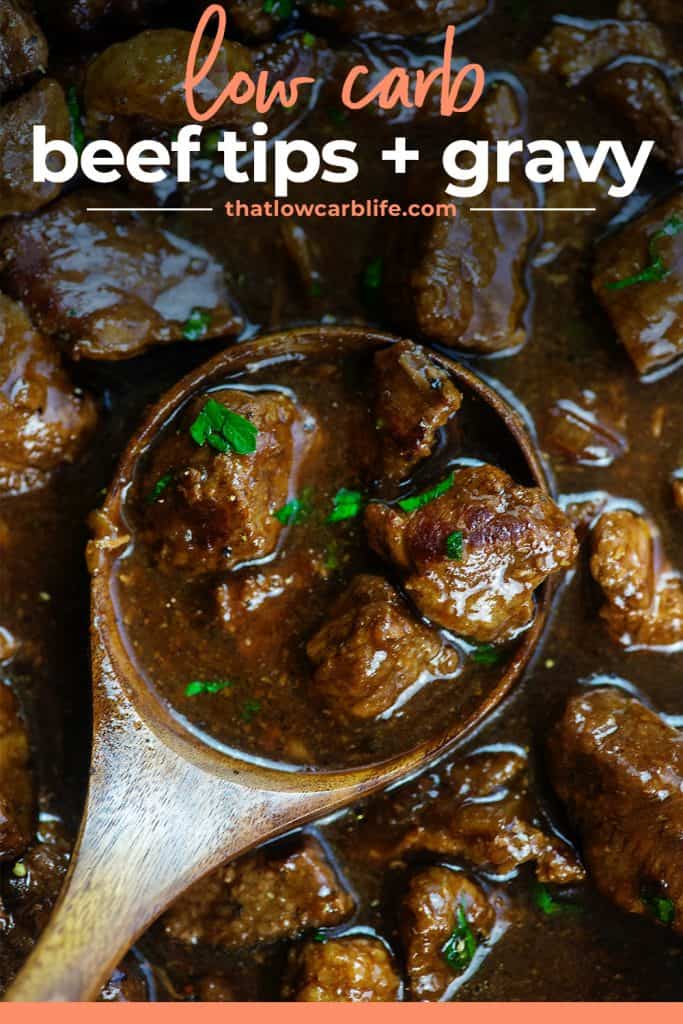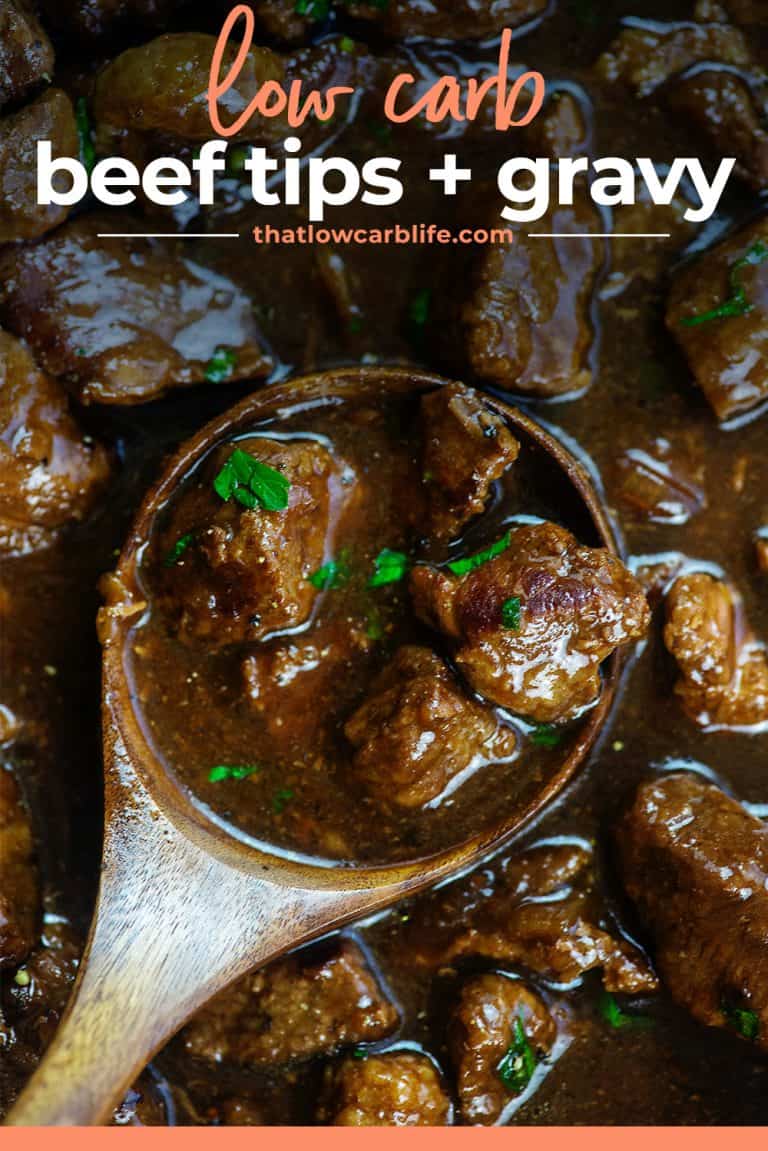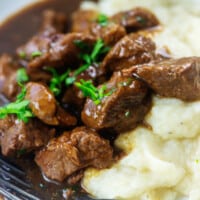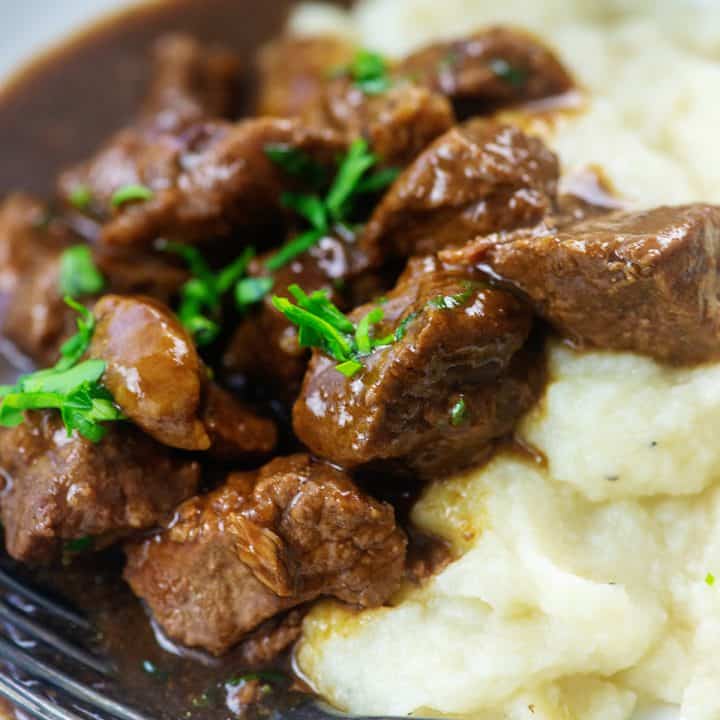 Keto Beef Tips and Gravy
These beef tips simmer away in a rich sauce that is thickened into a gravy before serving. Serve this over a pile of mashed cauliflower for a classic comfort food dinner that no one will even realize is low carb.
Total Time 2 hours 20 minutes
Ingredients
2 pounds cubed chuck roast or stew meat
1 teaspoon salt
1 teaspoon cracked pepper
2 tablespoons oil, divided
1 medium onion, chopped
2 cups beef broth
3 tablespoon beef bouillon granules
2 tablespoons Worcestershire sauce
1 teaspoon garlic powder
1 teaspoon onion powder
¼ teaspoon xanthan gum
Instructions
Season the chuck roast with salt and pepper.
Heat 1 tablespoon of oil in a large dutch oven over high heat. Add the beef and cook until browned on all sides. Work in batches if needed so that you don't overcrowd the pan.
Remove the beef from the pan and set aside.
Reduce heat to medium and add the remaining tablespoon of oil to the pan. Add the onion to the pot, stirring often, until softened about 5 minutes.
Add the seared beef, broth, bouillon granules, Worcesetershire sauce, garlic powder, and onion powder to the pot and stir well to combine.
Bring to a boil, reduce to a simmer, and cook, covered, for 1 ½ hours or until beef is tender.
Remove ½ cup of the beef broth from the pan into a small bowl. Sprinkle the xanthan gum over the top and whisk well to combine.
Pour the liquid back into the pot and stir well.
Continue cooking for 30 minutes to thicken.
Serve the beef tips and gravy over mashed cauliflower.
Notes
You may skip the beef bouillon, garlic powder, and onion powder, and use a packet of onion soup mix instead, though it may be a bit saltier.
The nutrition information is calculated based on this serving 6. Servings were not measured by volume, just divided equally into 6 portions. The nutrition information is automatically calculated and is calculating the full amount of the gravy in this recipe, which is why the sodium is so high. Reduce the amount of gravy you serve to reduce the sodium and use low sodium beef broth, if desired.
Recommended Products
As an Amazon Associate and member of other affiliate programs, I earn from qualifying purchases.
Nutrition Information:
Yield: 6
Serving Size: 1
Amount Per Serving:
Calories: 453
Total Fat: 29g
Saturated Fat: 11g
Trans Fat: 1g
Unsaturated Fat: 17g
Cholesterol: 140mg
Sodium: 1611mg
Carbohydrates: 4g
Net Carbohydrates: 4g
Fiber: 0g
Sugar: 2g
Protein: 44g
All information and tools presented and written within this site are intended for informational purposes only. This information is provided as a courtesy and there is no guarantee that the information is accurate.