Cheeseburger salad is the perfect option on busy summer nights! Tastes like biting into a big, juicy cheeseburger and the homemade salad dressing is out of this world amazing!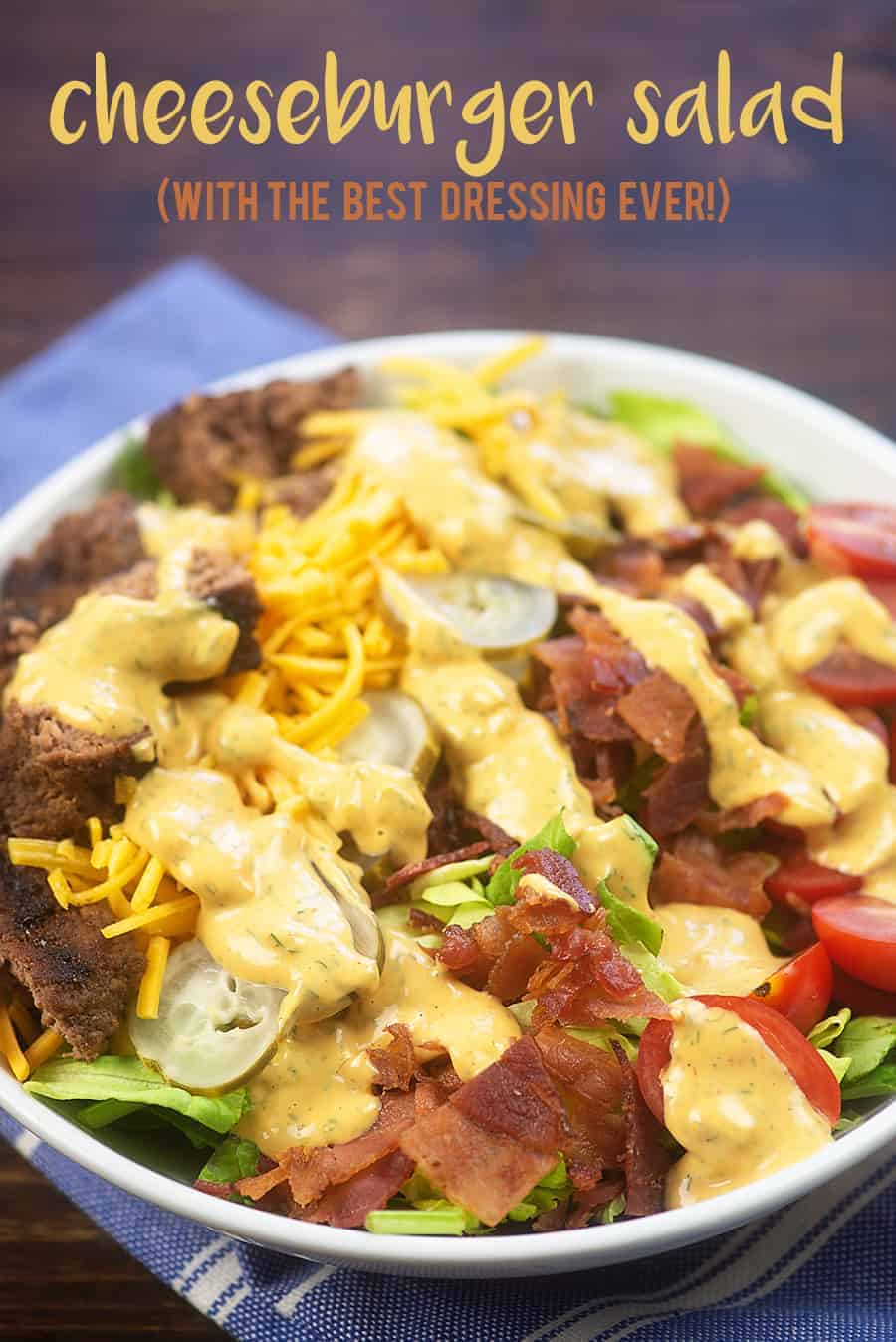 I am a cheeseburger kind of person. I just love them and so do my kiddos.
We eat out fairly often (surprised? Yes, you can totally eat out while being low carb!) and I know that a burger is almost always going to be a safe and easy option and it's always going to be good! Just skip the bun and go at it with a fork. Easy peasy.
At home, though, I like to make my burgers a little more exciting.
I start out with some salad greens and the BEST homemade burger sauce.

This cheeseburger salad is a low carb salad that everyone will want for dinner.
I like to serve this on hot summer nights, because it's not overly heavy, the crisp greens are always refreshing, and I'll take any excuse to make my husband fire up the grill. 😉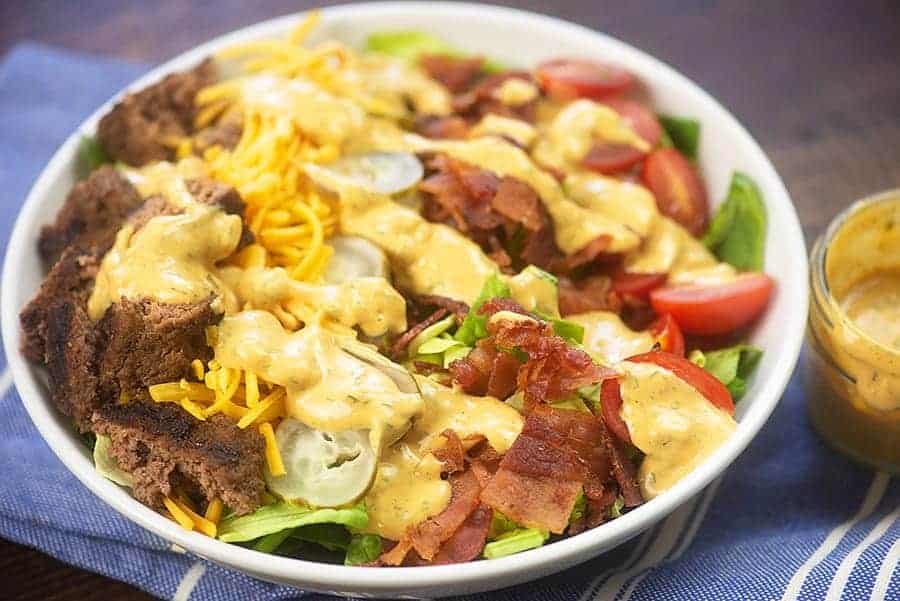 How to make low carb salads:
Lettuce is low in carbs and salad is a really great choice for a low carb diet.
To keep your salads exciting, I suggest loading up the toppings! You're going to get tired of boring salad, so get creative! And definitely give my homemade ranch dressing. It's low carb and bursting with flavor!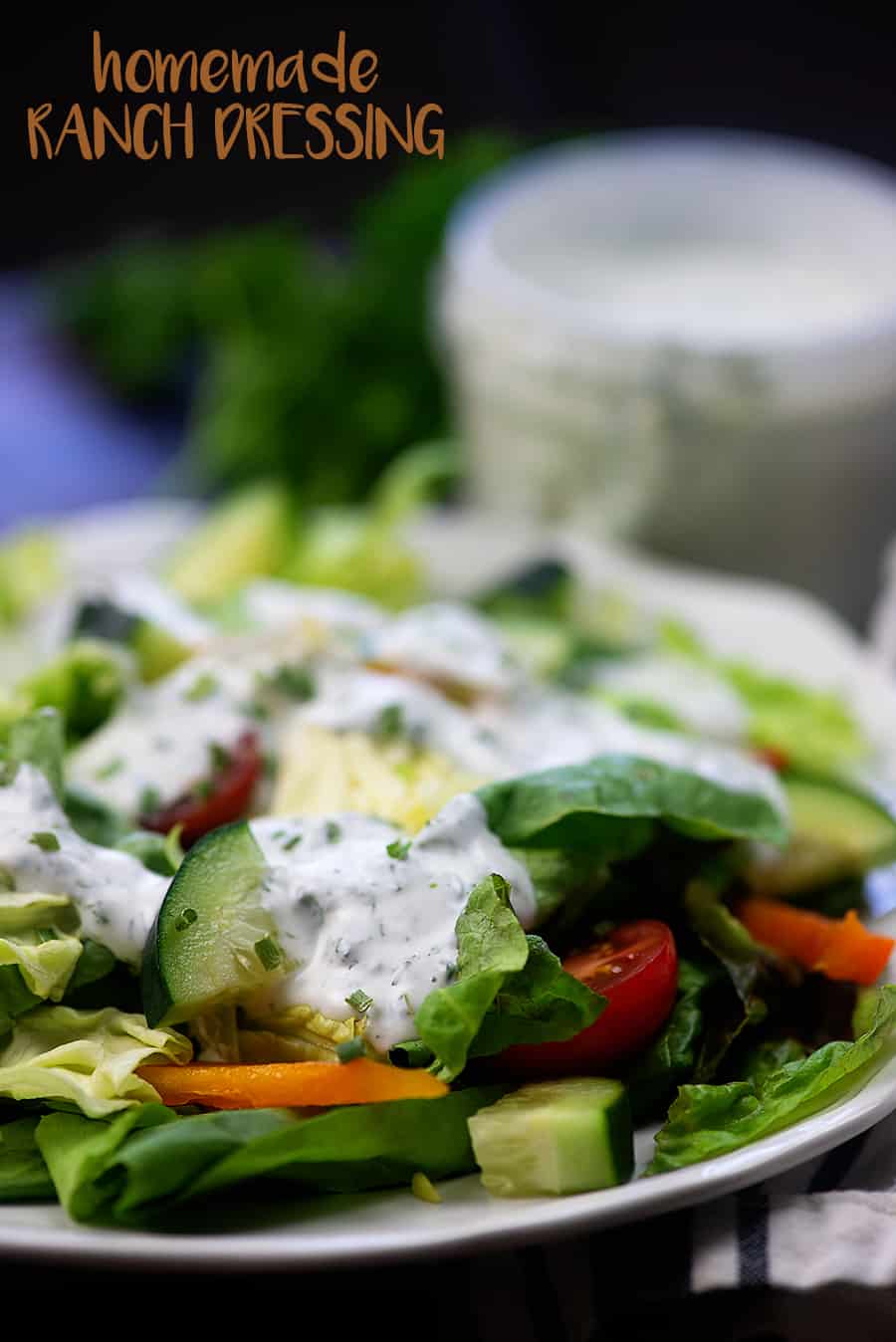 Low carb salad toppings:
chopped cucumber
diced avocado
halved grape tomatoes
sliced boiled egg
grated or diced cheese
sliced zucchini or summer squash
slivered almonds
crispy bacon
deli meat
sliced bell peppers
pepperoncini
chopped pickles
fresh mushrooms
mild banana peppers
minced jalapenos
chopped broccoli
chopped cauliflower
diced red onion
The list goes on and on! There are so many options to keep your healthy salads exciting and flavorful.
This cheeseburger salad has just as much 'topping' as it does lettuce. I like salads that are bursting with good stuff!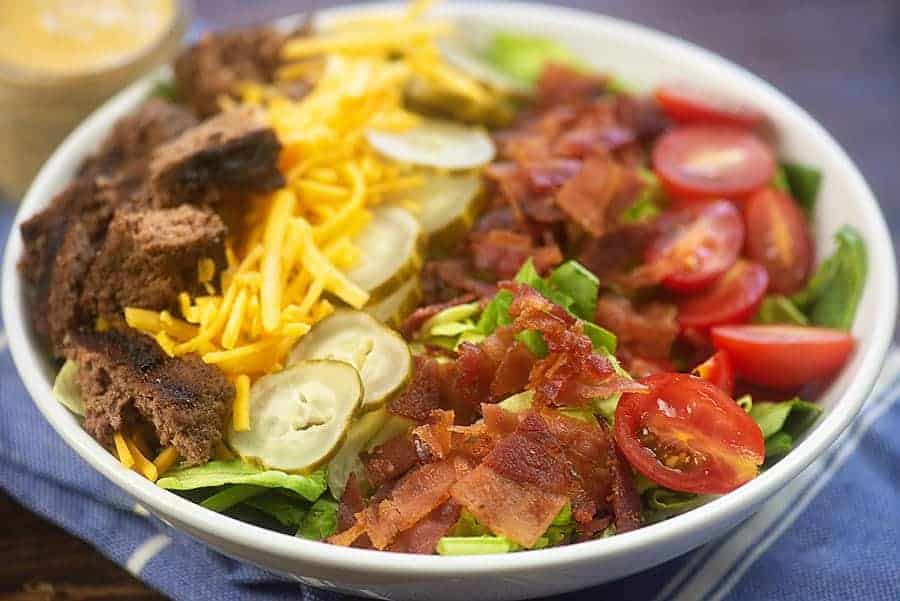 I've topped my salad with all of my favorite cheeseburger toppings: halved grape tomatoes, crispy fried bacon, loads of cheddar cheese, sliced dill pickles, and a freshly grilled hamburger patty all chopped into bite-sized pieces.
Just now realizing that I forgot to add a little red onion! Next time… 🙂
I'm normally a ranch dressing girl when it comes to my salad, but trust me when I say that the burger sauce dressing on this keto salad is OUTRAGEOUS. You might just want to bathe in it.
To make the burger salad dressing, you'll start with some reduced sugar ketchup. I use Heinz.
Add some mustard, dill pickle relish, and fresh dill.
This is all going to add big flavor to the dressing.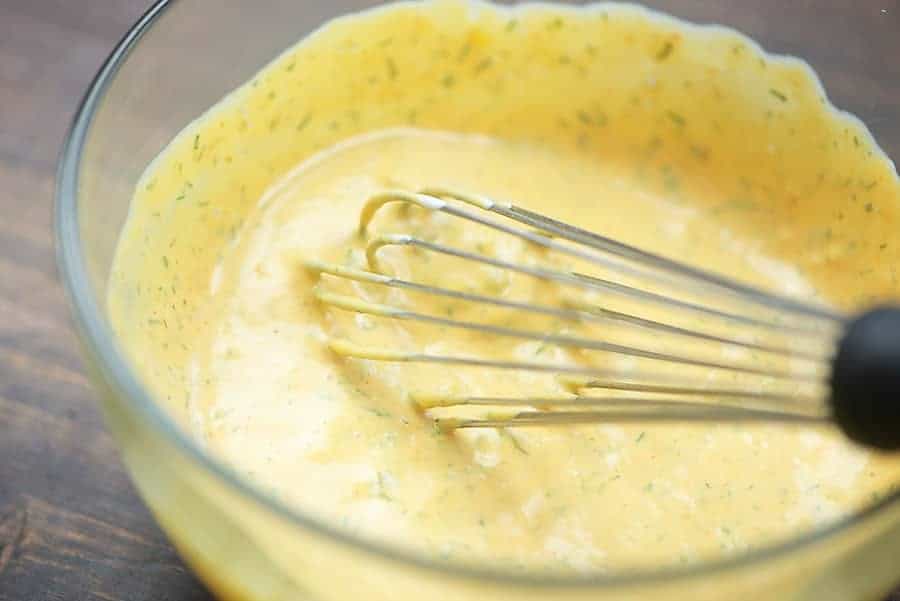 Next, whisk in some mayonnaise to make the dressing rich and creamy.
You guysssssss. I literally can not stop with this dressing. It goes great on regular cheeseburgers in place of ketchup and mustard, too. My non-keto peeps love it on their burgers!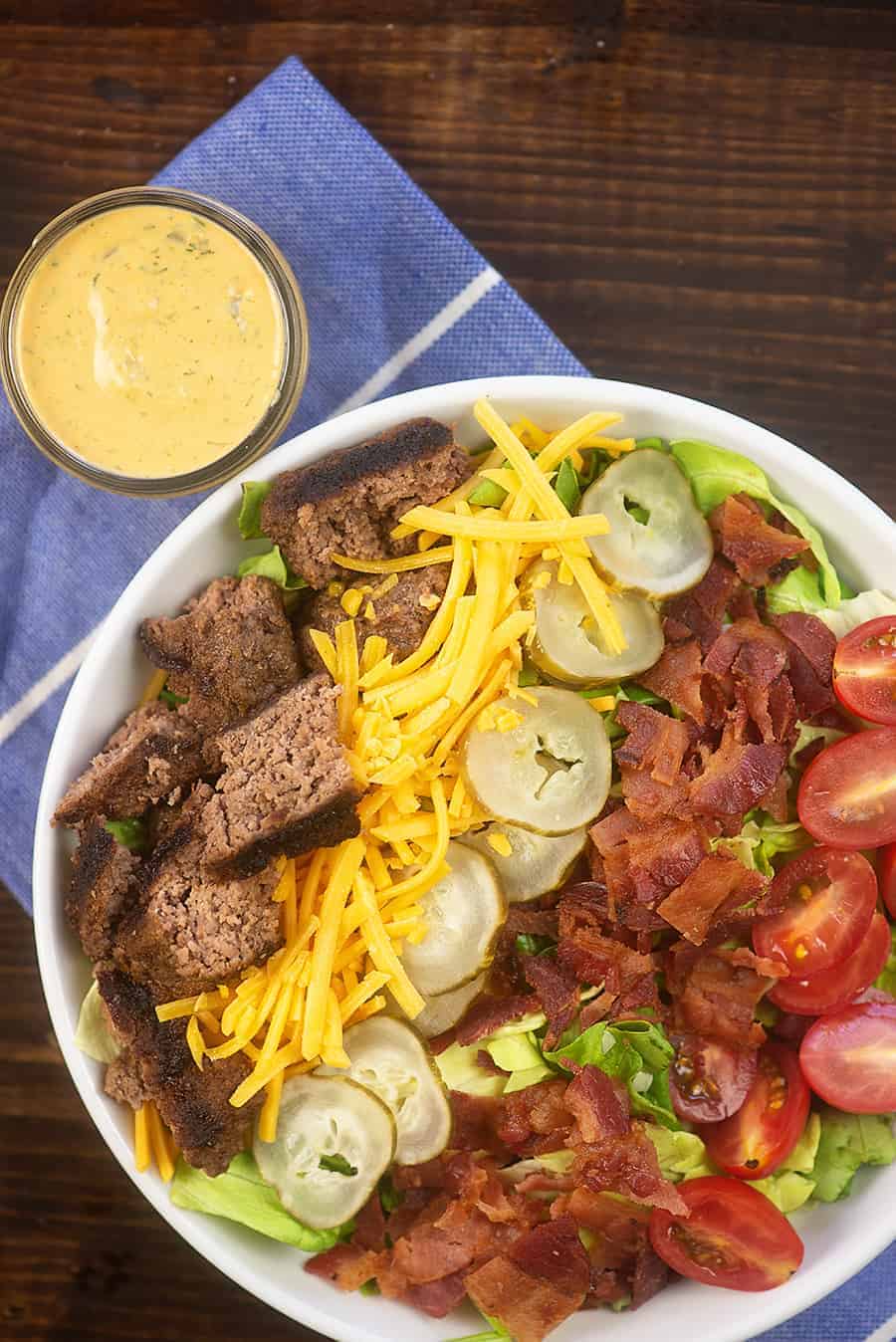 More keto salad recipes:
Broccoli Salad – an all-time favorite around here and perfect for any summer barbecue!
Cauliflower Potato Salad – there's not actually any potato in there, it just tastes like a potato salad!
Avocado Egg Salad – so good for lunch on a hot day!
Hope you enjoy these low carb salad recipes and they make that low carb life a little easier on ya! 🙂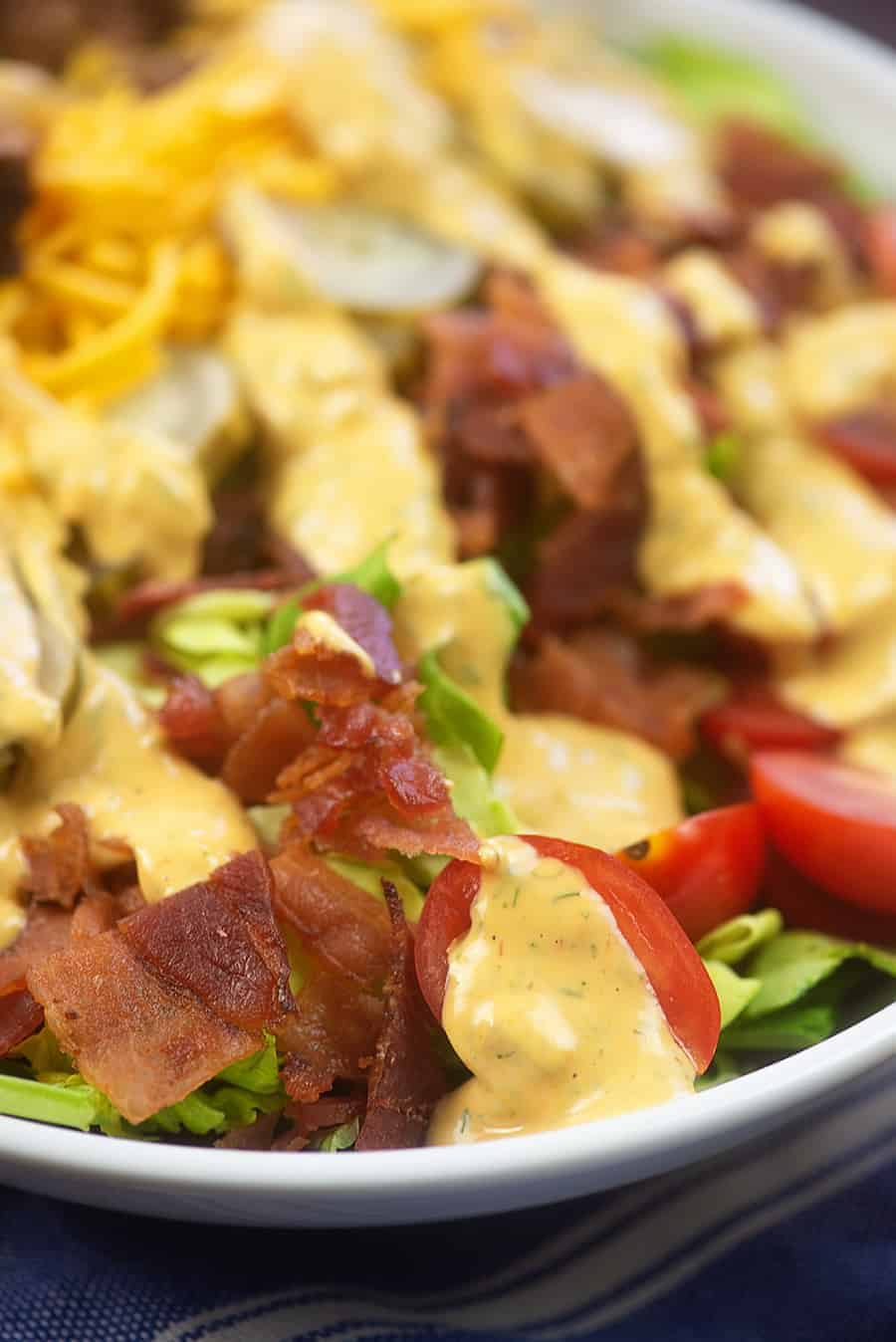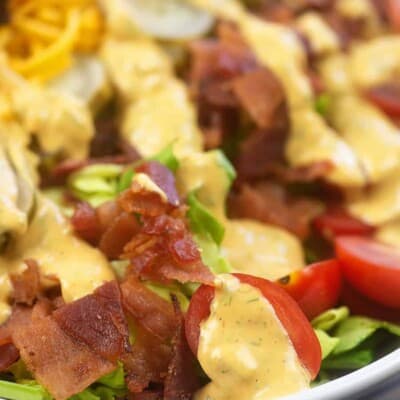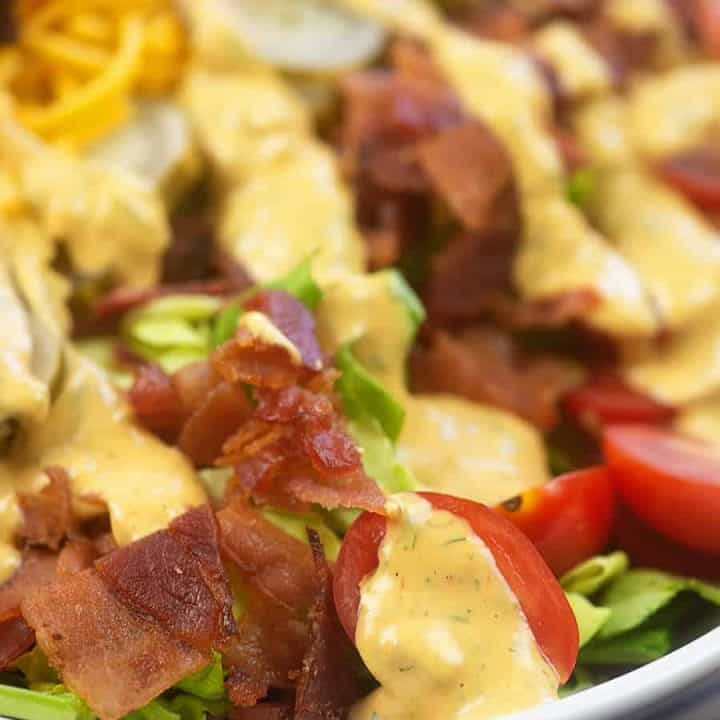 Cheeseburger Salad
This cheeseburger salad makes enough for two hearty salads. You'll likely have leftover dressing - it'll store in the fridge for one week and is excellent over burgers or hot dogs!
Prep15 minutes
Cook15 minutes
Total30 minutes
Ingredients
For the burgers
8 ounces ground beef
1 teaspoon Worcestershire sauce
1/2 teaspoon garlic powder
1/2 teaspoon onion powder
1/2 teaspoon seasoned salt
For the dressing
1/4 cup mayonnaise
2 tablespoons ketchup
2 tablespoons mustard
1 tablespoon dill relish
1 teaspoon fresh dill
1 teaspoon white distilled vinegar
For the salad
3 cups mixed greens
6 slices bacon fried and diced
1/2 cup grated cheddar cheese
1/2 cup grape tomatoes halved
1/4 cup dill pickle chips
Instructions
To make the burgers
Add the ground beef, Worcestershire sauce, garlic powder, onion powder, and seasoned salt to a small bowl and mix to combine.

Shape the beef into two large patties and cook in a skillet or on the grill, flipping halfway through, until cooked through, about 15 minutes.

Chop burgers into bite-sized pieces and set aside.
To make the dressing
Add all of the dressing ingredients to a small bowl and whisk well to combine.
To assemble the salad
Add the saladha greens to two bowls.

Top each salad with half of the chopped burger, bacon, cheese, tomatoes, and pickles.

Drizzle each salad with the salad dressing and serve immediately.
Tips & Notes:
Store any unused salad dressing in a tightly closed container in the fridge for up to 1 week.
Nutrition Information:
Serving: 1| Calories: 828kcal (41%)| Carbohydrates: 10g (3%)| Protein: 52g (104%)| Fat: 63g (97%)| Saturated Fat: 20g (125%)| Polyunsaturated Fat: 37g| Trans Fat: 1g| Cholesterol: 175mg (58%)| Sodium: 1107mg (48%)| Fiber: 3g (13%)| Sugar: 4g (4%)| Net Carbs: 7g (14%)
Want To Save This Recipe?