Posted: 07.22.21
Updated: 07.22.21
Hi, friends!
I'm popping in today not with a recipe, but with a fun announcement – That Low Carb Life got a full makeover and she is lookin' good!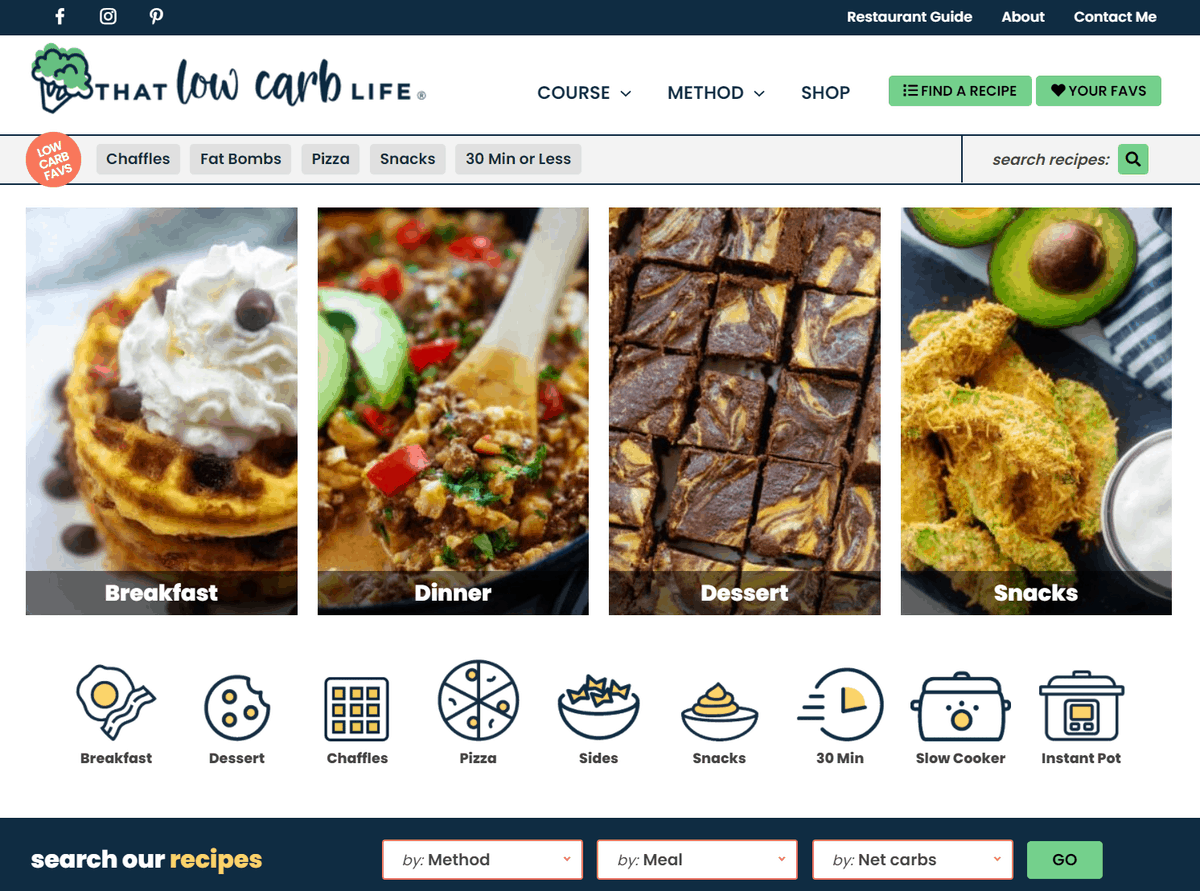 This project has been a year in the making and I'm so happy to finally share it with you.
There are a lot of new features designed to make your low carb life even easier, so if you want to stick around a minute, I'll show you around.
What Does This New Design Mean For You?
Not only is the site much prettier to look at, it's SO much more user friendly!
You'll be able to find new recipes quickly and easily thanks to all of the new categories and search functions.
You can SAVE YOUR FAVORITES right here on the site…no need to pin the photo or bookmark the page!
Our eBooks are easier to find and you'll find allllll the details you need before purchasing.
The site is FASTER so you can get in, get out, and start cooking!
Did I mention it's so much prettier?
We want you to find exactly what you're looking for as quickly and easily as possible, so we built out our new search features with that in mind.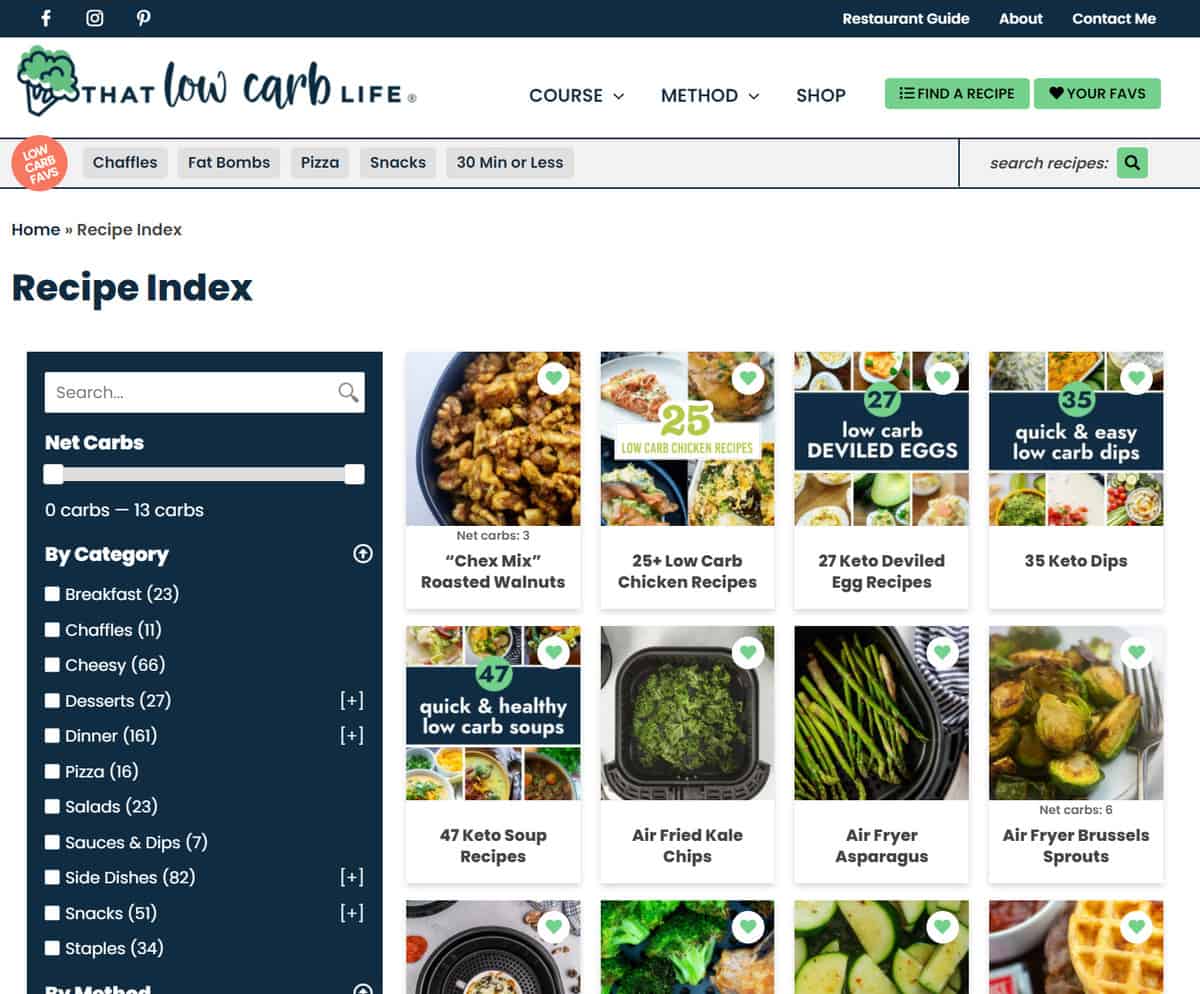 It's so much easier to search and narrow down what you want than ever before!
On desktop, the top right of the page has a find a recipe button and a search button. On mobile, you'll find a search button and then the recipe index button is located in the hamburger menu.
By clicking 'Find a Recipe', you'll be taken to our recipe index where you can use the lefthand side of the screen (pictured above) to choose what you're looking for.
Type in the search bar, use the net carb count slider to limit the number of carbs you're looking for, and/or click the boxes of the individual categories you're searching for.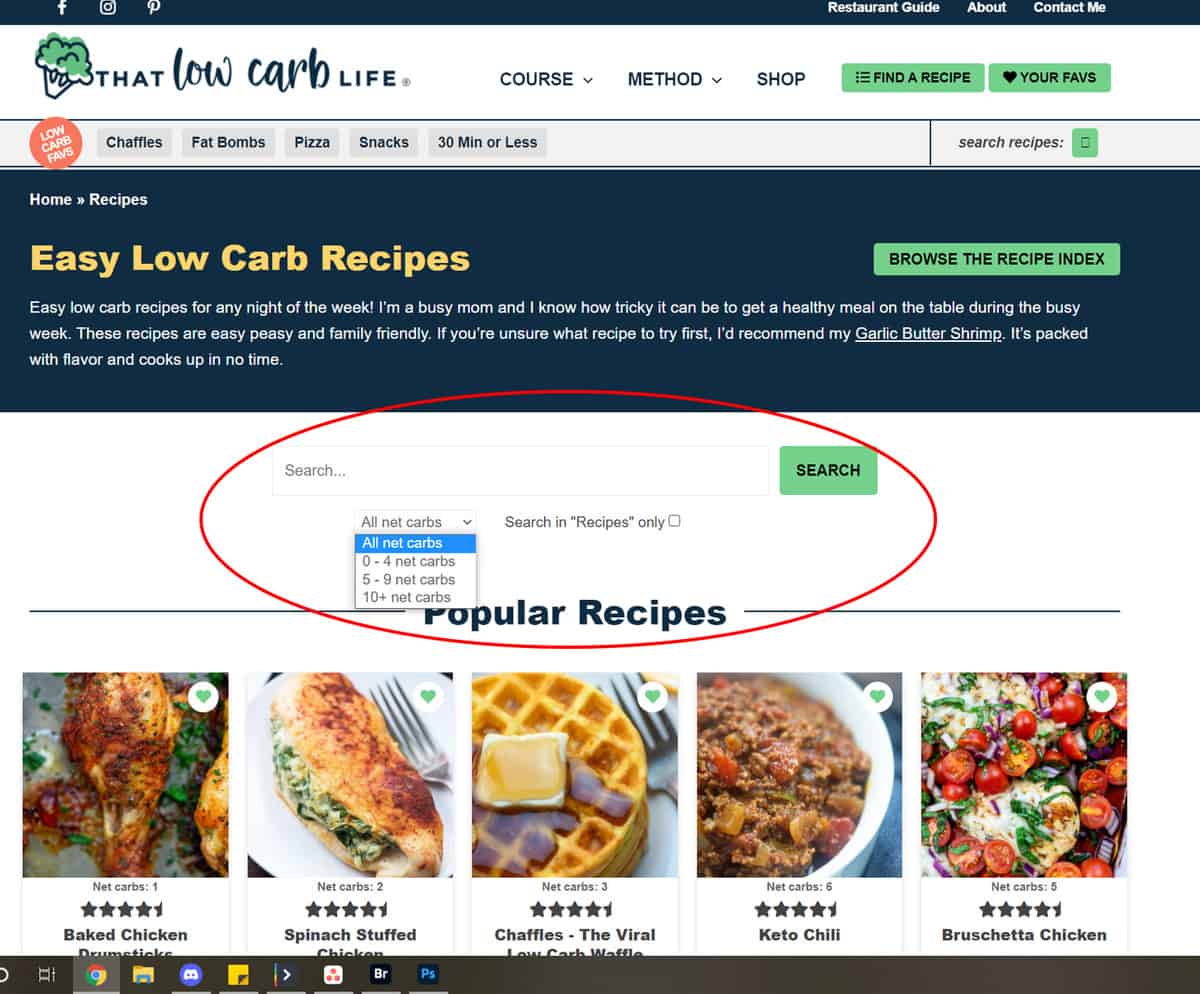 There are options to search all over the site, so feel free to dig in and find what you want!
Pro Tip!
Less is more!
When it comes to search, we like to keep it more broad.
If you type in a recipe name, and add the carb count, and click a category box all at once, you might miss out on something. I recommend searching by name and carb count or by category and carb count for the most flexibility and best success!
Whether you're looking at the home page and recipe index or you're in an individual recipe post, we've put all of the information you might want right there to save you time and clicks.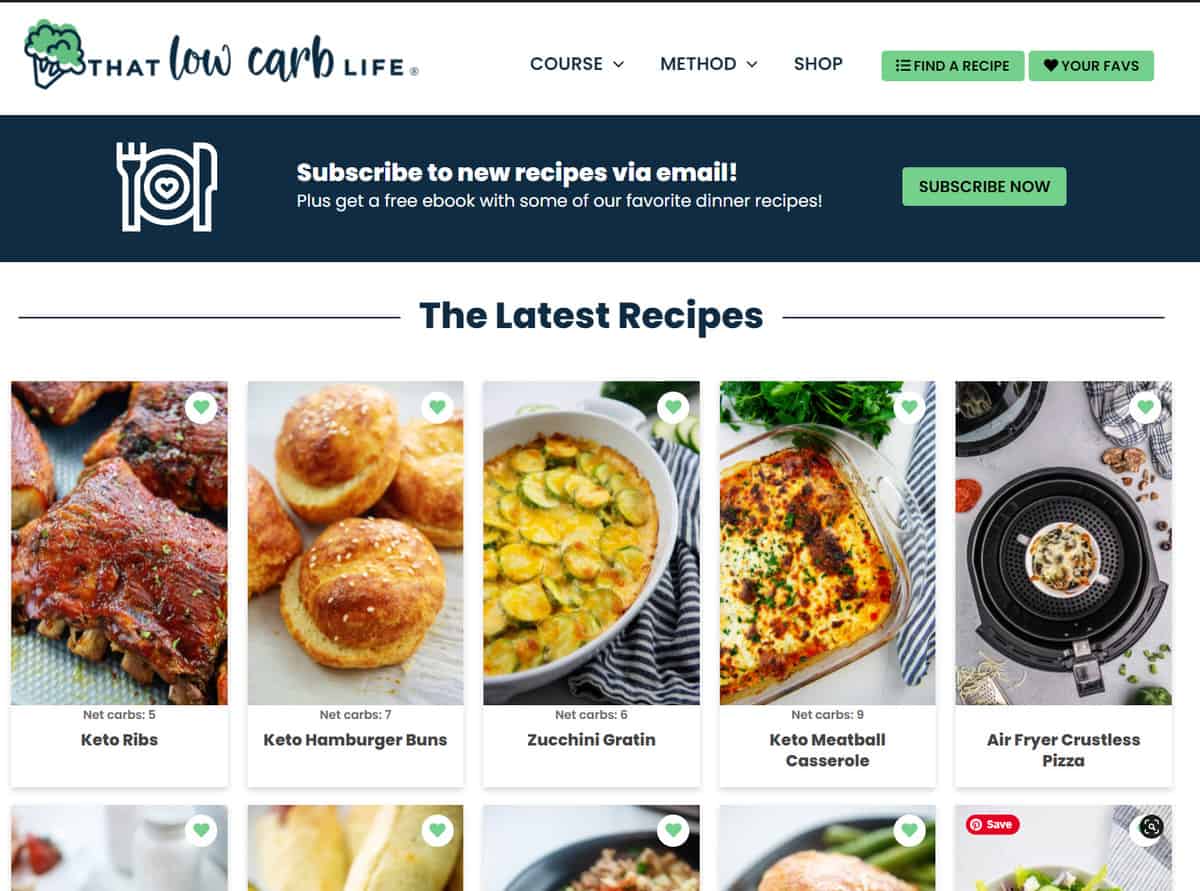 Searching for a recipe but have a specific amount of carbs in mind? We've got you!
Each recipe will show the net carb count right underneath the thumbnail. No need to click, scroll down to the recipe card, and hunt for nutrition, just to find out it's more carbs than you were looking for!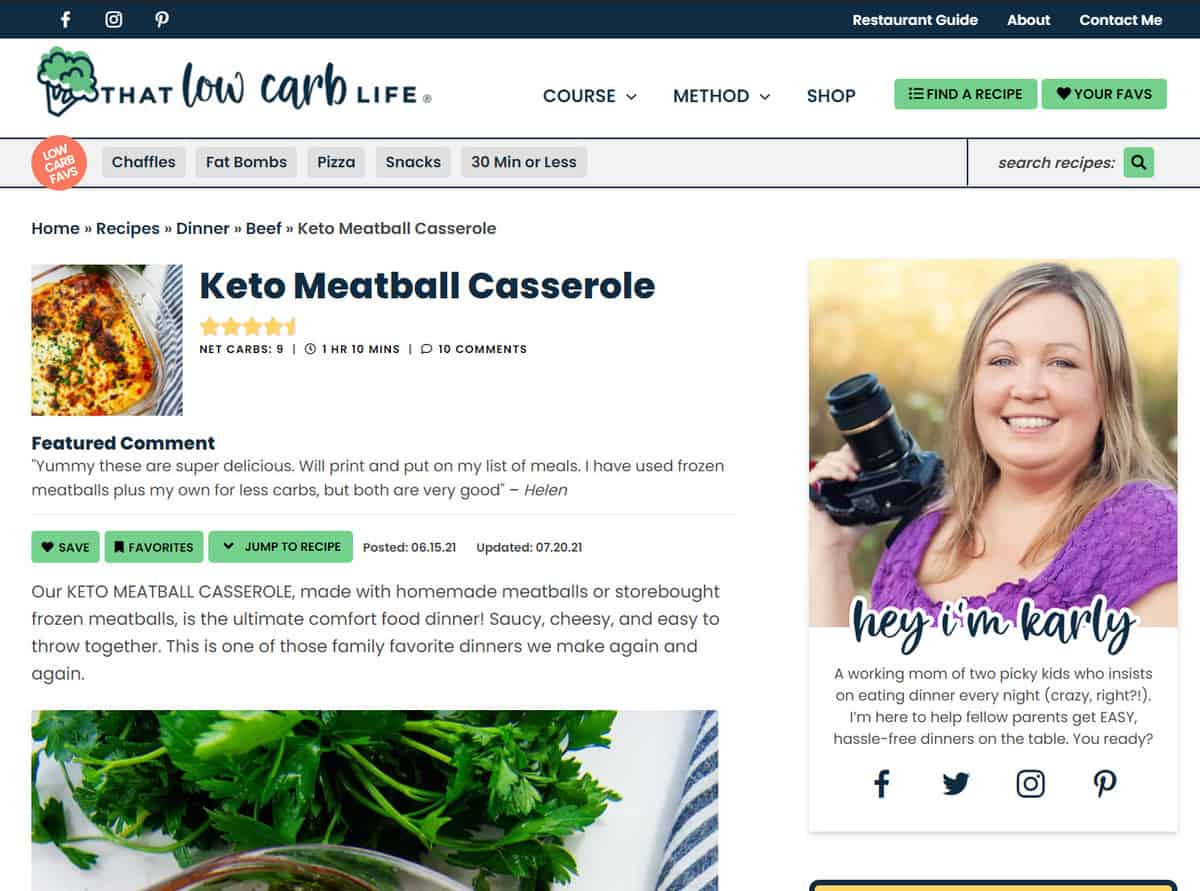 When you're looking at a single recipe, things get even more exciting!
Right at the top, you'll see a thumbnail image and the recipe title. Underneath that you'll find the star rating, so you can quickly see what other readers who've tried the recipe think. Below that you'll find the net carbs and the total time it takes to make the recipe.
The 'Featured Comment' section is one of my favorite sections on the website! I LOVE when you guys leave me comments and reviews. Being able to showcase them for other readers to see just makes my heart happy.
Below that you'll see buttons to save, favorite, or jump to the recipe.
I'll touch more on saves and favorites in a moment, but that Jump To Recipe button is one that I hope you already know about. It takes you straight to the recipe card, so if you're not planning on reading the post content (which I do fill with helpful tips & tricks) you can just click that button and move on!
Almost There!
These are new features and we did our best to get them ready for launch, but you still won't find the featured comment on every single post. The net carb count may be missing from a few thumbnails as well, but we're working behind the scenes to get this all up to date for you!
We get requests almost daily for an easy way to save our recipes and I'm so ready to share with you our new member area! Not to worry, it's completely free and totally easy to navigate!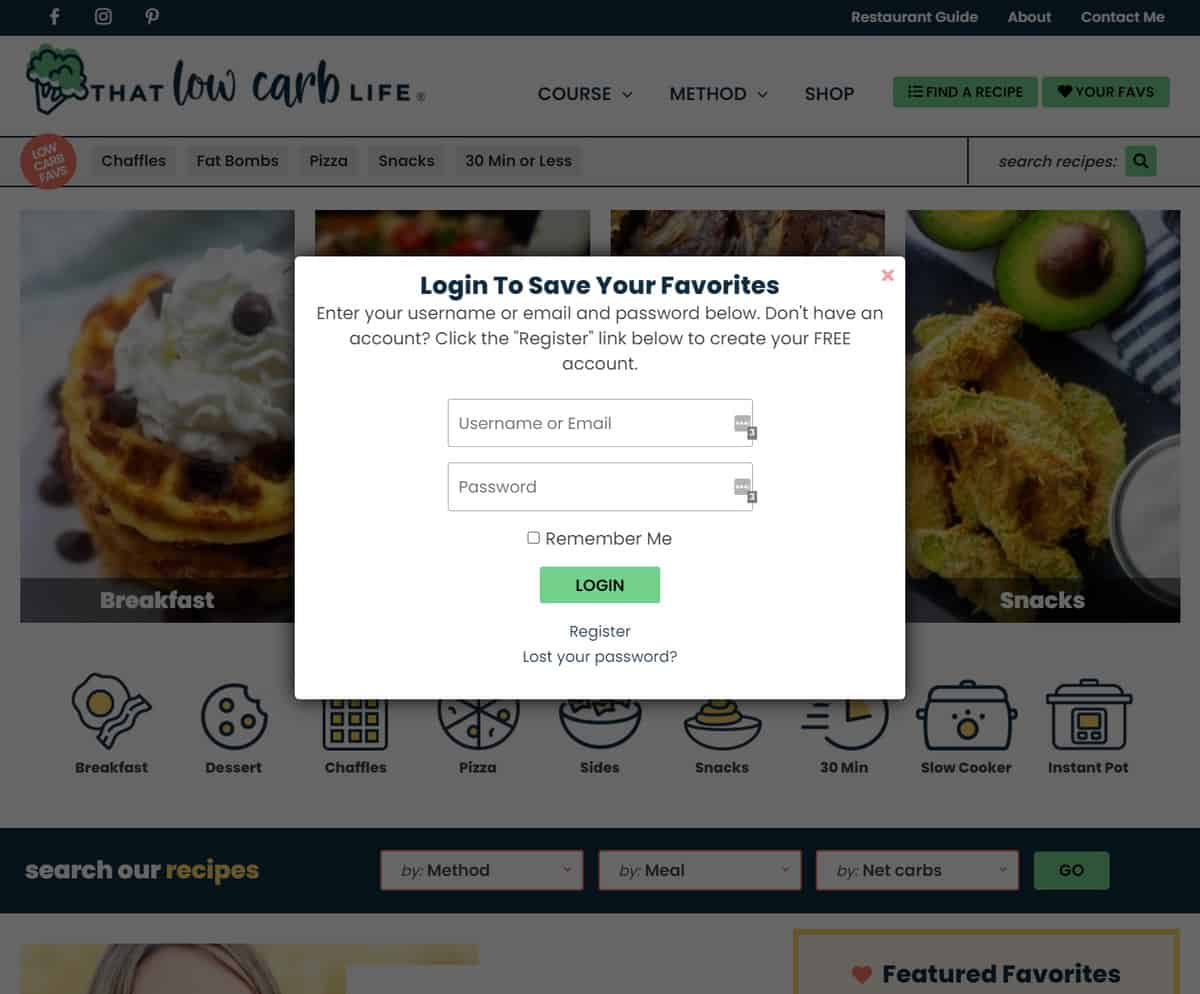 To find the favorites area on desktop, just look at the top right of the screen where it says "Your Favs."
On mobile, you'll want to hit the hamburger menu in the top right of the screen. The last menu option is "My Favorites."
When you click either of those buttons, you'll get that pop up shown above prompting you to log in.
Once again, this is COMPLETELY FREE to you!
Once you've created your account, it's time to start filling it up with your favorite recipes. You can even organize them however you like…breakfast ideas, favorite desserts, or even recipes under 3 carbs, for example.
To save a recipe to your favorites, you'll just click the heart located on the thumbnail images when searching or click the SAVE button next to the jump to recipe button on individual posts. It couldn't be easier!
We hope this section of the website is so helpful to you! I'm really excited to see you all interact with it!
We Want Feedback!
We would LOVE to hear what you think about the new site!
Have an idea you wish we'd implement? Let us know by leaving a comment below.
Finding something that isn't working as you'd expect! Let us know that too! The site is very new and bound to have a few kinks…we'd love your help discovering them!
Can't wait to hear what you think!