This low carb breakfast pizza is perfect for lazy Saturday mornings, but we love it for brinner too! It's loaded with bacon, sausage, eggs, and cheese so it's very filling and only has 3 net carbs per serving!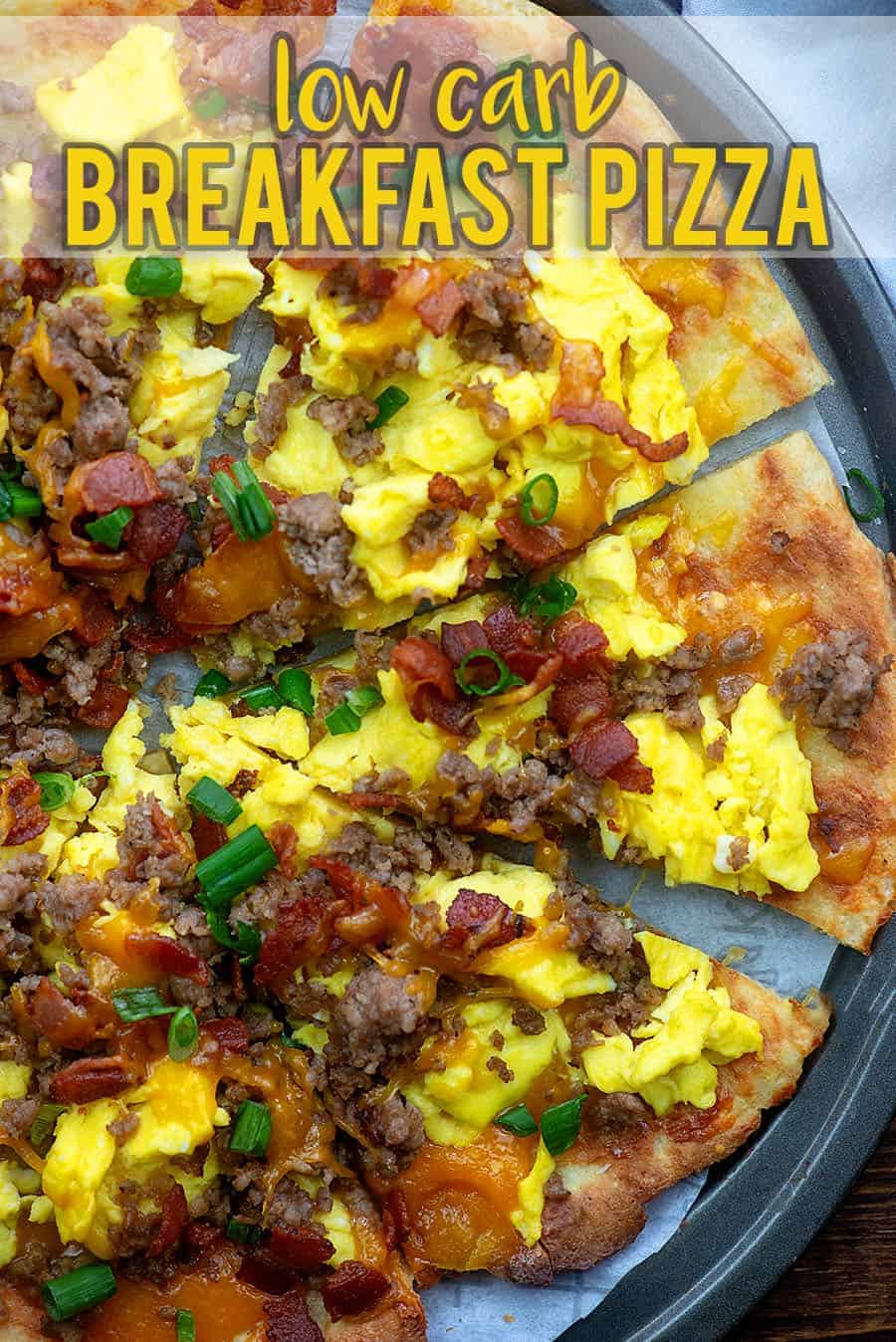 Things I'm obsessed with: Breakfast. And pizza. Also, breakfast pizza. 😉
In the Midwest we have a gas station chain that makes the BEST pizza. Sounds weird to order pizza from a gas station, but it's my favorite. Their taco pizza is amazing, but their breakfast pizza is where it's really at.

I had to recreate a keto breakfast pizza recipe at home and I'm so glad I did. This is so darn good!
You could really use whatever meats you like on here, but I'm using sausage and bacon. Can't go wrong with bacon, right?
If you give this recipe a try, be sure to leave a rating and a comment below! I love hearing what you guys think!
How to make breakfast pizza:
We're going to start with the crust. For a low carb pizza crust, my go to is fathead pizza crust. It's made with ingredients that I always have on hand and it's beyond easy to throw together.
Plus, my whole family loves it and, because of the cheese and almond flour, it's very filling so you don't end up eating an entire pizza. 😉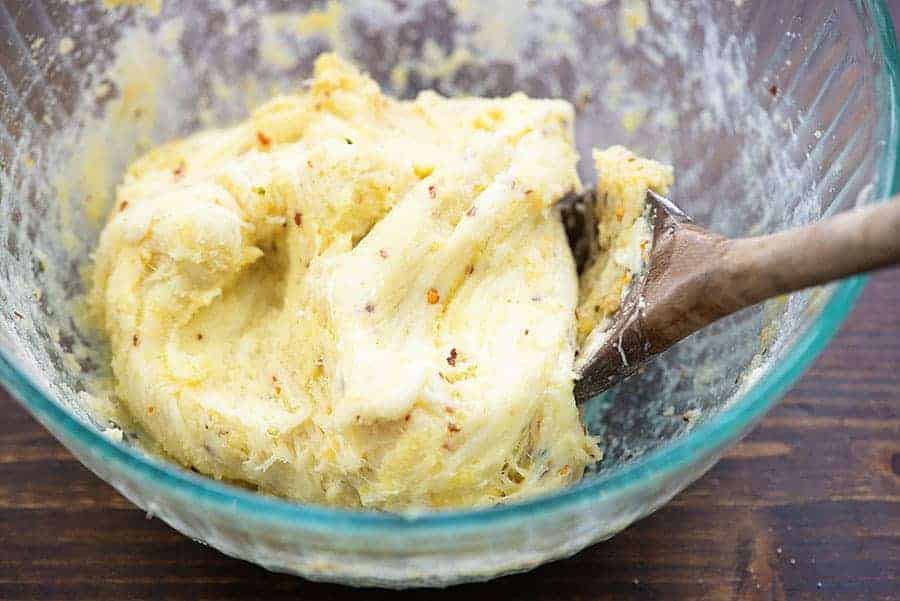 To make the crust, you'll melt together mozzarella and cream cheese in a microwave safe bowl and then stir in an egg and some almond flour.
Stir that together to form the crust and then roll it out to fit your pizza pan.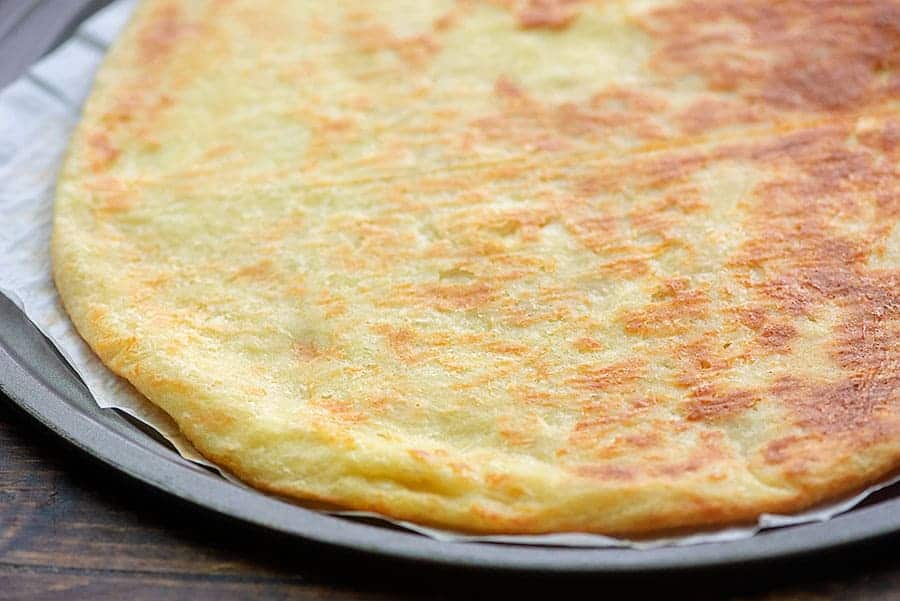 I use this pizza pan (affiliate) and I ALWAYS line with parchment. Fathead dough will stick if you don't line your pan. Do not skip this step.
Bake your crust until it's just about cooked through – about 10 minutes.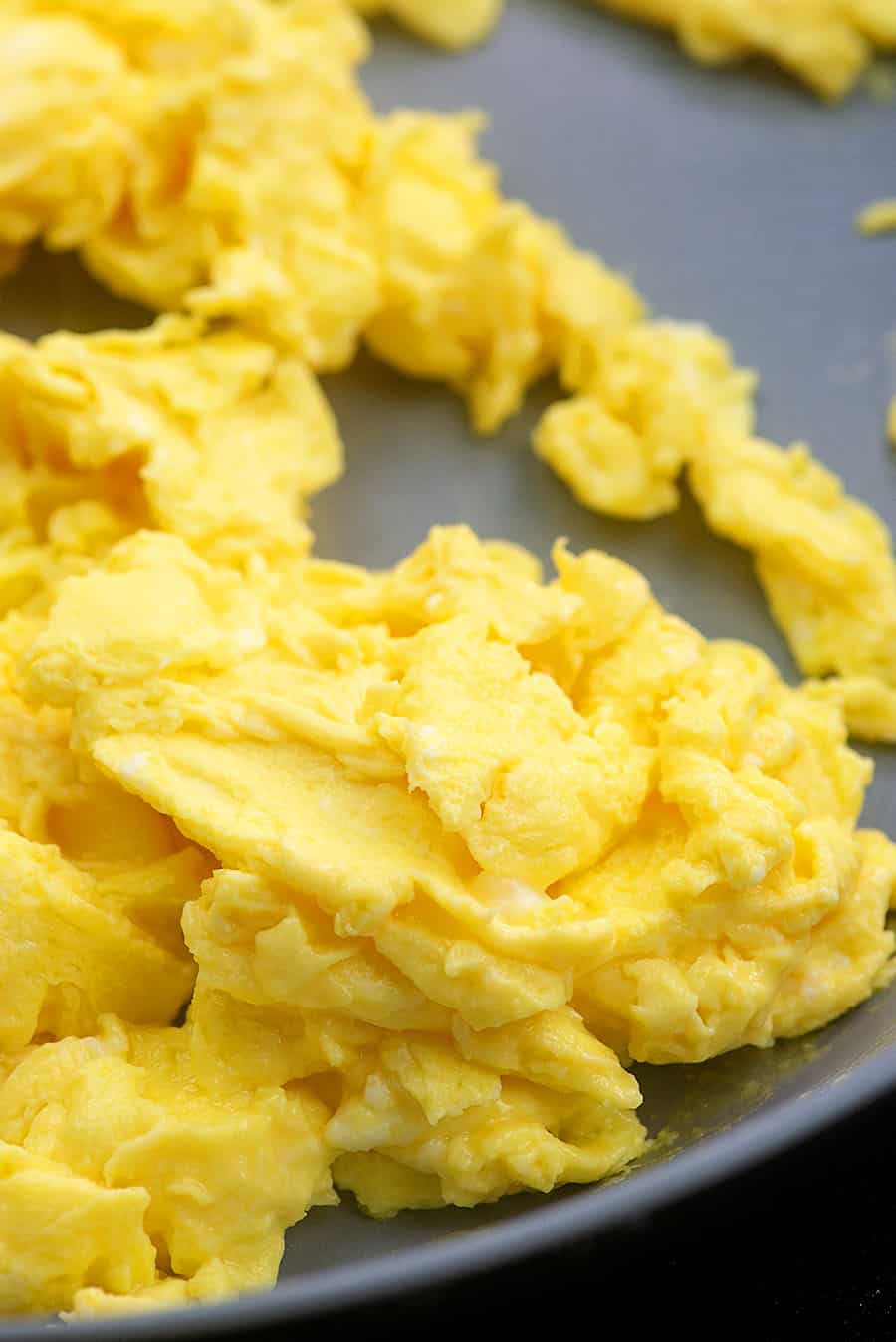 Then, whip up some scrambled eggs. I like my eggs nice and fluffy and always add in a bit of heavy cream. I like to pull my eggs when they're still just a bit wet as they'll finish off in the oven.
Layer on the eggs, cheese, and meat! Looks amazing already, doesn't it?
I originally made this recipe with just a heavy sprinkle of cheddar cheese, but a reader asked about using my cheese sauce instead. I gave it a try and woah. It's so good and I highly recommend using the cheese sauce! 🙂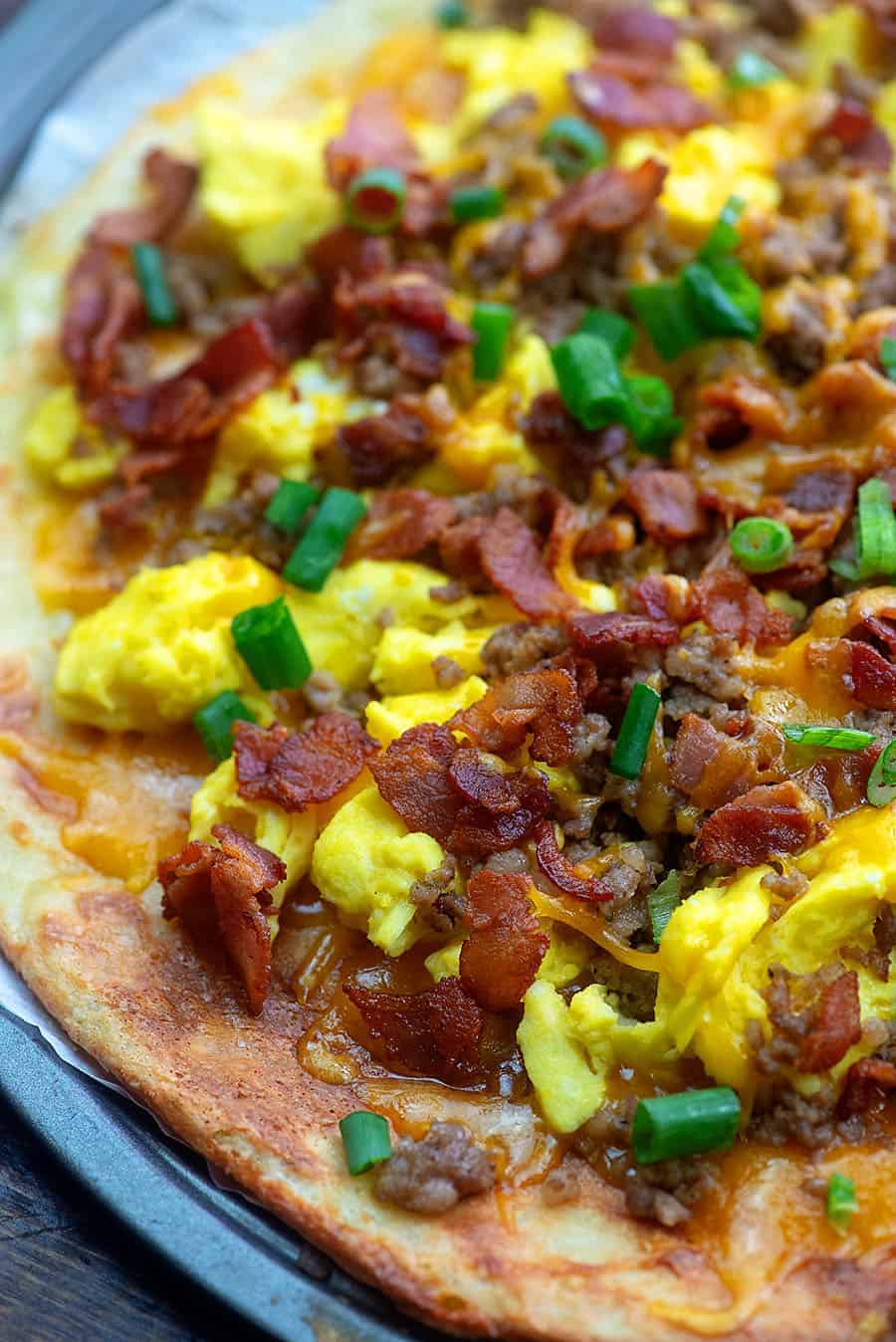 Pop this back in the oven for another 5 minutes or so to melt the cheese and finish off the crust.
Sprinkle on some green onions and dig in!
This breakfast pizza is seriously amazing and it's the biggest hit for breakfast or dinner. We're pretty obsessed with it.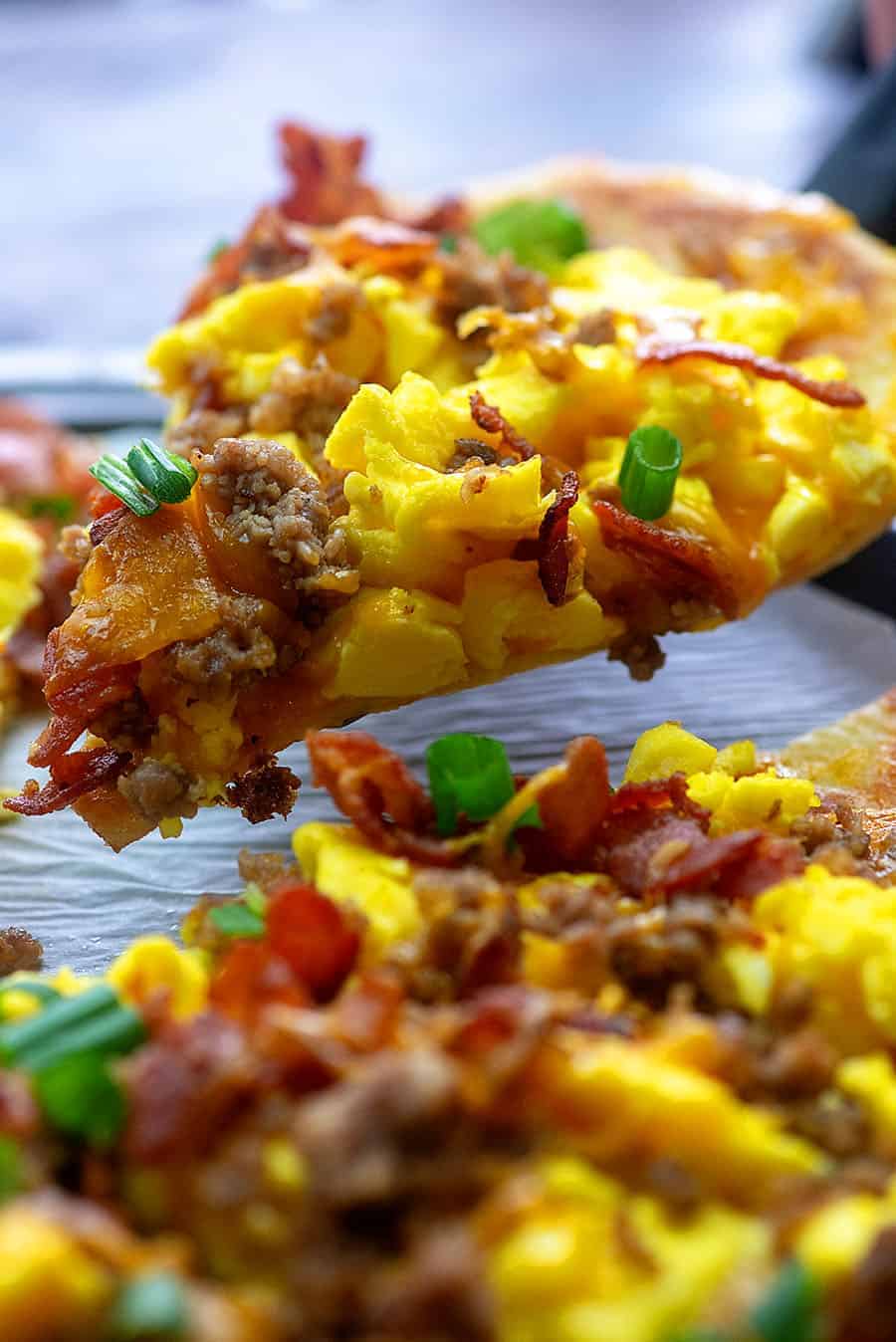 More low carb pizza recipes to try:
Buffalo Chicken Pizza: How can you resist?
BLT Pizza: All the flavors of my favorite sandwich!
Pizza Stuffed Zucchini: Skip the crust altogether with this healthier version of pizza!
Click for more low carb breakfast ideas!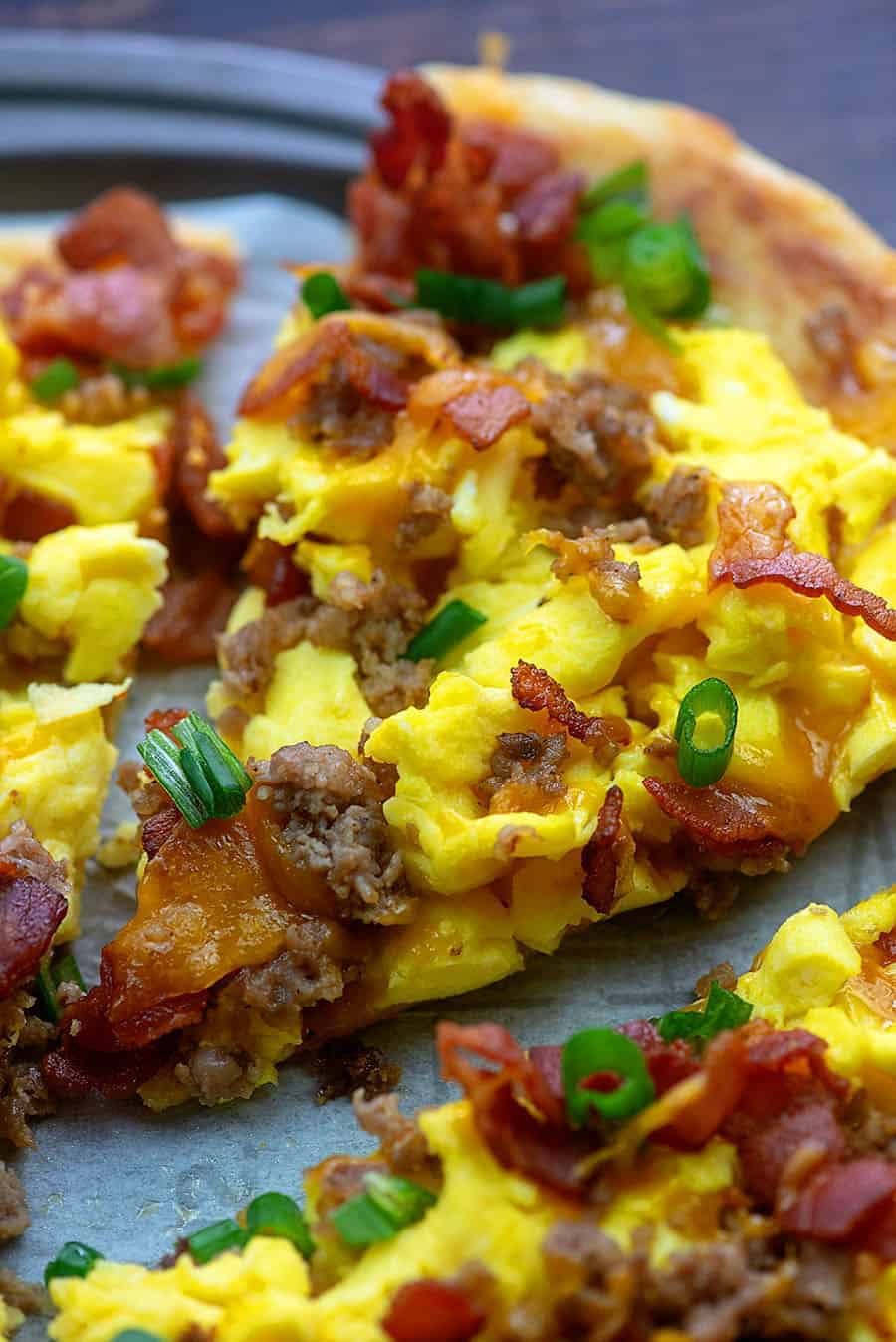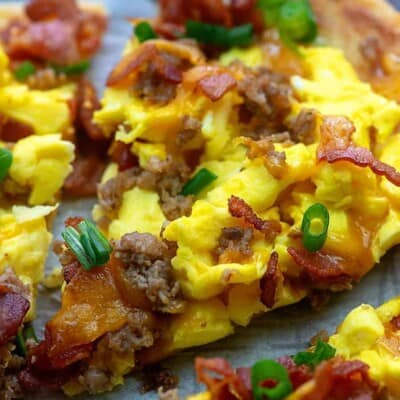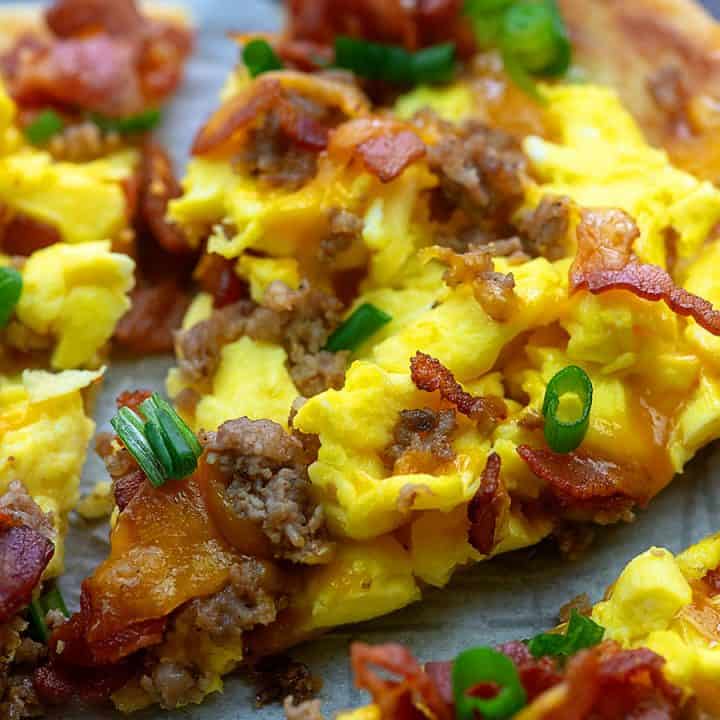 Meat Lovers Breakfast Pizza
Keto breakfast pizza loaded with scrambled eggs, meat, and cheese! This recipe has been updated to include a cheese sauce for the base.
Prep15 minutes
Cook15 minutes
Total30 minutes
Ingredients
For the crust:
2 cups shredded mozzarella
2 tablespoons cream cheese
1 egg
¾ cup almond flour
For the topping:
6 large eggs
2 tablespoons heavy cream
1 tablespoon butter
½ cup cooked crumbled bacon
1/2 cup cooked and crumbled breakfast sausage
1/2 cup cheese sauce
1/4 cup grated cheddar
2 tablespoons chopped green onions
Instructions
Preheat oven to 425 degrees.

Add the mozzarella and cream cheese to a microwave safe bowl and microwave in 20 second bursts until melted.

Stir to combine the cheeses and then add the egg and almond flour.

Stir well to combine.

Place the dough on a large sheet of parchment paper. Top with a second sheet of parchment.

Roll the dough out into a 12 inch diameter circle.

Remove the top piece of parchment and transfer the bottom sheet with the dough on it to a pizza pan. Trim the parchment paper to fit the pan.

Bake for 10 minutes or until crust is lightly golden.

Flip the crust and set aside while you prepare the eggs.

Whisk the eggs and cream in a small bowl until well combined.

Heat a large skillet over medium heat and add the butter.

Once the butter has melted, add the eggs to the skillet and scramble until just slightly wet looking.

Top the pizza crust with the cheese sauce, followed by the eggs, bacon, and sausage. Add the cheddar over the top.

Return the pizza to the oven for 5 minutes.

Remove from the oven, sprinkle with the green onions, slice, and serve.
Tips & Notes:
This recipe originally called for 2 cups of grated cheddar sprinkled over the crust in place of the cheese sauce. It's delicious that way, but if you have the time to make the cheese sauce, do it! It adds a ton of creamy goodness to this pizza!
Nutrition Information:
Serving: 1slice| Calories: 470kcal (24%)| Carbohydrates: 4g (1%)| Protein: 28g (56%)| Fat: 37g (57%)| Saturated Fat: 15g (94%)| Polyunsaturated Fat: 20g| Trans Fat: 1g| Cholesterol: 248mg (83%)| Sodium: 840mg (37%)| Fiber: 1g (4%)| Sugar: 1g (1%)| Net Carbs: 3g (6%)